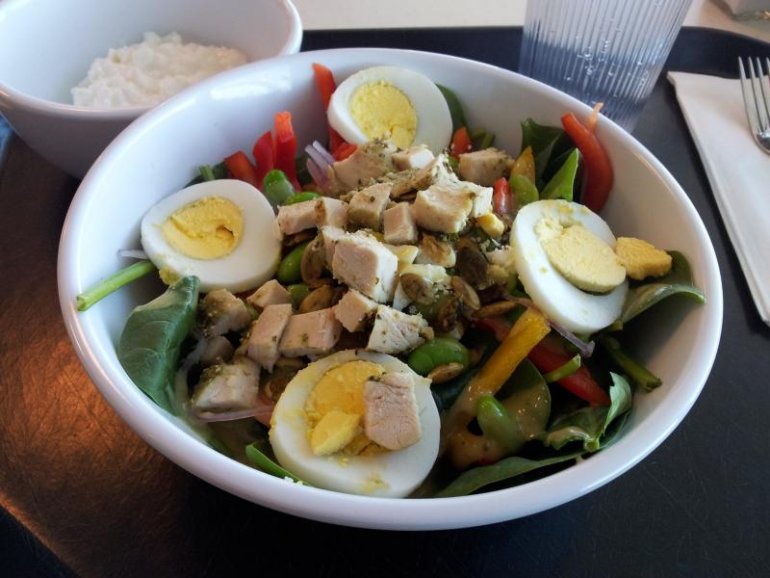 Whew!  I'm tired... but in a good way.  I decided today was the day to start my "lunch" exercises and make the most of my mid-day break.  Though 40 degrees and windy outside, I bucked up and admitted to myself: my hubby didn't get me a down Patagonia parka for nothing!  Appropriately bundled, I headed out the door to walk to my newfound favorite lunchspot: an organic cafe in an office building nearby. 
It didn't seem like it would be that far, it's just a couple of lights... but because of the snow I had to chose to take a few detours.  I figured it would take 10 - 15 minutes to get there. I'd settle in and enjoy my lunch; then, stroll leisurely back.  BUT, it was not so leisurely!  It took me exactly 30 minutes and 11 seconds to get there, door to door.
My body felt tired stretched, but alive!  And the best part?  I got to enjoy another yummy spinach salad.  This time I loaded on bell peppers, edamame, chicken, eggs, and seeds with an accompaniment of cottage cheese. 
Another confession: I tend to love salads when out, but HATE any salad made at home. 
On the way back, I decided to skip the detours and bravely run across a fairly busy street, frogger-style.  It only took me 19 minutes this way.
Yummy lunch, 50 minutes of exercise... I'd say all in all, it's been a good day!