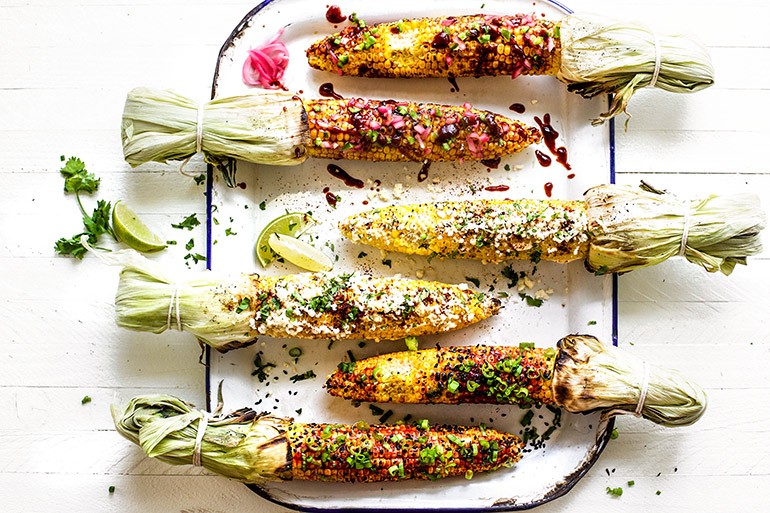 Hey y'all! It's Leigh Ann here from My Diary of Us and I am super excited to be sharing with you a fun new way to use up all of that summer corn that is so delicious right now. If you are like me, you have been buying up all of the fresh corn at your local farmer's market or grocery store and while it's definitely tasty just as is with a little butter, I like mixing it up sometimes to keep my family interested in eating it every single week. Street corn is a super fun way to make corn on the cob extra exciting and I have three flavor options for you that you are going to love serving up all summer long. These recipes for street corn, three ways are going to take your corn to a whole new level and you will quickly fall in love with all of them!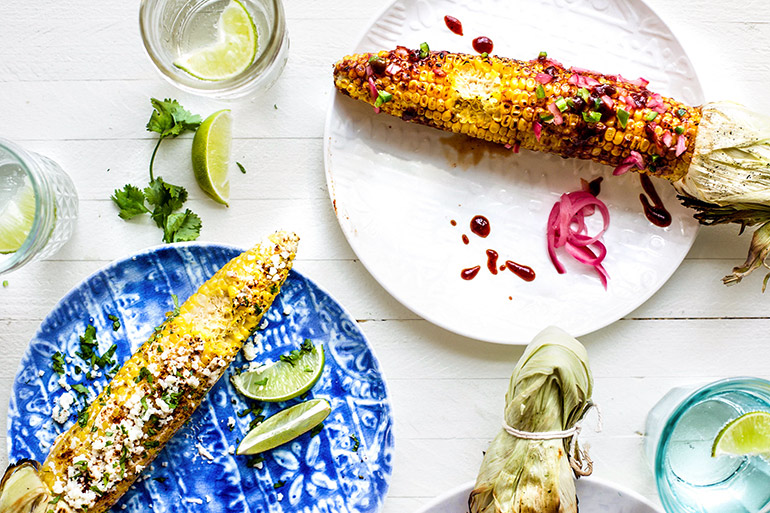 You might already be familiar with Mexican street corn, or Elote, but I have two other really delicious options to share with you today as well. All three recipes are so easy and so full of flavor! First, obviously we had to make a traditional Elote Mexican street corn, but I am also going to be sharing a Korean gochujang street corn, as well as a Texas BBQ street corn!
YUMMATOLA! (As Kelly would say!)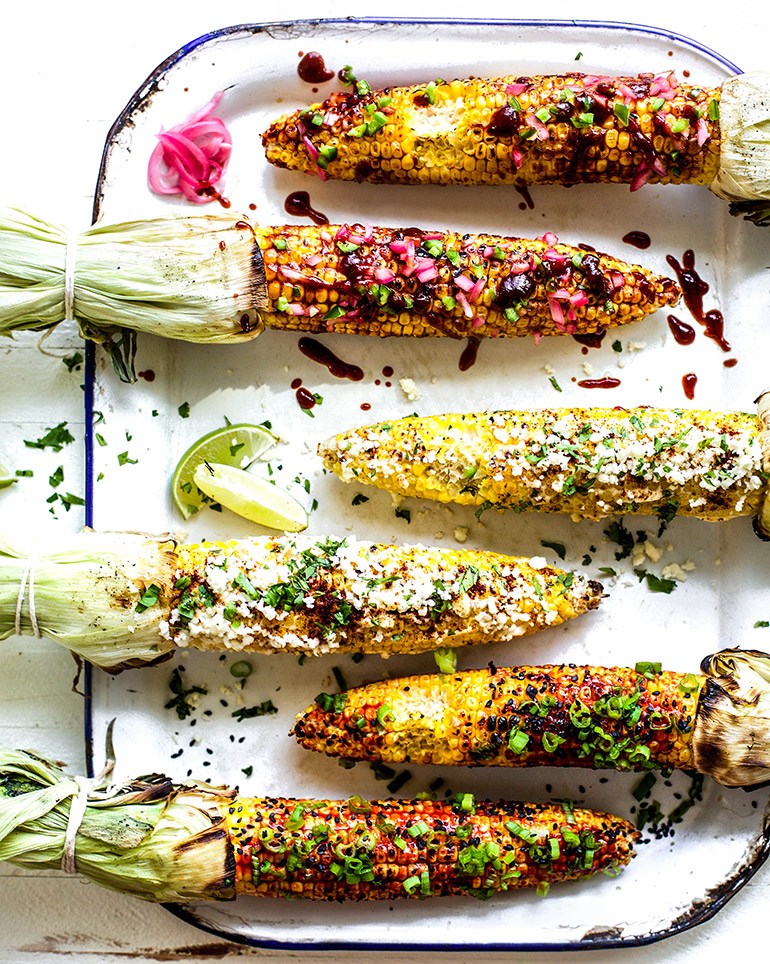 I am here to tell you that these street corn recipes are all so delicious that the first time I made them, I ate all three varieties in one sitting because I couldn't decide which one I loved the most! They really are just so unique in flavor and such a fun way to enjoy one of my favorite summer vegetables. I think you will also enjoy making these right in your own kitchen.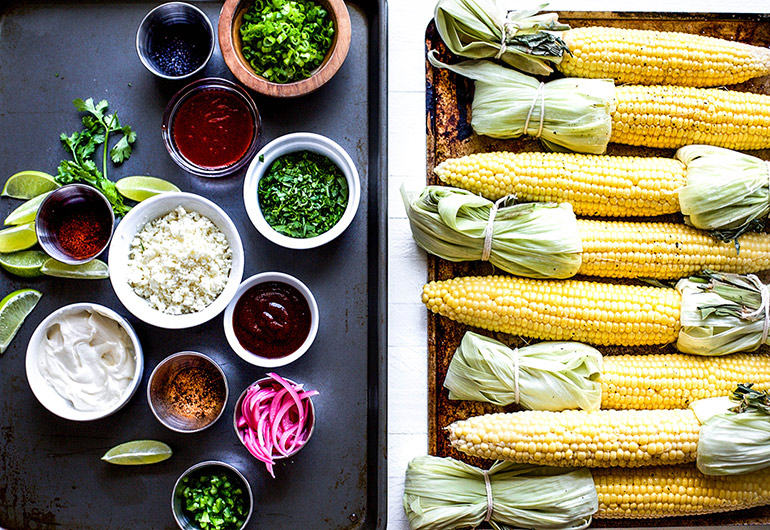 For another fun idea, I think it would be great to set this whole situation up as a DIY street corn bar, where your family and friends can make their own street corn with their favorite toppings. It would be so great for a backyard BBQ or to get your kids involved in making dinner! Of course, you can also go the route of just picking your favorite flavor combination and only making the one recipe also. There are so many possibilities with flavors here, but the important thing to remember is they are equally as delicious, so you can't make a wrong decision!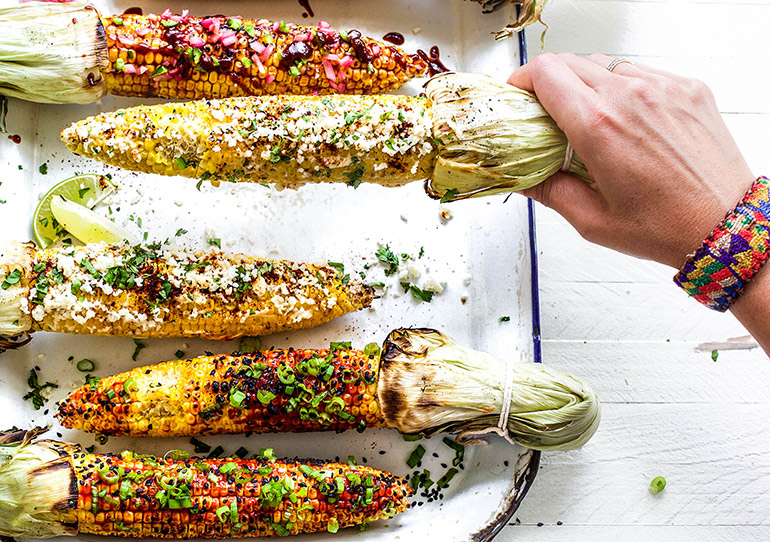 I hope you enjoy this delicious new way to enjoy sweet summer corn on the cob as much my family and I do!
Leigh Ann
//////////////////////////////////////////////////////////////////////////////////////////////////////////////////////////////////////
Want more summer dinner recipes? Try Kelly's Greek Chicken Wraps:
Street Corn - 3 Ways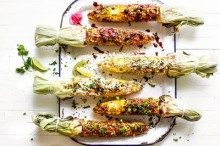 Description
Street Corn - 3 Ways: Mexican Style Elote, Korean Gochujang, and Texas BBQ
Ingredients
---FOR THE MEXICAN STYLE ELOTE---
2 ears of corn (silks removed and husks on)
1⁄4 cup crumbled cojita cheese
1 tablespoon Chili Powder
1 tablespoon chopped cilantro
---FOR THE KOREAN GOCHUJANG---
2 ears of corn (silks removed and husks on)
2 tablespoons thinly sliced green onions
1 teaspoon black sesame seeds
2 ears of corn (silks removed and husks on)
1⁄4 cup favorite BBQ sauce
1⁄4 cup White Vinegar (or sub rice vinegar)
finely diced jalapeno (to taste)
Instructions
Gently fold husks down to the bottom of the corn, then remove the silks from the corn and wash. Dry and then gently fold the husks over, basically in half, and secure with baking twine to make a handle. Repeat with all ears of corn. -Preheat grill to medium heat and place corn onto grill leaving the husk handle sticking out of the grill to prevent it from burning. -Turn corn a few times until it is just charred. Remove from grill.
For the Elote:-Slather mayonnaise on all sides of the grilled corn. Roll in crumbled cojita cheese to and then sprinkle with chili powder, squeeze fresh lime juice over top and sprinkle with finely chopped cilantro. -Serve immediately.
For the Korean Gochujang: -Mix gochujang with soy sauce and honey until smooth. -Slather the gochujang mixture on all sides of the grilled corn and then roll in thinly sliced green onions and sprinkle with sesame seeds. -Serve immediately.
For the Texas BBQ: -Pickle onions by combining water, vinegar, salt, and sugar in a microwave safe measuring cup and warm slightly until salt and sugar dissolves. Add the pickling mixture to thinly sliced red onions and place in the refrigerator for 30 minutes or up to overnight. -Slather grilled corn with BBQ sauce on all sides. -Finely chop pickled onions and jalapeño and sprinkle onto the corn. -Serve immediately.
Yields 8 Servings