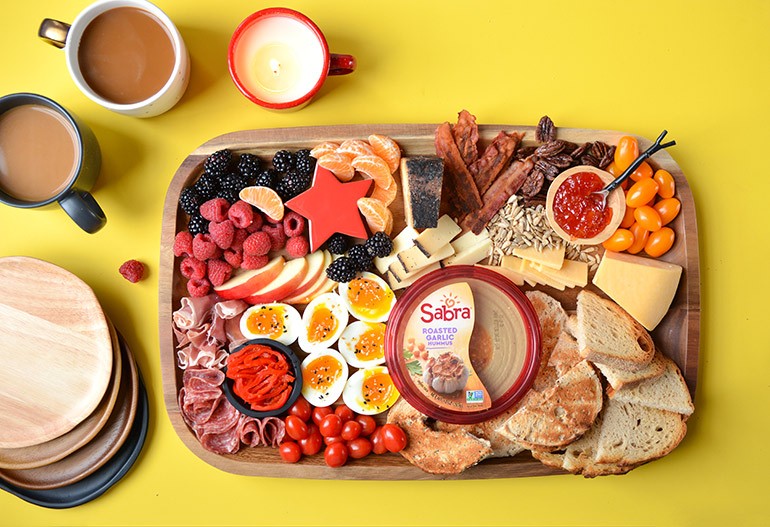 This epic brunch board is perfect for entertaining out-of-town holiday guests or for any weekend brunch at home. Anchored (and sponsored) by Sabra hummus, you will want a bite (or two) of everything you see!
Now if you've been following me for awhile, you might already know I have little secret when it comes to cheese boards. They are one of my favorite things to make (as you can see here, here, and here) for guests, so I've been dreaming up this brunch version for awhile now! Oh, yes... you want the secret: follow my 2's rule. 2 dips, 2 fruits, 2 veggies, 2 meats, 2 cheeses, 2 breads/crackers, etc... 
2 dips + 2 breads: this board features Sabra's garlic hummus and a pineapple pepper jam. Spread one or both on to sourdough toast or everything bagels, and you have the start to something magnificent!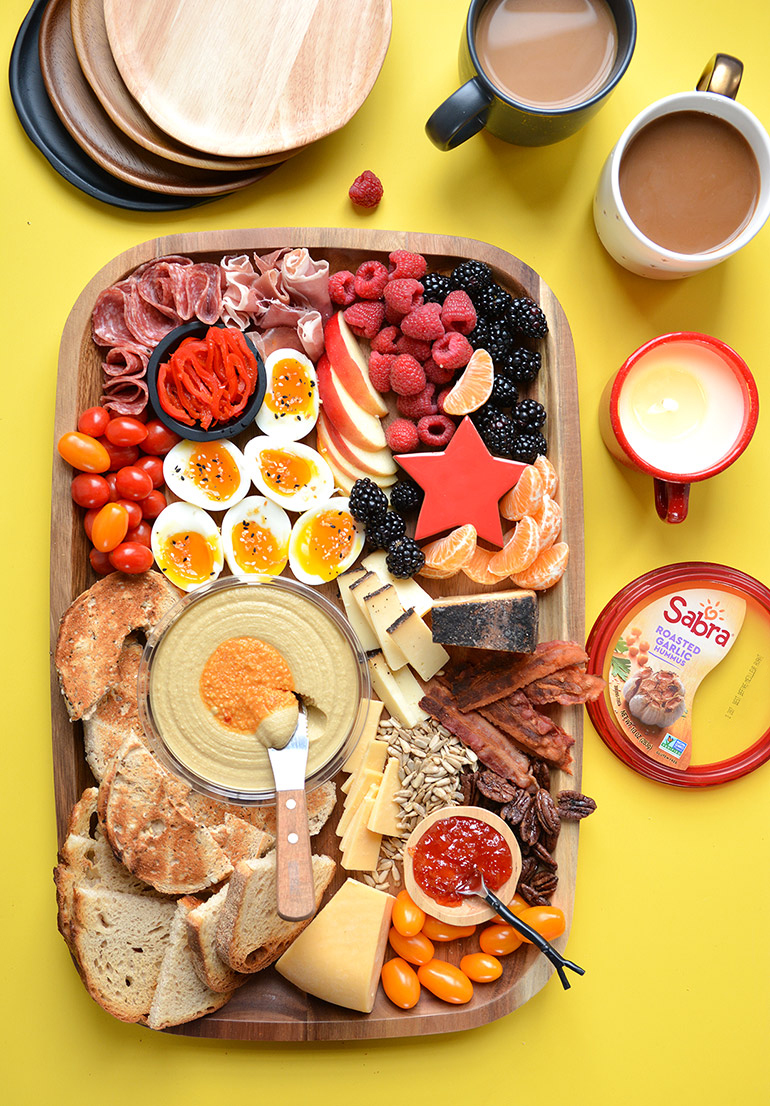 As you may have seen in my insta stories, my daughter LOVES this hummus.... and literally eats it by the spoonful (or with her fingers when she's really desparate...lol). It's also great in her lunchbox!
In addition to the regular 2 meats I include on charcuterie boards (salami and prosciutto) to brunch-i-fy this one, I also added some breakfast staples: crispy bacon and jammy eggs.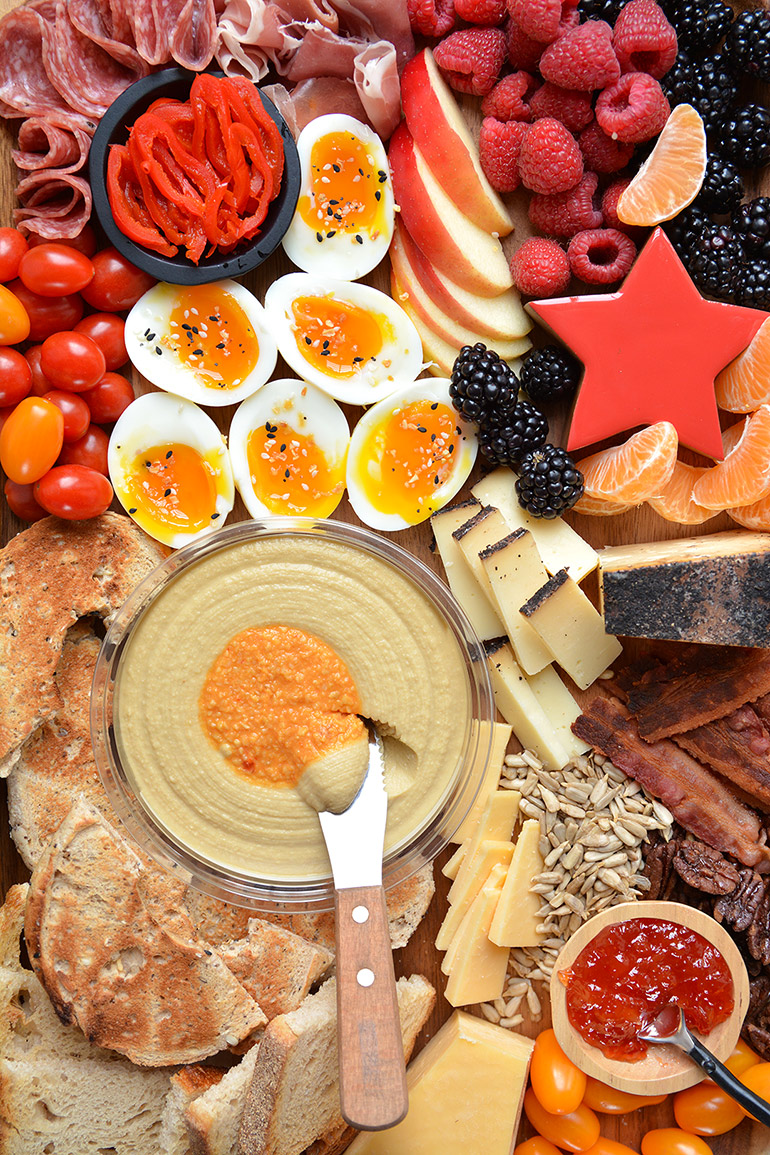 I also doubled the # of fruits to 4: raspberries, blackberries, apples, and clementines.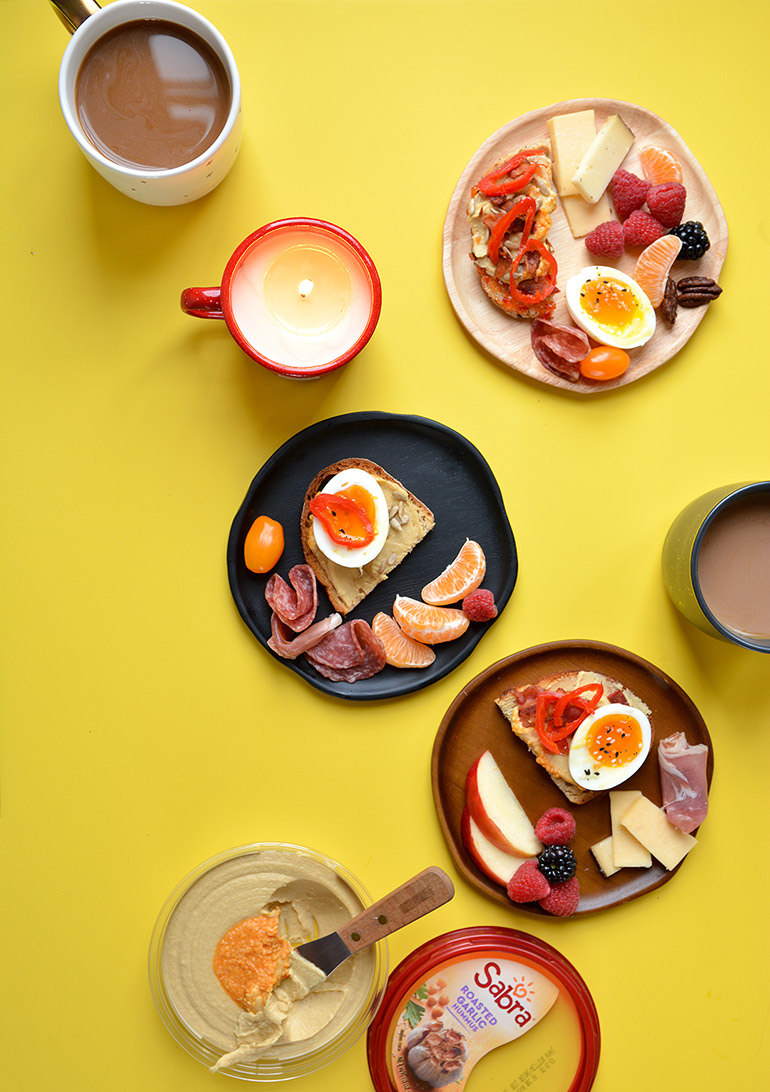 And don't forget about the drinks. I like to offer my guests coffee with, you guessed it... TWO CHOICES of creamer! Some like plain half and half and some may prefer a dairy-free option like flavored almondmilk creamer!
//////////////////////////////////////////////////////////////////////////////////////////////////////////////////////////////////////
Disclaimer: this is a sponsored post written by me on behalf of Sabra. The opinions, text, recipe, and beautiful photos are all mine. Thank you for supporting brands that support Nosh and Nourish!! I choose them based on what I already cook/create with and feel 100% confident in recommending to you.
Epic Brunch Board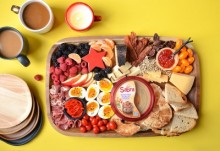 Description
How to Build an Epic Brunch Board
Ingredients
10 ounces Sabra Roasted Garlic Hummus (or your favorite flavor)
1⁄3 cup pineapple pepper jelly
1 wedge of espresso cheese (sliced)
1 wedge of apple gouda cheese (sliced)
4 Clementines (peeled and sectioned)
1 cup Grape Tomatoes (assorted color)
1⁄3 cup sliced peppadew peppers
1⁄3 cup honey roasted pecans
4 everything bagels (toasted and cut into 4ths)
4 slices sourdough bread (toasted and sliced in half)
Notes
*Place eggs into boiling water. Boil for 6 - 8 minutes, depending on how runny you want the yolks. Peel and slice in half. Top with everything-but-the-bagel spice.
Instructions
Anchor the board with the hummus container and a small bowl of the pepper jelly.
Then, arrange the items on the board --- keeping the fruits together and the breads together, etc.
Let everyone create their own custom plate!
Yields 8 Servings