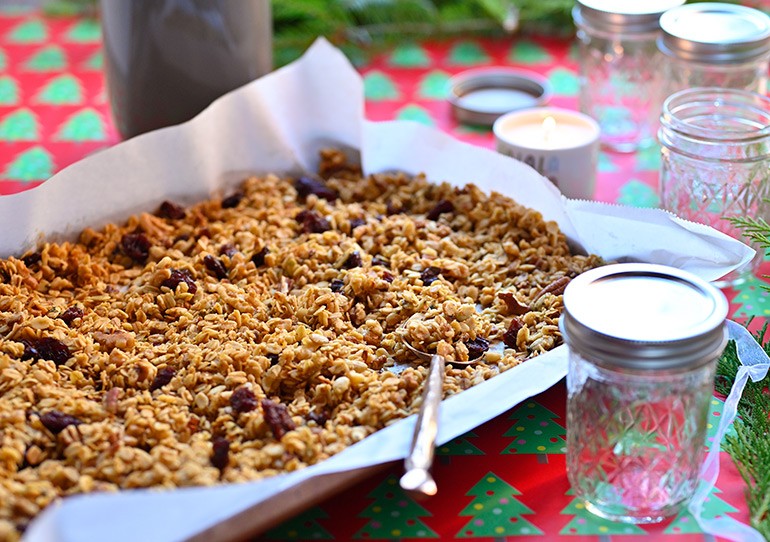 This is a sponsored post written by me on behalf of Safeway. All opinions are 100% mine.
Are you in the holiday spirit yet?
I'm usually a tree-up-on-Nov-1st kind of gal, but this year just didn't feel the same. I had to really give some effort to get excited about the holidays. Lighting a festive candle, baking some cinnamon-y, maple granola and watching Christmas movies definitely helped!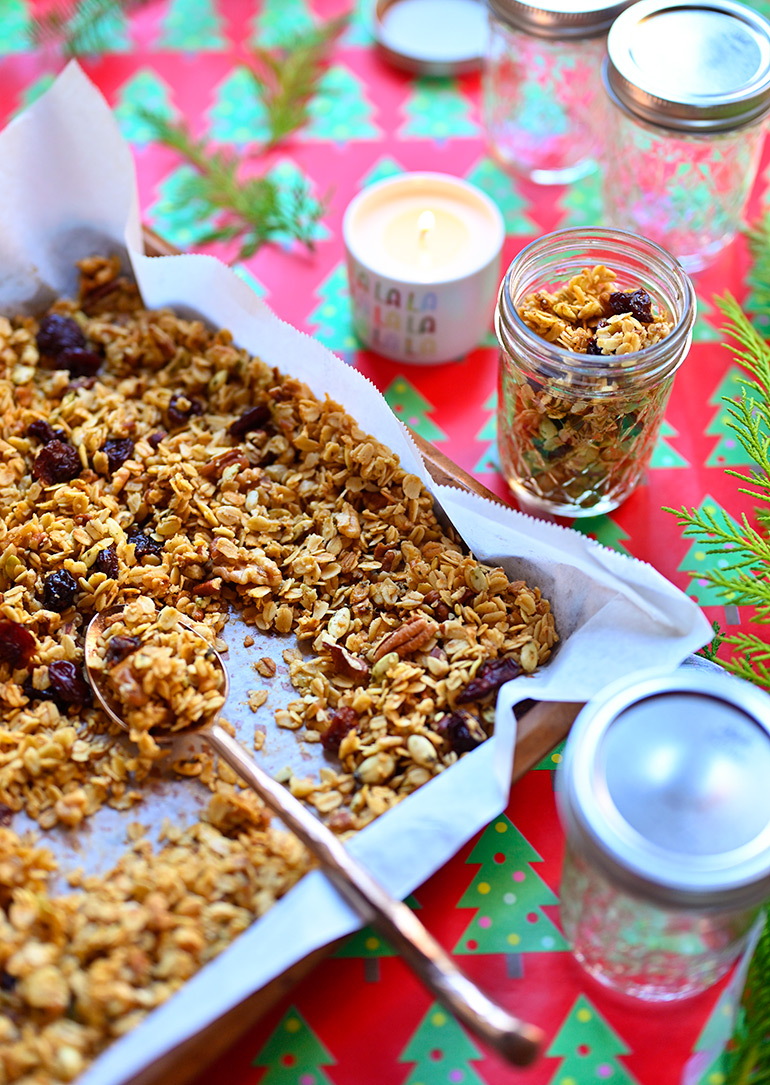 Grocery to Gorgeous
Whether you are planning a small holiday dinner, getting into the spirit with baking and homemade gifting (like we are today), or looking to make your home cozy and festive, Safeway has everything you need at a great value. Grab it in store, or use their Grocery Delivery and DriveUp & Go™ options for convenient ways to shop!
In our adorable reusable bag:
DEBI LILLY DESIGN™ FA LA LA GIFTABLE CANDLE
DEBI LILLY DESIGN™ ALPINE FROST BOUQUET
DEBI LILLY DESIGN™ MODERN GLOSSY VASE
AND PLENTY OF O ORGANICS AND OPEN NATURE ITEMS TO CREATE DELICIOUS HOMEMADE GIFTS.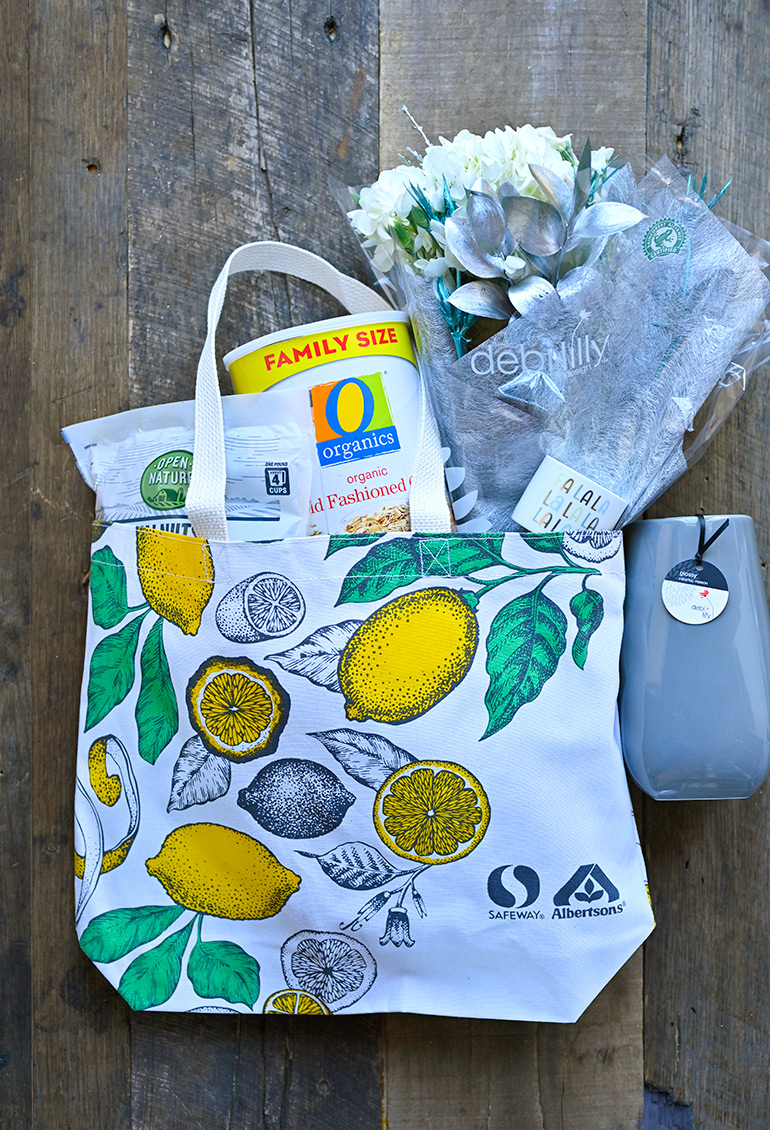 You remember the famous line in the holiday movie, Elf, right? "Santa? I KNOW HIMMMMM!"
Well, now I can say that about Debi Lilly! I know her! I had the pleasure of chatting with her over a fun girl's Zoom call event where she gave us all of her best holiday tips and tricks. She is super sweet, super down to earth, and super talented! On the call, Debi shared her baked granola recipe (amongst other things like cocktails, decadent desserts, etc.), and I knew I had to make the granola. Can you believe I've never made homemade granola before?!?!?
She made it look so easy, and I love how it can be shared with friends and neighbors.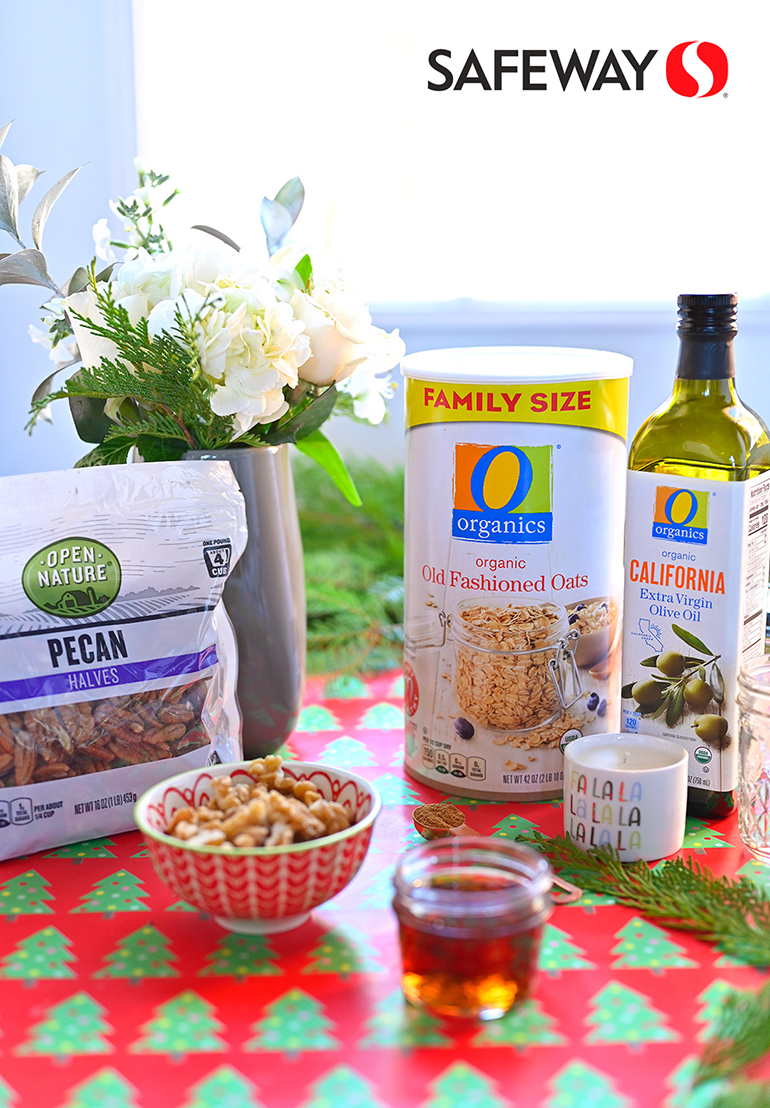 I also love how customizable this recipe is.
Sweetener: You can use honey or maple, or give it a holiday twist like I did with Bourbon Barrel Aged Maple syrup (found at Safeway).
Nuts/Seeds: I used pecans, walnuts, and sprouted pumpkin seeds. But feel free to use cashews, sunflower seeds, whatever combination sounds best to you!
Dried Fruit: I used dried cherries, but you could use cranberries or dried apricots.
Extra add-ins: Try adding shredded coconut or dark chocolate for a fun twist.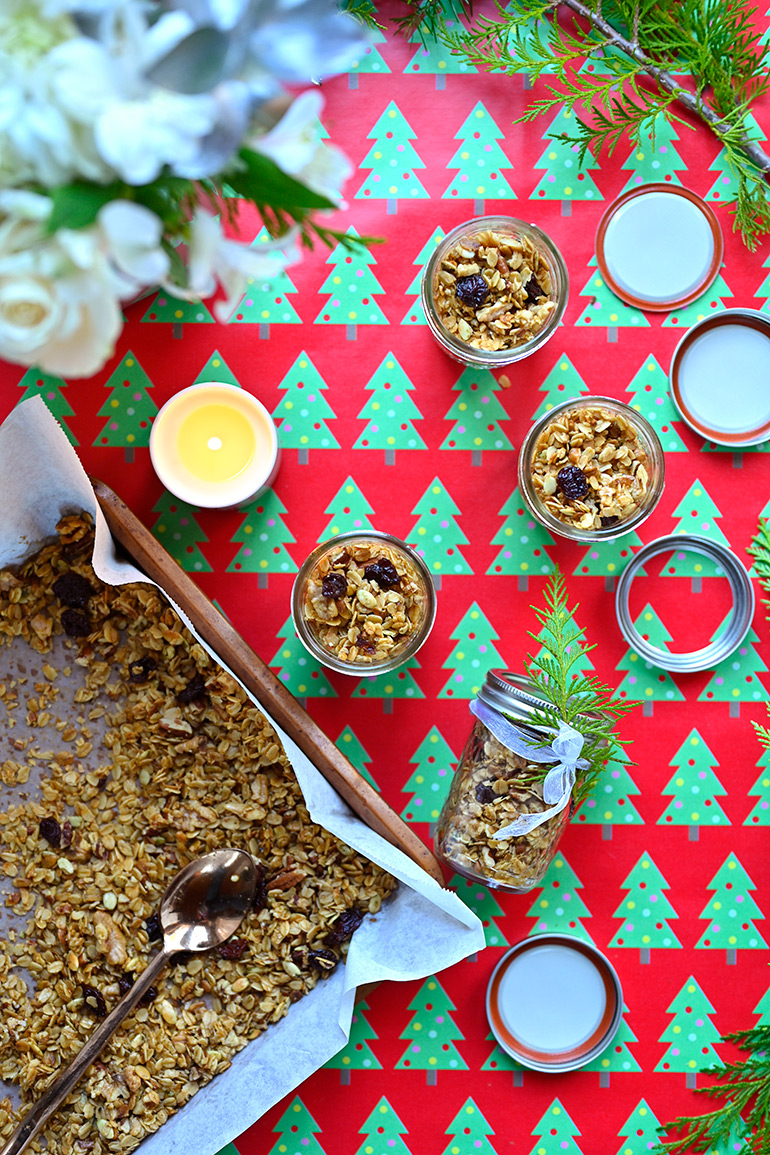 Debi also shared a great tip with us: use extra greenery from the alpine floral bouquet to dress up your mason jars! I tied a pine sprig on with white ribbon and doesn't it look soooo festive?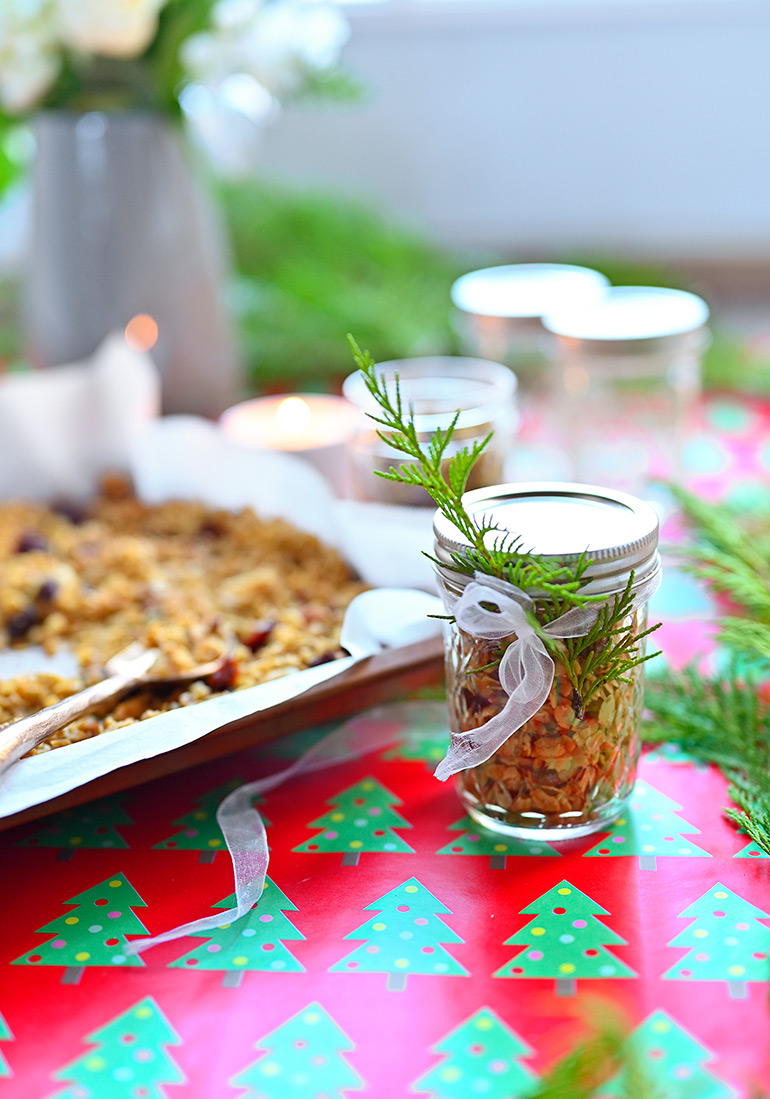 This recipe makes about seven 8oz jars in about 20 minutes. Happy baking!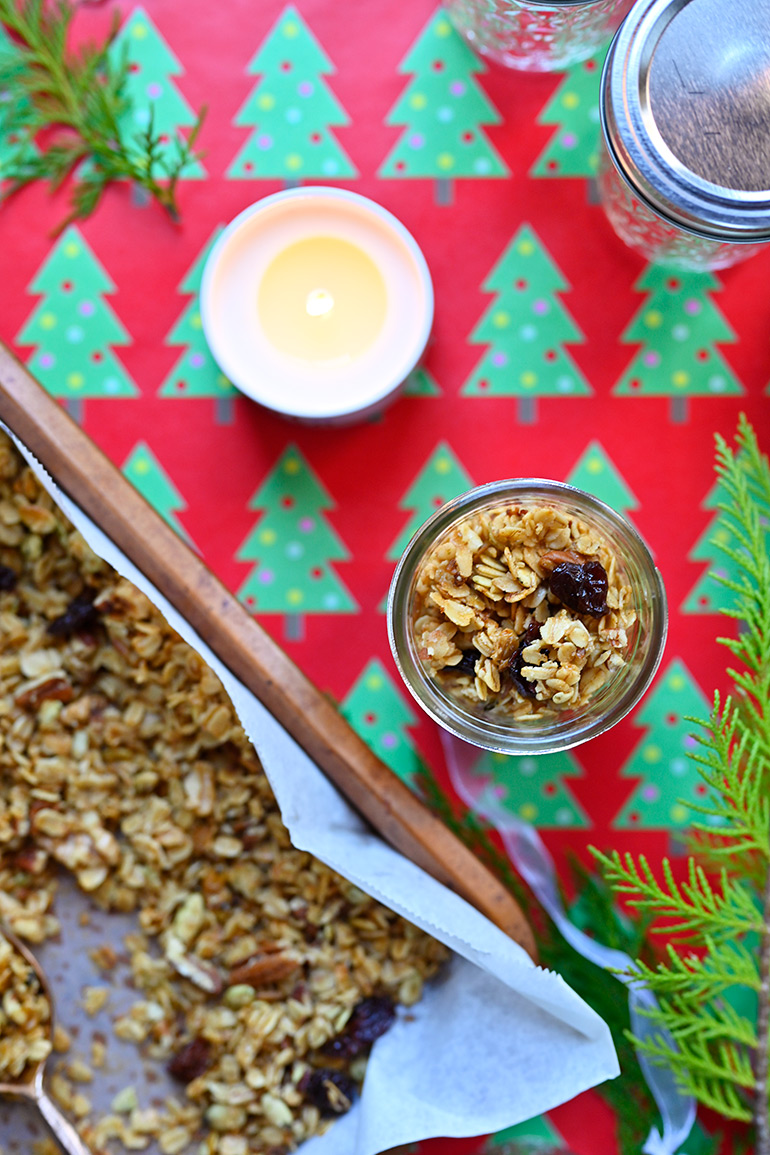 As a reminder, I shopped at Safeway, but you can also find all of these items at the Albertsons Companies family of stores, including Albertsons, Safeway, ACME Markets, Jewel-Osco, Randalls, Shaw's Supermarket, Star Market, Tom Thumb and Vons.
////////////////////////////////////////////////////////////////////////////////////////////////////////////////////////////
Try this granola on my dragonfruit and apple yogurt bowls:
Homemade Bourbon Maple Granola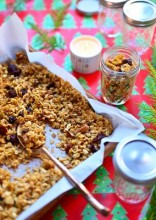 Description
Homemade Bourbon Maple Granola
Ingredients
1⁄2 cup O Organics olive oil
1⁄2 cup Bourbon Barrel Aged Maple Syrup
1⁄2 teaspoon O Organics cinnamon
3 cups O Organics old fashioned oats
1⁄2 cup Open Nature pecans (coarsely chopped)
1⁄2 cup Open Nature walnuts (coarsely chopped)
1⁄2 cup sprouted pumpkin seeds
Instructions
Heat the oven to 325 F. Line baking sheet with parchment paper.
Add oil, syrup, cinnamon, and salt to a bowl, whisk. Add oats, nuts, and pumpkin seeds. Sir well. Spread onto parchment on baking sheet, pressing flat into pan.
Bake for 20 minutes, stirring the oats at 10 minutes.
Remove from oven, add dried cherries, stir, and cool. Cool before packing into containers. Place into small glass debi lilly design™ canning jars, wrap lid with parchment paper square, twine.
Yields 6 8oz jars