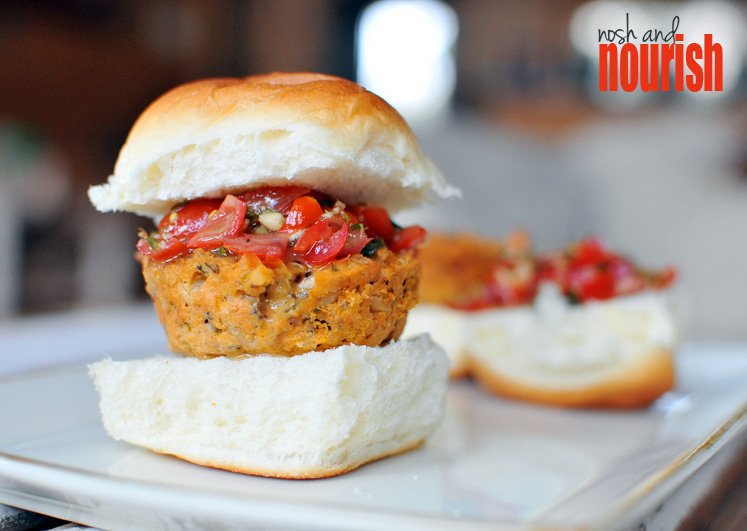 After the blizzard we had on May 1st, I thought Spring would never come!! I know "we need the moisture" but seriously, couldn't this said moisture have come during WINTER?!??!! Well, I'm pleased to announce that Spring has officially sprung here in Colorado...and with it have come mild evening temps, hummingbirds galore, budding flowers, and a renewed desire to do home-improvement projects. Am I the only one?  Consequently, I have started about 3 simultaneous projects, none of which I've finished.
On the list:
Kitchen Island Flattening/Extending - I feel this project will have the biggest impact in overall daily living / enjoyment at the house.

Weird 6 foot Weed Stalk Removal - These are mostly just a nuisance to me, and it's probably an impossible battle given the 10 years of overgrowth allowed before we bought the place. But, by golly, I'm gonna try.

Large firepit sunken ring Digging - I really should hire someone to do this. There I said it.
Here's the before pic of the island: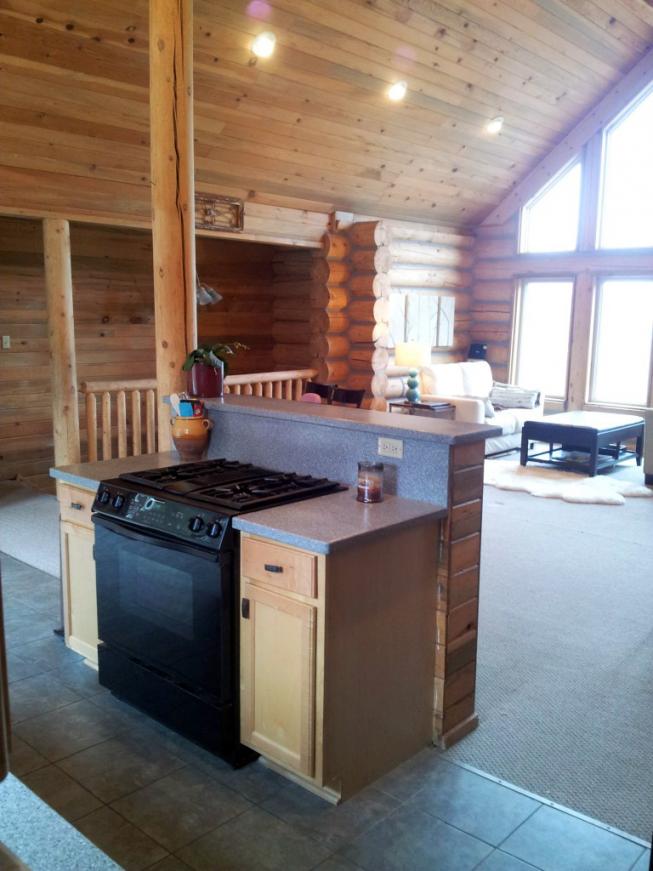 And here's the in-progress pic: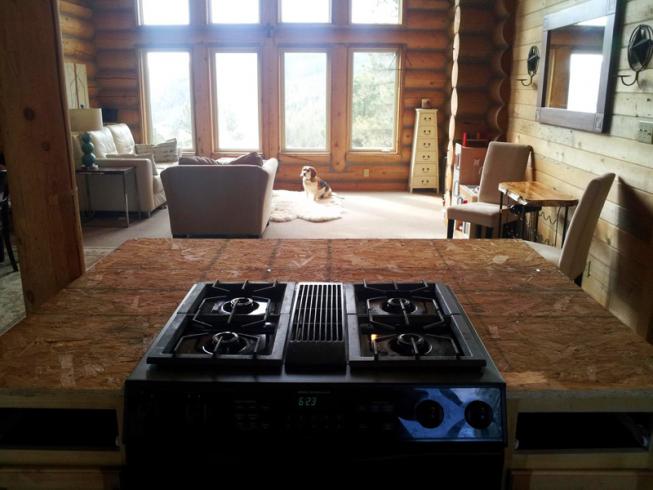 I love how much more open it feels.  Even just with the plywood top...LOL!  We're still going back and forth about whether to do granite tile or granite slab. #firstworldproblems
One thing we can agree on though:
These Bruschetta Quinoa Sliders are awesome!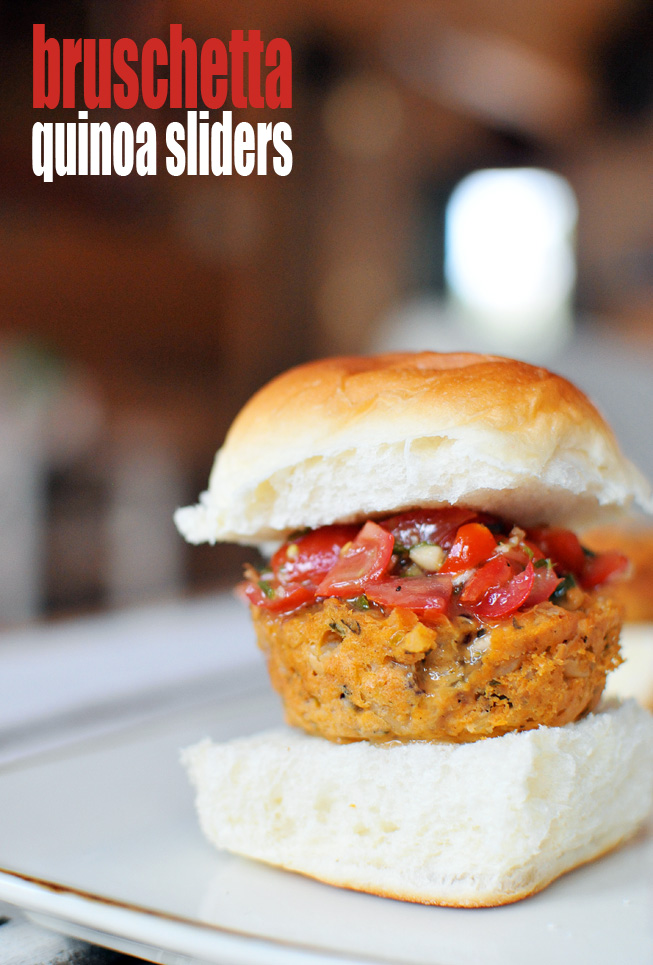 I promise, once you make this bruschetta, you will want to put it on everything!  We eat it on toasted french bread, over pasta with shrimp, or seriously just by the spoonful.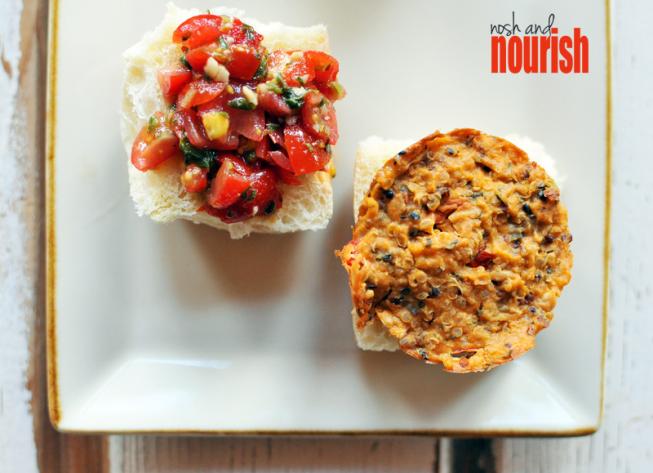 And the white bean sliders aren't too shabby either. Full of protein/nutrients, they are both super nutrious AND delicious :)
Or try my Black Bean Quinoa Sliders, which are more like mini hamburgers.
Bruschetta Quinoa Sliders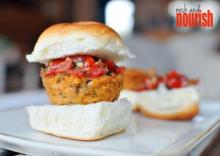 Description
Bruschetta Quinoa Sliders // @noshandnourish
Ingredients
1 can Great Northern Beans (drained)
1 1⁄2 cup Cooked Quinoa (I used rainbow)
1⁄2 cup Diced Tomatoes (I used Grape Tomatoes)
2 tablespoons McCormick's Tomato/Basil Marinade
2 tablespoons Tube Basil (sold in the produce section)
1⁄2 cup Oat Flour (or sub other kind of flour)
Bruschetta (see full recipe below -- for topping)
Instructions
Cook quinoa, if not already done. Mine cooks 1 cup quinoa to 1 1/4 cup boiling water for 14 minutes. Make sure to thoroughly rinse quinoa before cooking!
In a medium bowl, mash a can of great northern beans (rinsed and drained) with a fork.
Then add in all other ingredients, mixing thoroughly.
Preheat oven to 350 degrees.
Generously spray 2 muffin tins with non-stick spray.
Scoop a medium spoonful into each muffin cup, flattening each "patty" out with the spoon.  Make 24 so they're thinner than the ones pictured above (I made 12 extra thick ones).
Bake for 30 minutes.
Serve on slider buns with a scoop of bruschetta (recipe below).
Yields 24 Thin Sliders
Bruschetta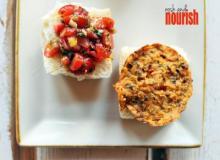 Description
The BEST Bruschetta // @noshandnourish
Ingredients
5 Roma Tomatoes (or sub 1 container of Grape Tomatoes)
1⁄4 cup WHITE Balsamic Vinegar (must be WHITE)
1 tablespoon Coconut Sugar
1⁄4 tablespoon black pepper
1 1⁄2 tablespoon Tube Basil (sold in the produce section)
Instructions
Dice tomatoes.
Mix all ingredients together.
Serve with sliced bread, over white bean quinoa sliders, or even over pasta!! YUMMOLA.
Yields 8 Servings