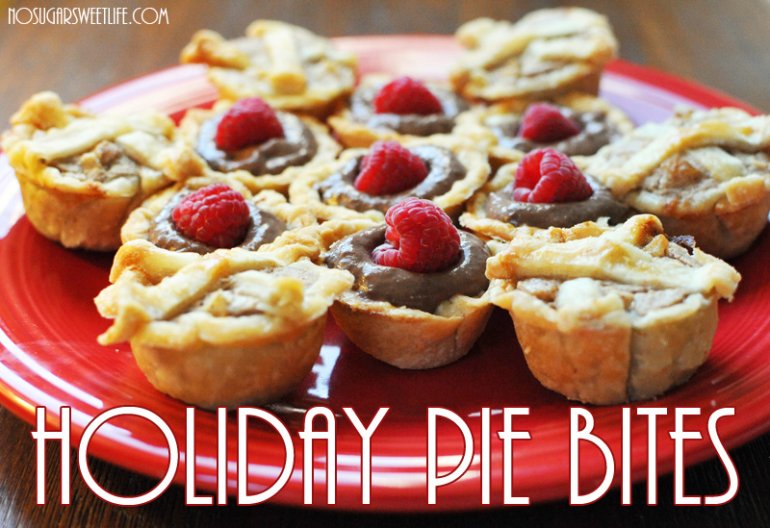 Ahhhhhhhh, the holidays. So much fun. So much baking. So many parties. So many cute Pinterest ideas. So much shopping. So much stress.  I guess you could say I have a love/hate relationship with the holiday season. So, I have set out to make your holiday party a little easier, a little healthier, and a lot more fun with these mini pie bites ----->  If you've spent much time on my blog, you know I'm not much of a dessert person. In fact, I went almost six months without any sweets, even swapping birthday cake for fruit and yogurt. I don't have cookie or cake recipes. (The only cookies I ever tried baking turned into glorified dog treats.) But, I have officially perfected the mini-pie bite, sweetened with only fruit, Greek yogurt, and a bit of agave nectar.
Introducing Chocolate Raspberry Pie Bites:
What can I say? These are just beautiful, and mouthwateringly delicious, decadent, and not that bad for you at only 72 calories each. And did I mention beautiful?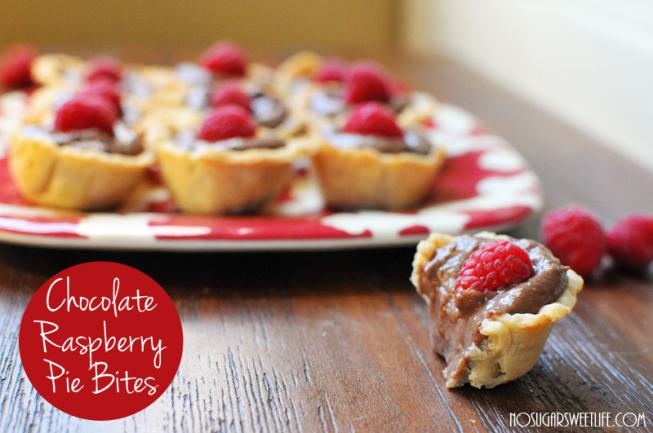 And festive to boot, perfect for your holiday party.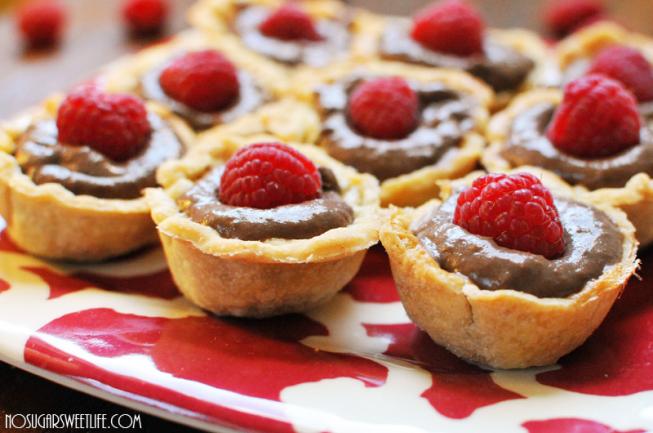 Or maybe you prefer something warm, like hot apple pie.
Introducing Apple Pie Bites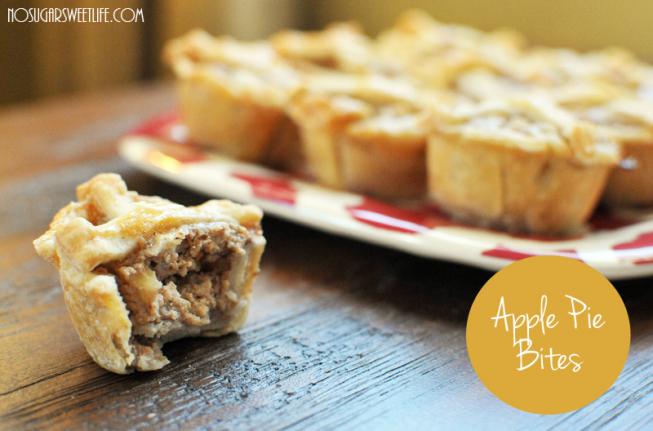 Enjoy this warm, melt-in-your-mouth goodness without the guilt. Serve alone or alongside vanilla bean ice cream. Your party guests will thank you either way!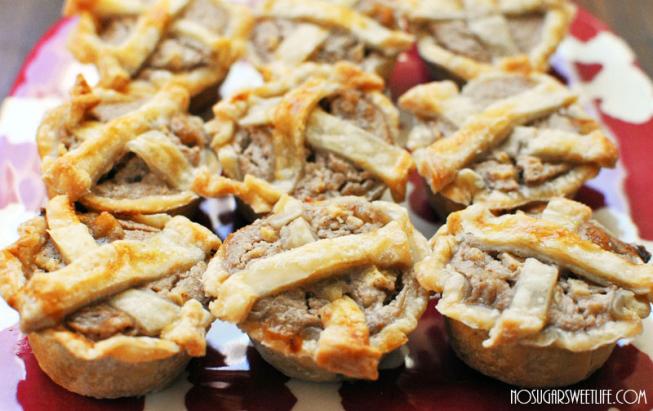 They are super fancy looking, yet simple to make. It'll be our little secret. :)
Or try my other pie bites:
This post is part of BlogHer's Holiday Parties editorial series, made possible by Cracker Barrel.
Chocolate Raspberry Pie Bites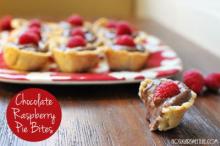 Description
Chocolate Raspberry Pie Bites || No Sugar Sweet Life
Ingredients
6 ounces Raspberry Chobani Greek Yogurt
4 ounces Raspberry Puree (I used Plum Organics: Raspberry, Spinach, Yogurt mix)
1 tablespoon Agave Nectar or Honey
2 tablespoons Sugar-free Raspberry Jam (I used Smuckers)
3 tablespoons Cocoa Powder
1 cup Vanilla Almond Milk
4 BelVita Chocolate Biscuits
3 Refrigerated Pie Crusts (or make your own)
Instructions
Bake pie crusts in the mini-muffin tin at 350 for 12 minutes, until lightly browned.
Set aside crusts to cool.
Crush the BelVita chocolate biscuits -I put mine in a ziploc and crushed them with a meat tenderizer :)
Combine all ingredients in a quart-sized saucepan, except for the 36 fresh raspberries (which will be used as a topping).
Cook over medium heat for approximately 8 minutes, stirring continually. 
Once mixture has thickened, remove from heat and let cool for about 10 minutes.
Fill each mini-pie crust with the chocolate mixture.
Top with one raspberry.
Chill in fridge for at least 2 hours before serving.
Yields 36 Mini-Pies
Apple Pie Bites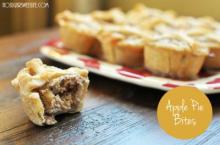 Description
Apple Pie Bites // @noshandnourish
Ingredients
6 ounces Apple Cinnamon Chobani Greek Yogurt
6 ounces Cinnamon Applesauce Pouch (2 pouches)
1⁄3 cup Vanilla Almond Milk
2 tablespoons Agave Nectar or Honey
1 Apple (finely diced, I used a Pink Lady)
1⁄2 cup Walnuts (chopped)
1 tablespoon Flour (I used Whole Wheat Pastry Flour)
2 Refrigerated Pie Crusts
Instructions
Preheat oven to 350 degrees.
Cut pie crust into small circles and press one into each mini-miuffin tin hole. Video tutorial here. 
In a large mixing bowl, mix all ingredients together.
Pour into each crust.
Cut strips of remaining pie crust to create an "X" over the top of the filling/cups.
Bake for 36 minutes. Make sure a knife comes out clean.
Serve warm.
Yields 24 Mini-Pies