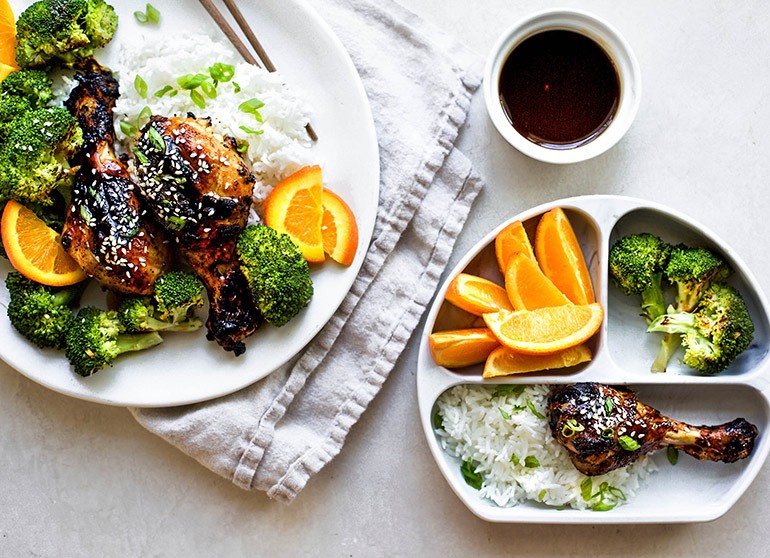 Hey guys, it's Leigh Ann from My Diary of Us here and I am so excited to be sharing a recipe with you today that is so great for back-to-school season and weeknight dinners! Back-to-school season is full of unknowns and looks different from household to household, but I know one thing for sure: we are all getting back to routines and that includes needing easy weeknight dinners that the whole family will love!
Orange chicken is one of those takeout dishes that everyone is usually a fan of, so I came up with a homemade grilled version that is easy enough to make even after an exhausting day. This recipe for grilled orange chicken legs is going to quickly become one of your family's new favorite dishes.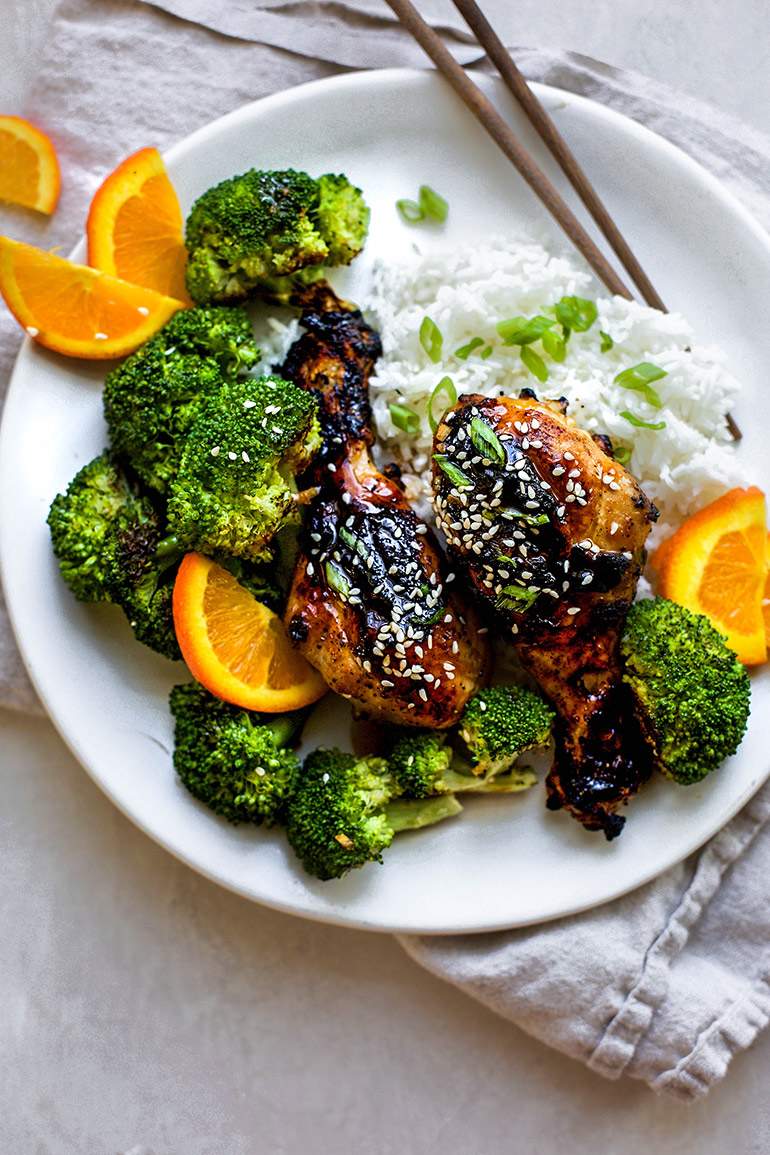 While takeout is great every now and then, I love making a homemade version because the recipe for this sauce is made up from a few simple ingredients that you can feel good about serving up to your family. (No ingredients we can't pronounce here!)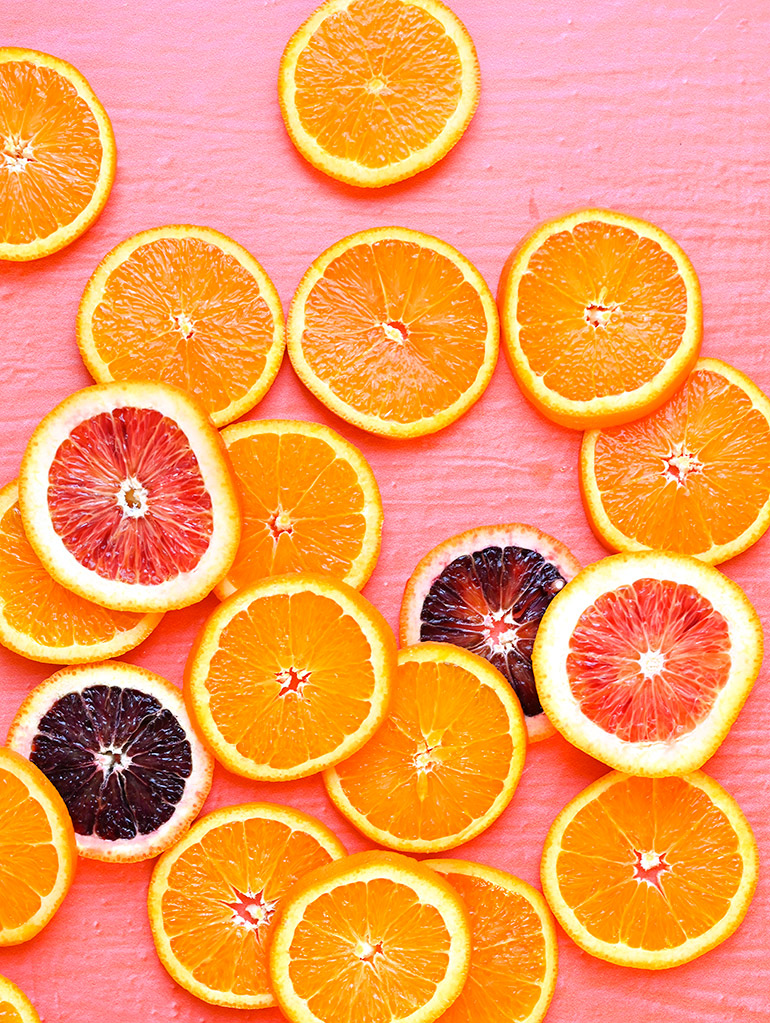 Fresh orange juice gets mixed with honey, ginger, garlic, and soy sauce to create a sticky and delicious sauce that is irresistible to even the pickiest eaters. I like to use chicken legs for this recipe because kids love them, but feel free to use thighs or even breasts here, just note the cook time will change.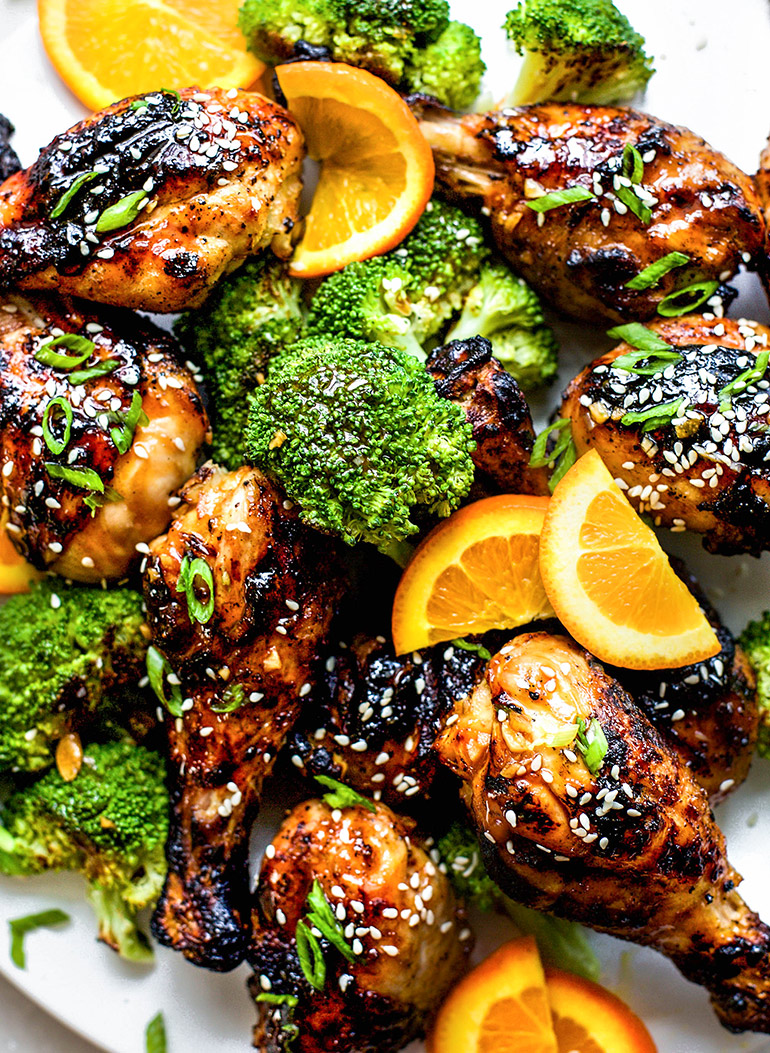 I grill up the chicken legs and brush the glaze over top the last few minutes of cooking, while reserving part of the glaze to drizzle on top of the chicken right before serving! It's SO good! I simply serve it with a little jasmine rice and a veggie, like broccoli. You could also use quinoa instead of rice or substitute another vegetable instead of broccoli here. But since I have a broccoli loving kiddo, I tend to go that route. It turns out to be such a pretty dish when you serve it up and I am telling you: this one is finger licking good!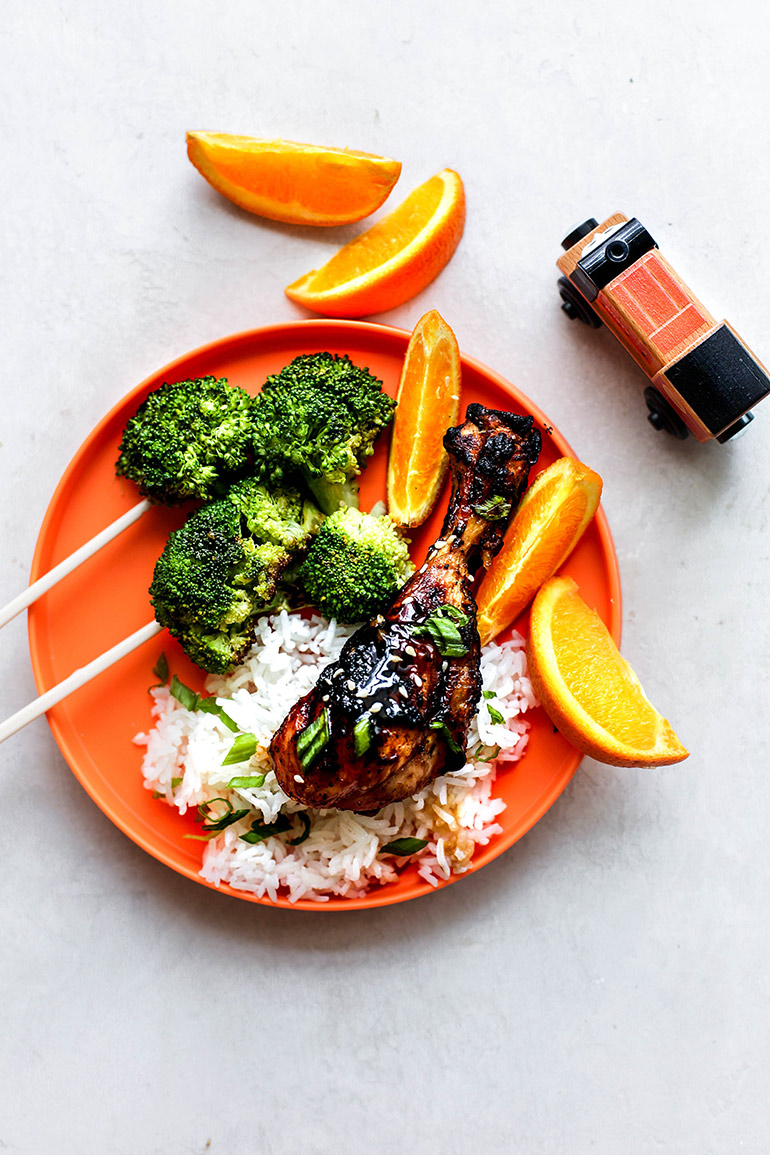 My husband and my son both rave over this recipe and I just know that you are going to love it too!
-Leigh Ann 
////////////////////////////////////////////////////////////////////////////////////////////////////////////////////////////////////
Want more chicken recipes? Try Kelly's Greek Chicken Wraps:
Grilled Orange Chicken Legs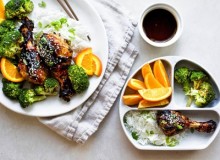 Description
Grilled Orange Chicken Legs
Ingredients
8 chicken legs (or sub thighs or breasts)
1⁄2 teaspoon black pepper
1⁄4 cup low sodium soy sauce (or sub coconut aminos)
1⁄2 cup fresh orange juice
2 tablespoons honey (or maple syrup)
2 tablespoons green onions
Notes
Serve with steamed broccoli and jasmine rice.
***Note: If you don't have an outside grill, you can make these in a skillet or an indoor grill pan.
Instructions
Make glaze by combining soy sauce, orange juice, garlic, ginger, and honey into a saucepan and heat over medium heat until gently simmering.
Reduce heat and then whisk in corn starch and let sauce simmer for 5-10 minutes until slightly thickened and turn off heat.
Preheat grill to medium high heat, about 375-400 degrees.
Season chicken legs with salt and pepper on both sides and then place onto grill and cook for about 30-35 minutes total, flipping every 5-7 minutes with the lid down. Internal temperature should read 165 degrees when chicken is cooked though.
When the chicken legs are almost cooked through, brush the glaze over top and cook for one minute before flipping and repeating on the second side.
Remove from grill and serve alongside jasmine rice and broccoli and garnish with sesame seeds and green onions if desired.
Drizzle extra sauce on top. 
Yields 6 Servings