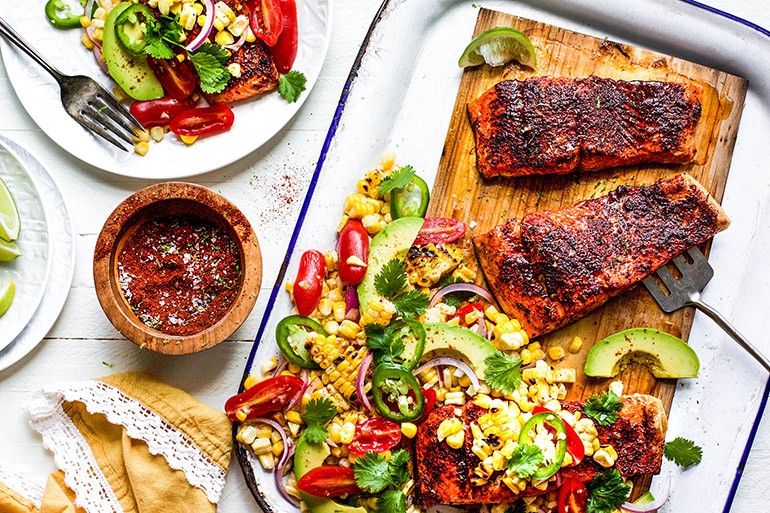 Hi y'all, it's Leigh Ann from @mydiaryofus here! I am so excited that summer is finally in full swing! I mean I could go for a few less 100 degree days here in Texas, but I sure do love pool days and summer eats!
Speaking of summer eats, you can bet that I have my grill is working overtime most days! I happen to be the "griller" in my family and always have been…true story, I rarely let my hubby do any sort of grilling. I grew up with a dad who taught me everything he knew about the grill so it has never intimidated me and it is also one of my favorite ways to cook to this day! I also realize that this is not the case for a lot of people, so I am here to empower you to light up your grill and start using it more! My grilled chili lime salmon with corn and avocado salad is the perfect weeknight meal that is easy enough for anyone to grill up any night of the week!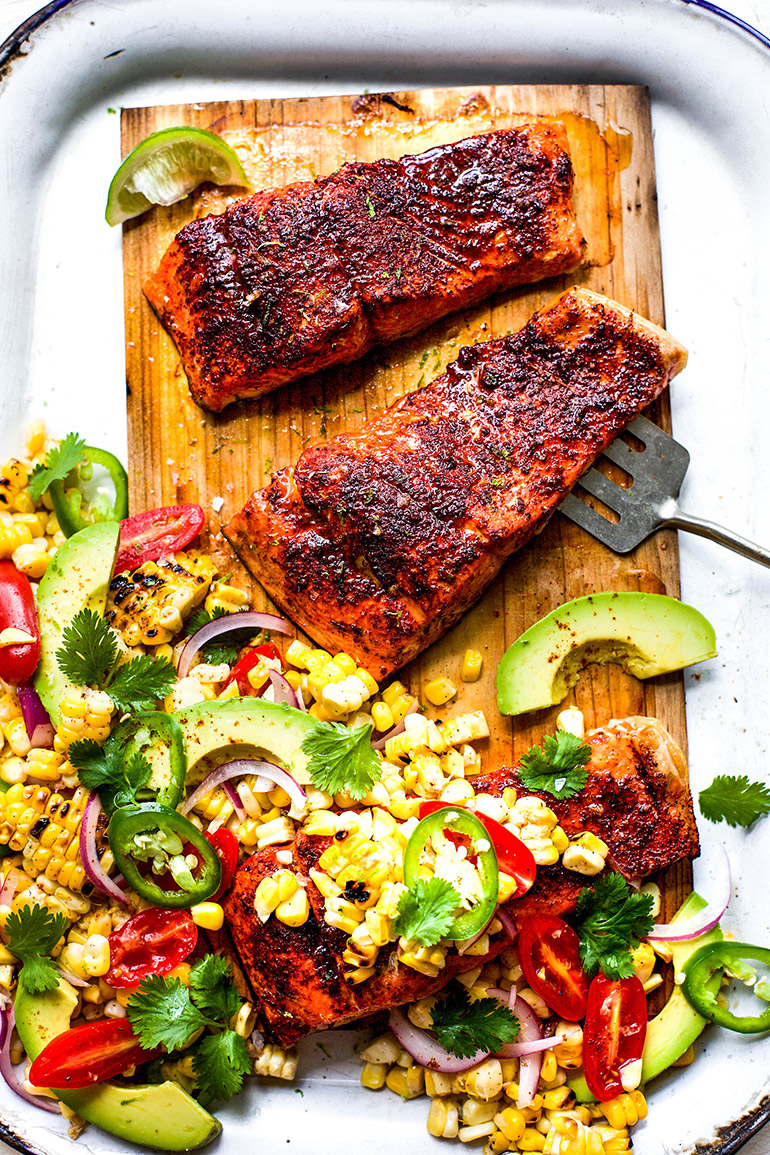 I am the queen of putting anything and everything on the grill! There is a whole world of grilling opportunities beyond meat, I promise you! I love grilling up pizzas, veggies, fish, and even fruit! By grilling food, you automatically give it another depth of flavor that is smoky and delicious so don't be afraid to play around with all of the possibilities!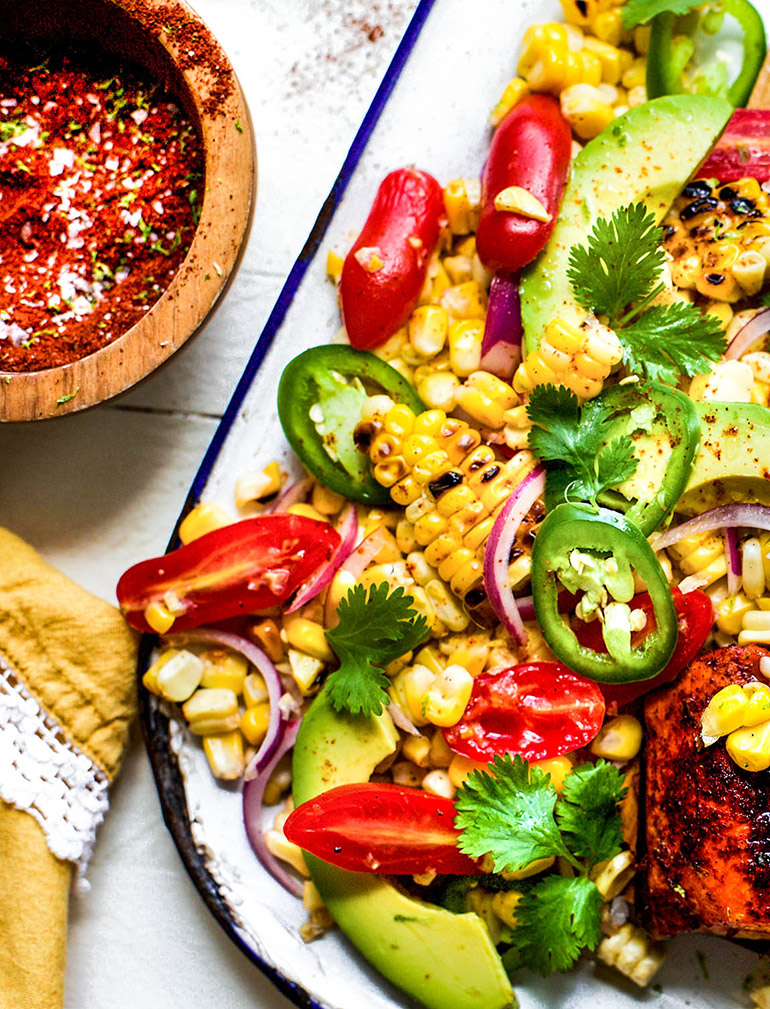 But let's chat about this chili lime salmon with corn and avocado salsa shall we?
Fresh sockeye salmon gets rubbed down with a mixture of chili powder, salt, and lime zest for a dynamite combo! I grill up the salmon a cedar plank for another level of flavor, but feel free to place the salmon directly on the grill too! When the salmon is done, drizzle a little honey on top for a bit of sweetness and then top the fish with a grilled corn and avocado salad! It's the perfect fresh summer salad to pair alongside the smoky salmon!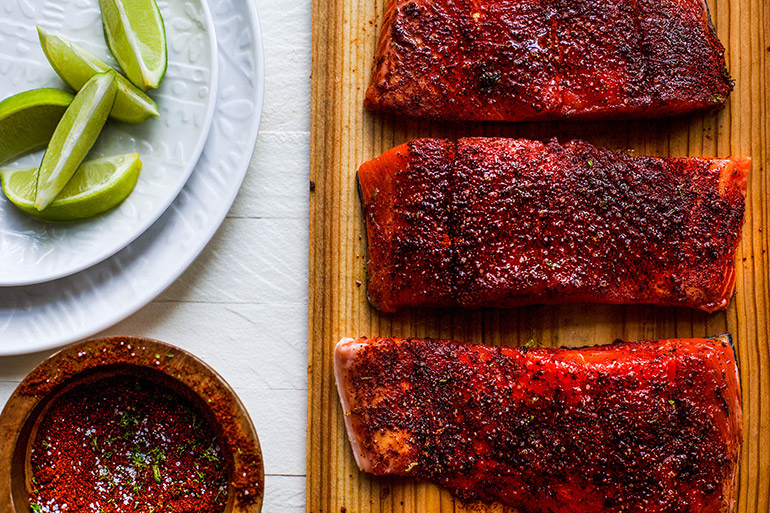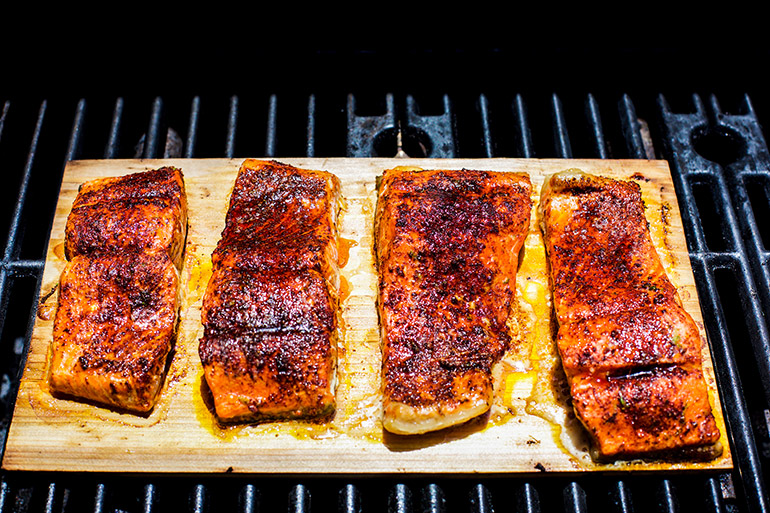 This is a great weeknight meal that the whole family will love! My son loves salmon and this recipe is no exception. The bit of honey is the key to getting even your pickiest eaters to enjoy salmon which is full of so many good nutrients for their growing bodies! Simply leave out the jalapeños in the corn salad on your littles' plates and they can enjoy this delicious summer meal too! (You already know I am all about one meal for the entire family!)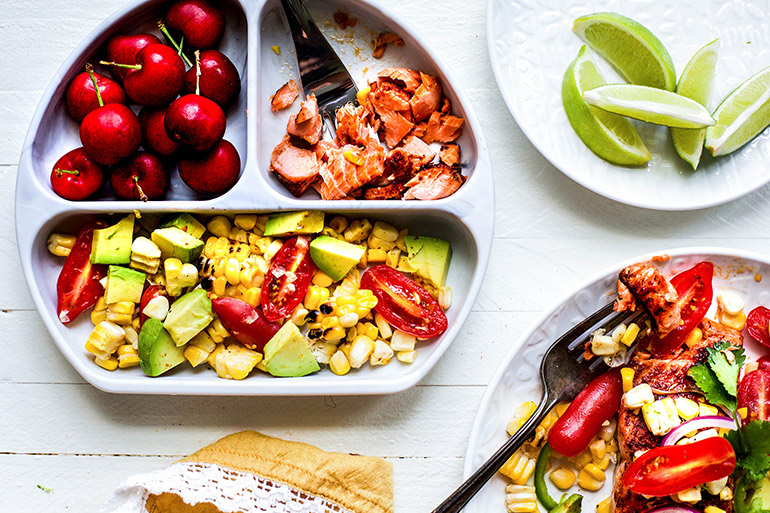 I can totally see this recipe going down all summer long for cookouts and more! You are going to love this one I promise you and I can't wait for you to give it a try!
Happy grilling y'all!
xoxo, 
Leigh Ann 
Love seafood like we do? Try Kelly's Honey Sesame Fish Tacos:
Grilled Chili Lime Salmon with Corn and Avocado Salad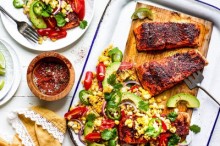 Description
Grilled Chili Lime Salmon with Corn and Avocado Salad
Ingredients
16 ounces wild-caught Sockeye salmon (~four 4oz pieces)
2 tablespoons Chili Powder
1 cedar plank (soaked in water for at least 30 min before grilling)
4 ears of fresh corn (husks removed)
1 cup Grape Tomatoes (halved)
1 thinly sliced jalapeno (or omit if you don't like things as spicy)
1⁄4 cup thinly sliced red onion
1⁄4 cup fresh chopped cilantro
2 tablespoons fresh lime juice
Instructions
Preheat grill to 400 degrees.
Mix chili powder, lime zest, and salt together for the salmon and then rub liberally all over each piece of salmon.
Place salmon pieces directly onto cedar plank.
Place onto the grill and cook for 10-12 minutes until salmon is cooked through. (If cedar plank catches fire in spots, simply use a little water to control the flames.)
Place all ears of corn directly on the grill as well while the salmon cooks, rotating on all sides every 2 minutes until charred.
Remove the corn from the grill and let cool slightly.
Cut corn off of the cob and add to a bowl with sliced avocado, tomatoes, jalapeño, and red onion.
Add in cilantro, lime juice, and salt and pepper and the toss gently careful not to break up the avocado too much.
When the salmon is done cooking, drizzle honey over top of each piece.
Serve the salmon immediately with a healthy scoop of corn and avocado salad.
Yields 4 Servings