Happy Monday y'all :)  As I mentioned on Facebook this weekend - (are you a fan yet?  If not you should be! Click here.) I spent a lot of time writing a guest post for a friend about my struggle to get pregnant.  I poured a lot of myself into the post, and I can't wait to share it with you later in the week. Moving on to today's post...I got this idea from one of my new Blends (Blogger + Friend), Lindsay.  She blogs over at The Lean Green Bean.  She talks about in this post, how we all have "go-to" meals...you know, the ones that are quick and easy and delicious and that we can pretty much make in our sleep.  I loved her series idea so much that I want to do it on my blog as well.  These go-to meals are often simple and maybe don't seem worth blogging about (or photographing)at first glance, but I'm a firm believer that we ALL need some quick easy go-to meals throughout our week when we're super busy!  Today's go-to meal is...
Mango Salsa Chicken
Ingredients:
4 skinless boneless chicken breasts
2 ears of sweet kernel corn
Seeds of Change brand Quinoa and Brown Rice
Kraft Fresh Take- Southwest Three Cheese (cheese & breadcrumbs)
Mango Pico de Gallo
Regular Salsa
Jalepeno Cornbread squares
Here's a pic of some of the branded items: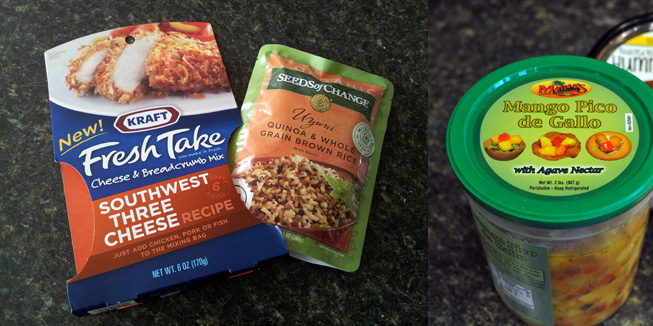 Directions:
Bake Chicken per the Fresh Take instructions - basically rinse with water, cover with breadcrumbs/cheese, bake for 30 minutes at 375 degrees.
Cook quinoa/rice per the instructions - this particular one cooks in the microwave for 90 seconds.  Then, stir in 3 Tbsp of Mango pico de gallo. 
Boil ears of corn for 12 minutes.
Plate the meal by putting 3/4 cup of the mango quinoa/rice on a plate.  Flatten it a bit to make a "bed" for the chicken.  Top with a chicken breast.  Pour 2 Tbsp of regular salsa over the chicken.  Serve with corn on the cob and 12 - 15 jalepeno cornbread squares.
Enjoy!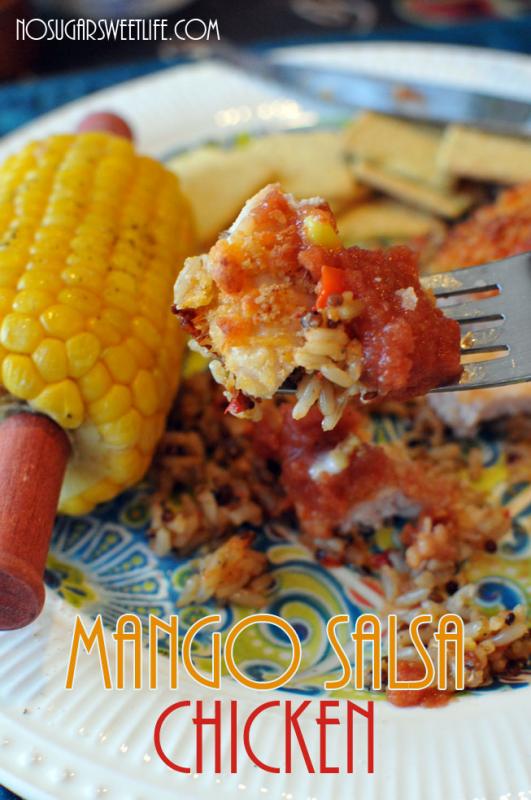 Babycakes enjoyed her first ever "corn on the cob."  She LOVED it and surprised us with her mad corn biting skillz :)  Flossing her tiny teeth afterwards wasn't that fun though!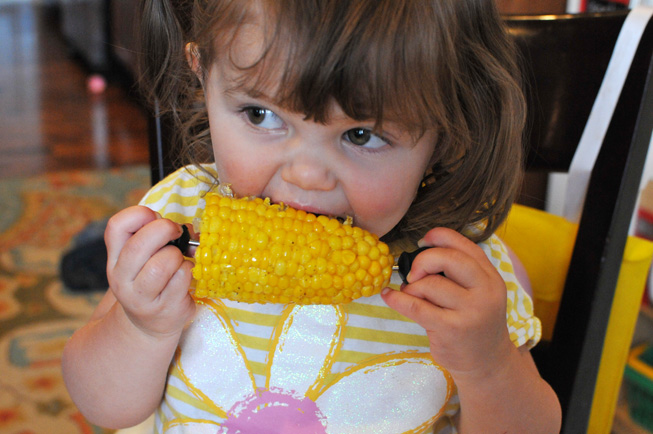 I look forward to sharing more go-to meals with you in the future! (and of course more cute pictures of Babycakes!)
Questions:
What are some of your weekly go-to meals?
Do you like eating corn ON the cob?