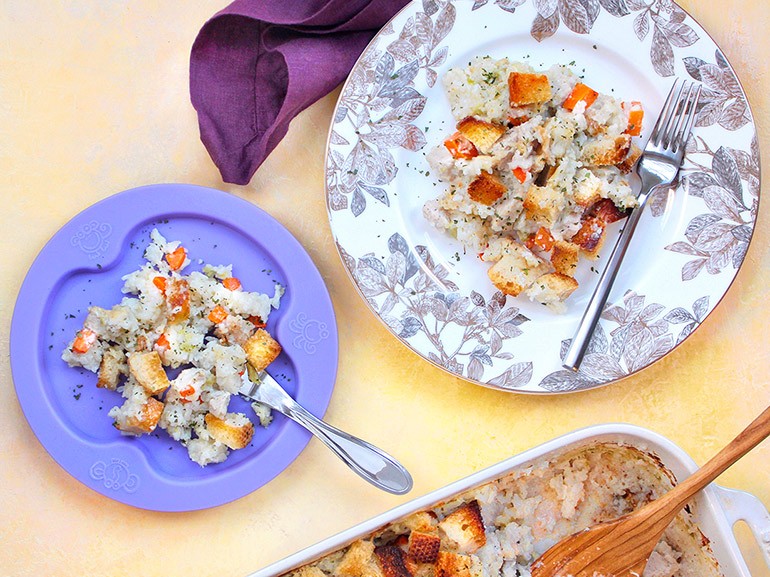 Hey! It's @lunchesandlittles here and can you believe it's almost December?! Somehow Thanksgiving is already behind us and the countdown for Christmas is on. Crazy, right? I don't know about you, but for us, 2018 (really, the whole year) has just flown by in the blink of an eye. Can you relate?
So, here we are - the last few weeks of the year. And, during these busy days, quick and hearty recipes are a must-have. Now, all throughout the year we love meals that are one pot (or in this case – one dish) like this one and this one and this one... but let's be honest - this time of year we want them more than ever. Between shopping for an wrapping gifts, attending kids' Christmas plays and church programs, planning and attending holiday parties with friends and families, and endless other holiday related to-do's, it's just nice to have some easy recipes ready to be made and this Family Friendly Chicken and Rice Bake is just that. So easy (seriously, it kind of makes itself), tasty, and your whole house will smell amazing when you make it too, an added bonus!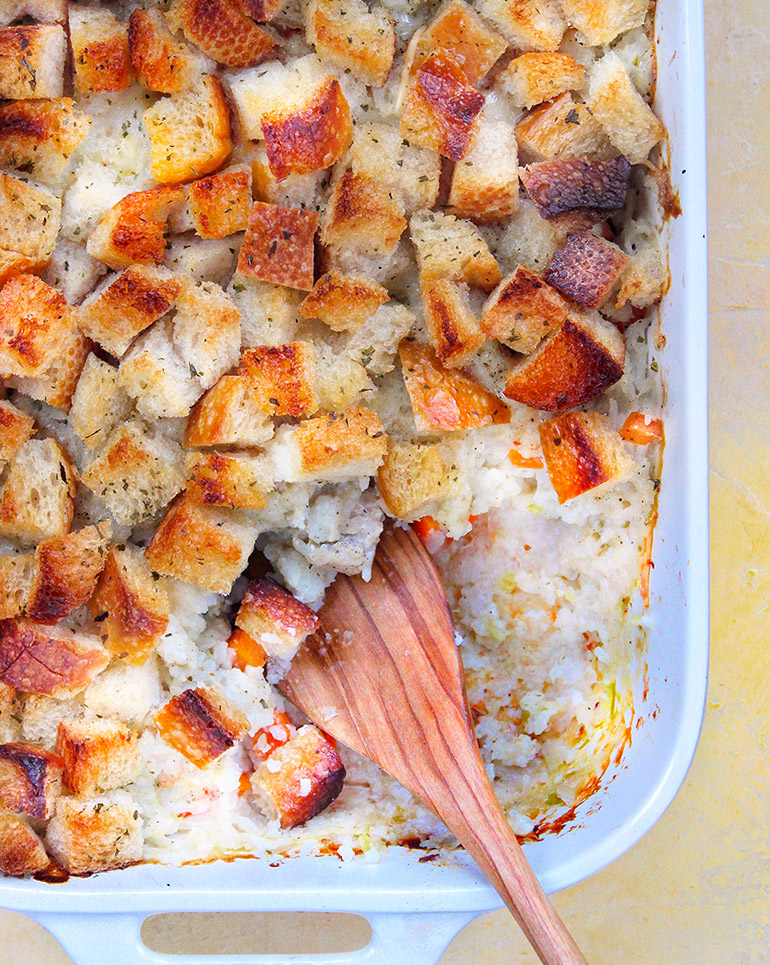 Rice, parmesan cheese, bite-sized chicken breast pieces, vegetables and a crusty bread topping – it all comes together so well and it is perfect for the winter months. Delicious and easy to prep; this dish is made up of simple, real food ingredients, and it is one that our entire family loves. And we highly suggest giving it a try for your own!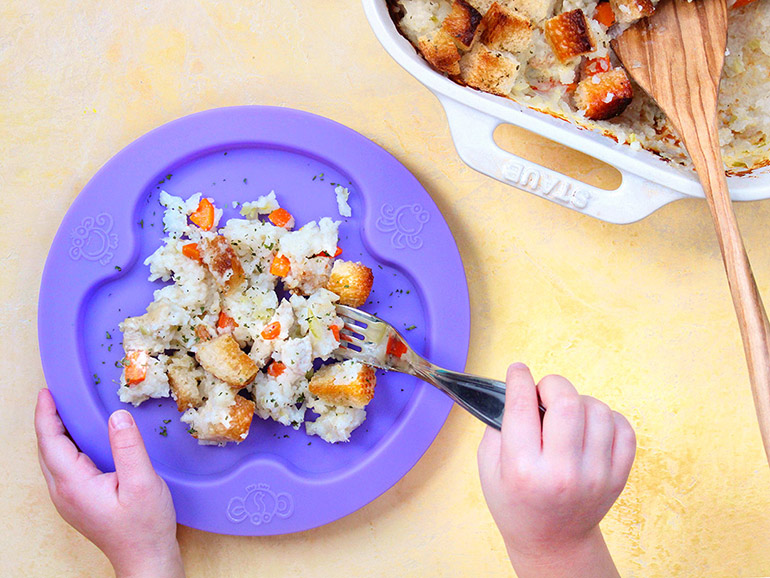 So what are you waiting for? Lets get to the recipe! Please note, as with all our recipes, be sure to read through the recipe below in its entirety to ensure best results! Also, please note that this recipe makes approximately 6- 10 servings depending on serving size; we use a deeper 13 x 9 baking dish for this (see it here). We always feed our family of five and have leftovers for later with this recipe.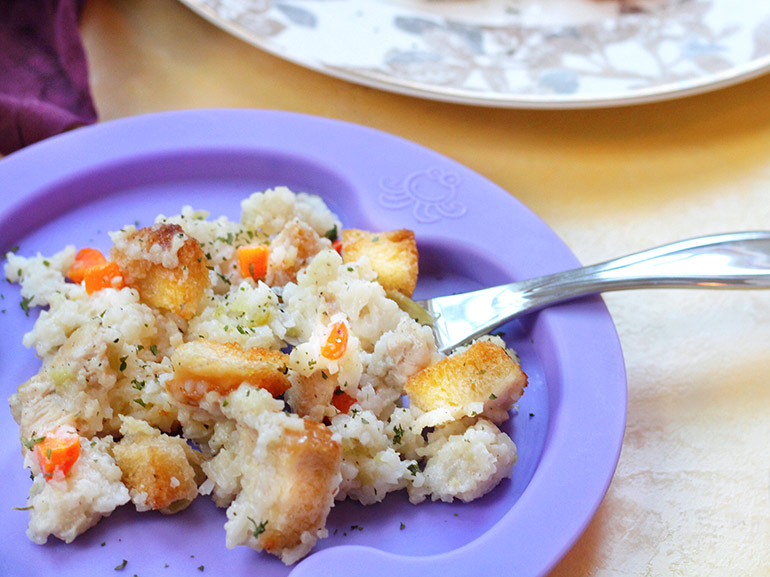 For more easy, family-friendly recipes be sure to check out our feed, @lunchesandlittles, where we are serving up healthy dishes, fun and colorful desserts and other recipes just like this one, all the time.
Family Friendly Chicken and Rice Bake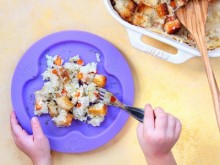 Description
Family Friendly Chicken and Rice Bake
Ingredients
8 tablespoons Butter (divided, plus more for greasing pan)
1 1⁄4 cup uncooked rice of choice (we used white, but you can use brown, wild, etc...)
1⁄2 teaspoon poultry seasoning
1⁄2 teaspoon Garlic Powder
1 1⁄2 pound Chicken Breasts (cut into bite-sized pieces)
5 cups crusty bread cubes (we used a sourdough loaf)
Instructions
• Preheat your oven to 350 degrees and grease your baking dish with a little butter.
Prep your vegetables: Chop/dice onion, celery and carrots. We cut up our onion and celery pretty small (mostly for the kids). Place veggies in greased baking dish.
Next, add in rice (uncooked) and chicken broth. Mix to combine. Cover tightly with foil and bake for 1 hour (and wait for the delicious smell to start overtaking your kitchen!)
While rice mixture is cooking (towards the end of the hour), melt 4 tbsp butter in a small saucepan over low heat. Once butter is melted, add in the following: flour, poultry seasoning, garlic powder, sage and salt. Cook for one minute, stirring constantly.
Next, slowly add in milk, whisking little by little until you have a creamy sauce (will be fairly thick).
Carefully remove dish from oven, and remove foil from top (be careful – this will be very hot). Pour/spoon sauce over rice mixture and add in (uncooked) chicken pieces. Gently mix the sauce and chicken into the rice mixture.
Season with a bit of salt and pepper. Then sprinkle parmesan cheese over top.
Next, melt remaining butter (4 tbsp), then pour over bread and toss to coat. Once bread cubes are coated, pour them over top of casserole dish, evening them out somewhat as you go.
Return dish to oven, uncovered and bake for an additional 25 minutes at 425 degrees.
Once done, carefully remove from oven. Sprinkle with a bit more salt and pepper, and parsley if desired.
Serve and enjoy!
Yields 6 Servings