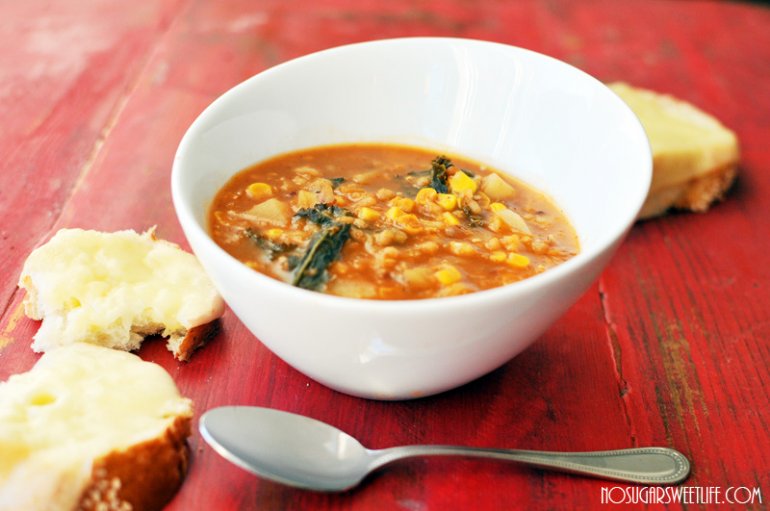 Since losing over 50 pounds in the last year, my wardrobe has shrunk - both figuratively and literally!  It made getting the house ready to sell pretty easy: the walk-in closet was mostly empty.  But I really need some new items, desperately.  Since my mom was here to help me pack, she also took me (and Babycakes) shopping. Don't you just LOVE moms?!?!?!?  We found some really beautiful new sweaters with big cowl necks in deep fall colors, like burnt orange and ocean blue, amongst other things.  
I've never been much of a shopper or fashionista though, so I still have a ways to go in that department!  Maybe after the final 25 pounds I can go on a major major major wardrobe shopping spree :) The stress of this whole move might get me a little closer to my goal. Sheesh!  If you didn't read this week's moving update, you can go back and read it here.
I gave in and unpacked a few boxes
Originally packing for being without my stuff for 2 weeks is a little different than 2+ months.  So, I decided I really couldn't live without any casserole dishes, a muffin pan, or the crockpot. Luckily my mom carefully labeled all the boxes, so they were super easy to locate! I decided to make another vegetarian slow cooker soup since my Tuscan Tortellini was such a hit.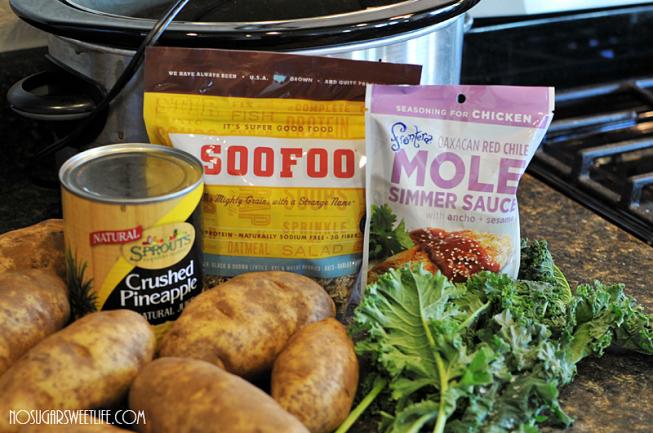 This soup features a spicy mole sauce and crushed pineapple for a hint of sweetness.
Introducing Hawaiian Chowder: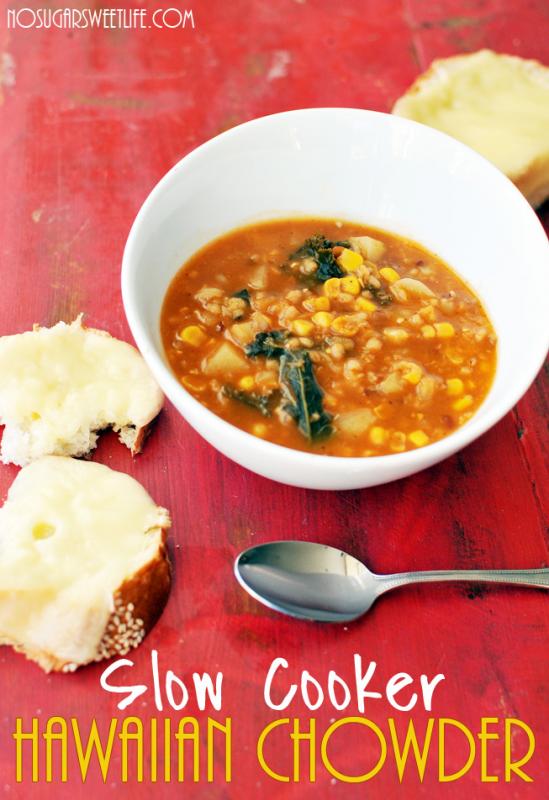 It is full of kale, potatoes, corn, lentils, and some brown rice...and is perfectly accompanied by sesame provolone toast.  (Slice sesame bread. Spread a bit of butter the bread. Cover with a slice of provolone. Bake at 350 for 8 minutes until cheese is melted and bread is crispy. YUM!!!!!!!!)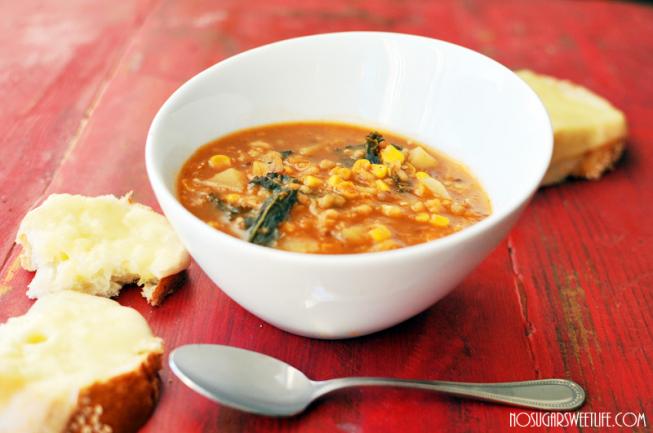 Questions:
Are you a fashionista? Is your closet full of clothes?
What are your favorite fall trends?
Slow Cooker Hawaiian Chowder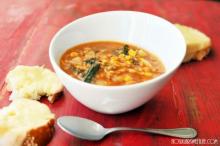 Description
Slow Cooker Hawaiian Chowder | No Sugar Sweet Life
Ingredients
1 1⁄2 cup Kale (Stems removed, then chopped)
1 cup Dry SooFoo (can sub 1/2 cup dry lentils, 1/2 cup dry rice)
20 ounces Crushed Pineapple (with juice)
2 tablespoons Minced Garlic
Instructions
Combine all ingredients into a crockpot
Cook on low for 8 hours
Serve with Provolone Toast (optional)
Yields 8 Servings