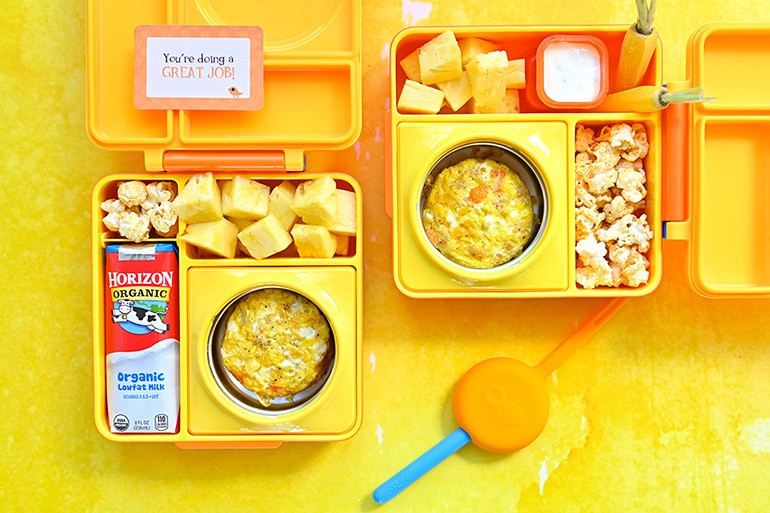 This is a sponsored conversation written by me on behalf of Horizon Organic. The opinions, recipe, beautiful food photography and text are all mine. This easy veggie-loaded breakfast casserole is perfect for serving a crowd (like the PTA or overnight guests) OR going into the lunchbox alongside a single-serve Horizon Organic milk carton.
As a momma, I'm always trying to add more fruits and veggies into my kiddo's day; so breakfast is a great place to start!!
This easy breakfast casserole includes:
bell pepper
corn
cauliflower
grape tomatoes
That said, this casserole is totally versatile! So feel free to use whatever veggies you have on hand. Other things that would work great: small bits of broccoli, spinach, grated sweet potato, asparagus, grated carrot... the possibilities are endless!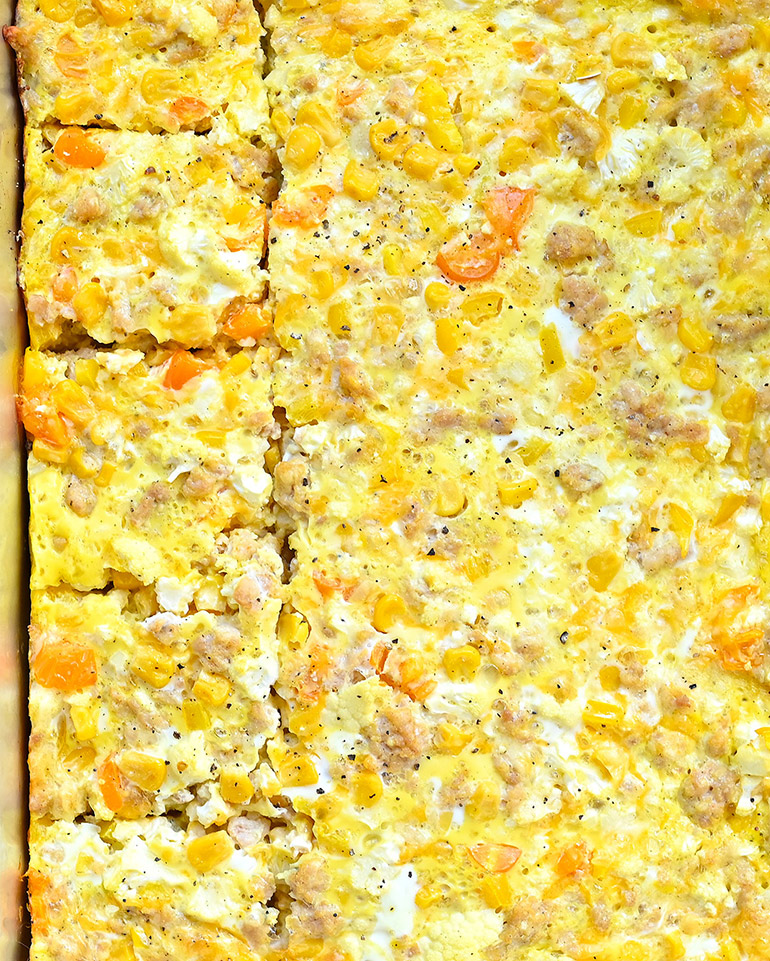 Everything you need can be purchased at your local Sprouts, including the bread, bulk breakfast chicken sausage, veggies, eggs, cheese, and Horizon Organic® milk. They have great prices and a fabulous selection!
And the best part??? There's currently a coupon for $2 off a 6 pack!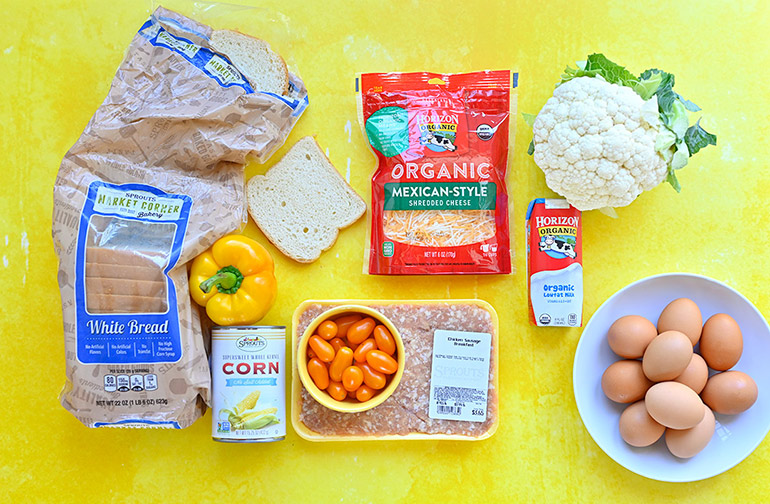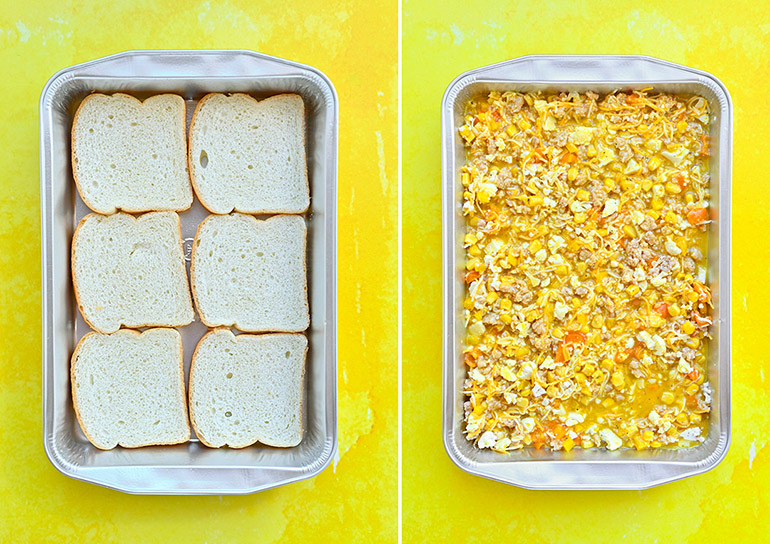 I made this casserole in a disposable pan for the PTA kickoff meeting at Babycakes' school and paired it with fresh berries + blooms from Sprouts! It would also be perfect to make for a friend who just had a baby.
It's such an easy recipe to double! Make one for a friend and one for yourself!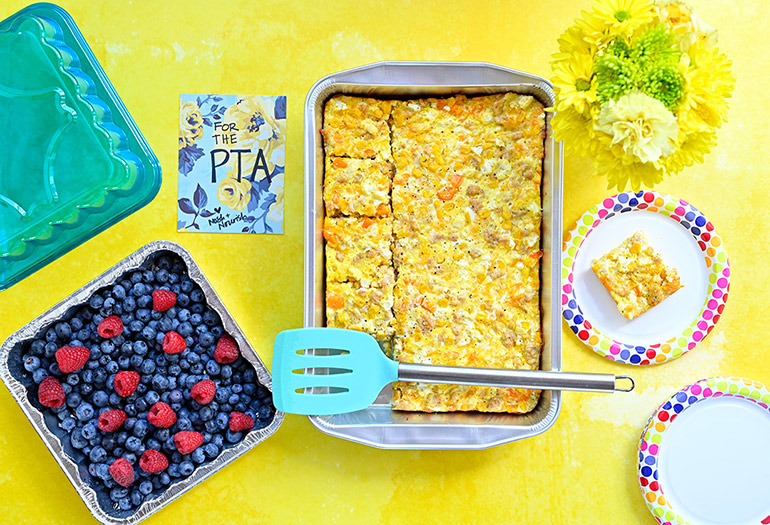 Alternatively, you can make the recipe in single serve ramekin dishes so that the individual portions fit PERFECTLY into a lunchbox.
PRO TIP: Just place them on a sheet pan for easy in and out of the oven.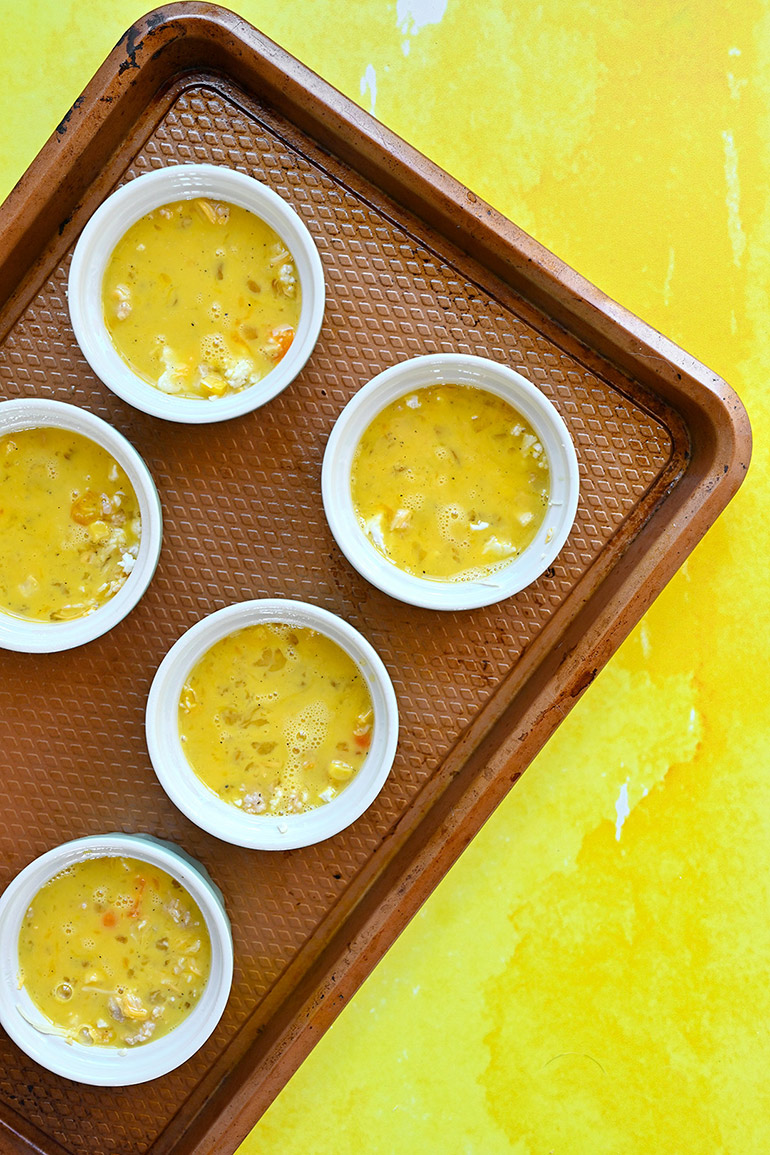 I have been having SO MUCH FUN with my color weeks over on my new insta, @eattherainbow_kids!!! So, I created a yellow themed lunchbox for an upcoming #YellowWeek. Be sure to follow along for all the rainbow-inspired eats!
In this Yellow Sunshine bento box:
Easy Veggie-Loaded Breakfast Casserole
pineapple
yellow carrots + ranch
yellow popcorn
Horizon Organic single-serve milk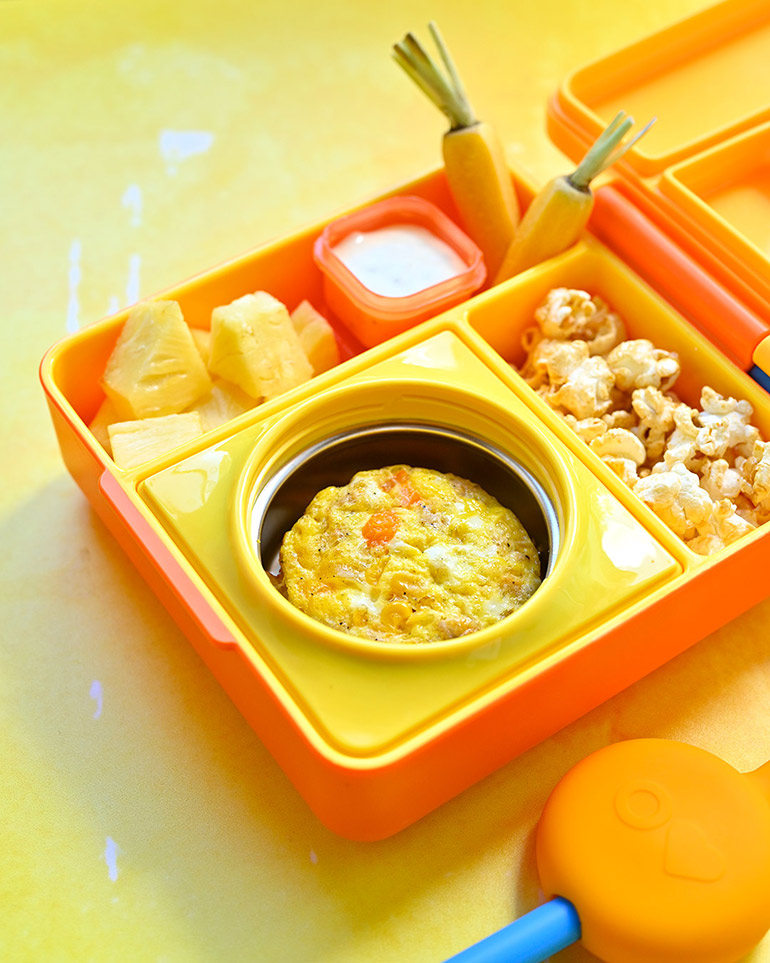 Want more breakfast ideas? Try these Chocolate Avocado Muffins!
Easy Veggie-Loaded Breakfast Casserole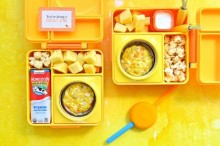 Description
Easy Veggie-Loaded Breakfast Casserole
Ingredients
1⁄2 pound Sprouts bulk breakfast chicken sausage
1⁄2 cup sweet corn kernels
1⁄2 a bell pepper (diced)
1 cup Horizon Organic Mexican-style shredded cheese
1⁄2 cup Horizon Organic Milk
1⁄4 teaspoon ground mustard
Notes
You can bake this in a 13x9 pan OR in 6 -8 individual ramekin dishes.
Instructions
Preheat oven to 350 degrees.
Over medium heat, saute the chicken sausage and garlic until slightly browned, approximately 5 minutes.
In a large mixing bowl, combine diced cauliflower, corn, bell pepper, tomatoes, cheese, and cooked chicken sausge.
In a separate bowl, combine: eggs, milk + spices. Whisk until combined.
In a greased 13 x 9 pan, lay out the bread in a single layer. Then, spread on the veggie + cheese mixture evenly over bread. Then, pour on the egg mixture.
Bake for 30-35 minutes until eggs are completely baked / cooked and no longer jiggle at all.
Serve hot.
Yields 8 Servings