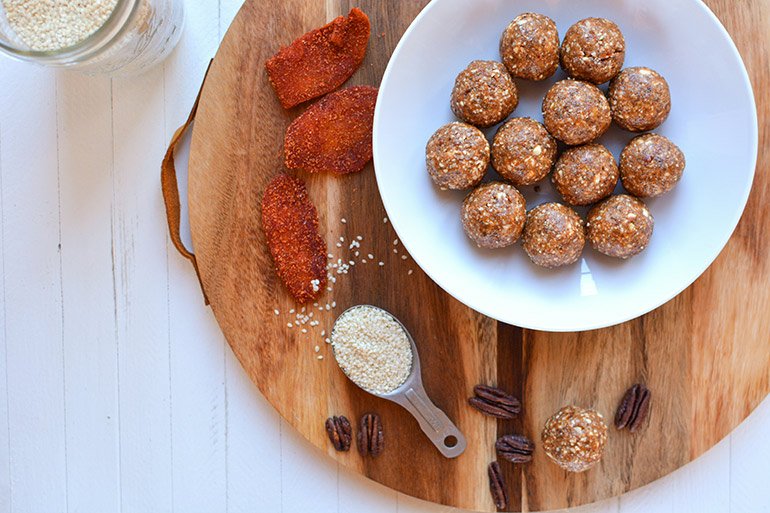 These chili mango energy balls (or bites, whatever you want to call them) are packed with good-for-you things like cashews and pecans and sesame seeds and coconut oil. They are the perfect combo of salty and sweet with a little kick.  
They are perfect as an afternoon snack, or a little treat in the lunchbox or after dinner. I like to keep them in the fridge and grab one whenever I need a little energy boost. 
Let's get a close-up view: nutty seedy deliciousness!!
Also, do you like my galaxy nail polish that I got for New Year's Eve?!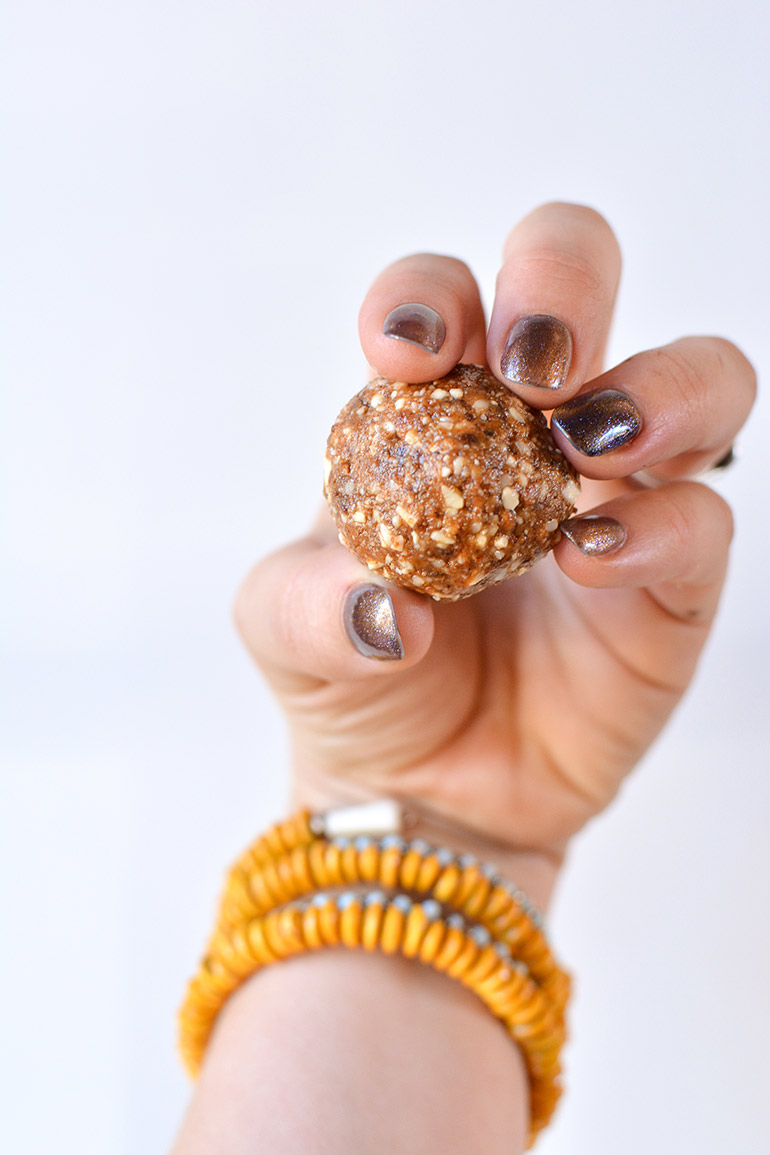 BE HAPPY.
As 2018 begins, let's focus on how we can love our bodies --- and start new things out of a place of care and happiness, not self-loathing. What can we ADD to our diet and lives to help fuel our bodies instead of deprive them? I started a little early, about a month ago, adding:
more movement
daily probiotics
2 tbsp of fermented foods
collagen peptides
a vitamin regimen (multi, D, and magnesium)
more seeds (helllllllllllo, sesame seeds + flax + sunflower seeds + pepitas)
What would you add? Maybe one plant-based day a week? Or more colorful foods? Or a green smoothie?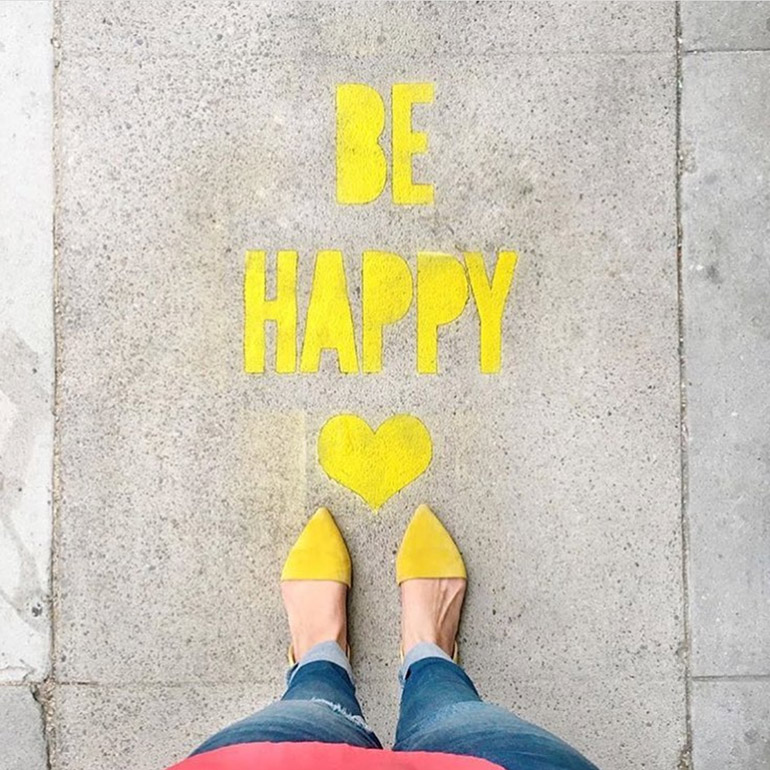 Photo by @lovelyindeed
Have you had chili mango before? My hubby (who is 1/2 Korean) has eaten it his whole life -- but a lot of times it's made with high fructose corn syrup and dyes. Thankfully, I found an organic, all-natural version at Costco (also available on Amazon). It's pretty spicy to snack on on its own... but blended up into a protein ball, it's much more mild --- and even kid-friendly.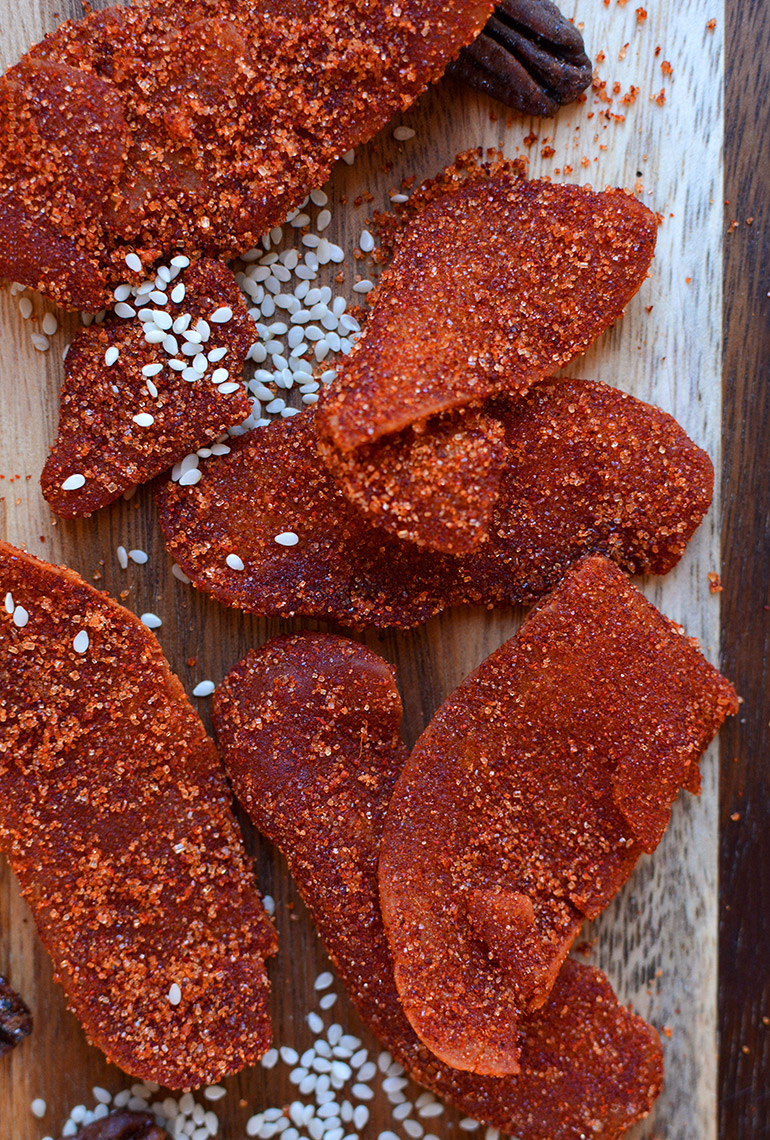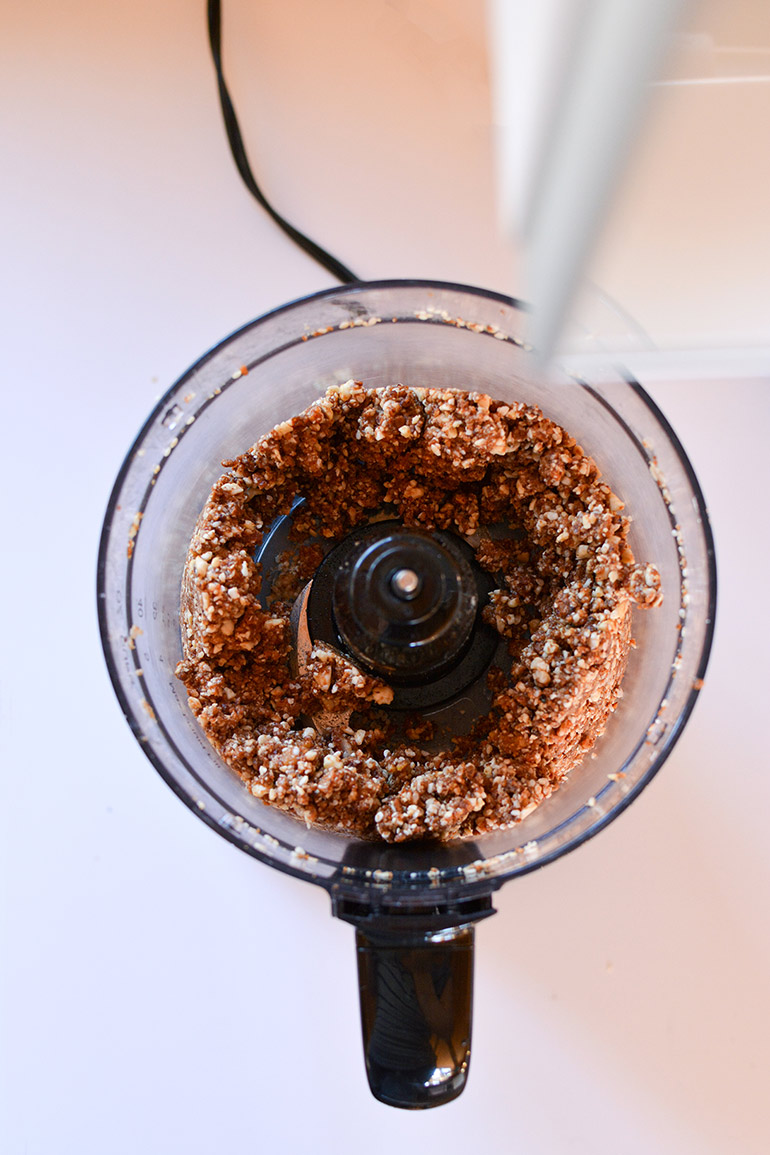 YES - kid-friendly! My daughter LOVES these (especially in her lunchbox!) and begs me to make more. 
This OmieBox lunchbox includes: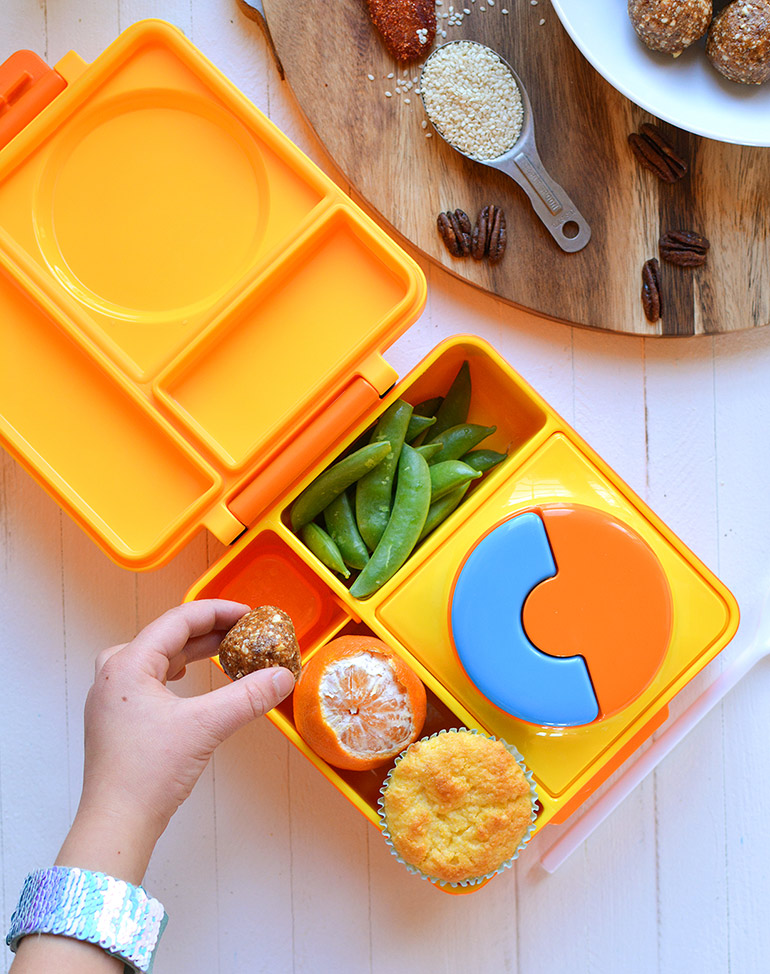 TIP: I found it helps to coarsely chop the chili mango slices before adding them to the food processor.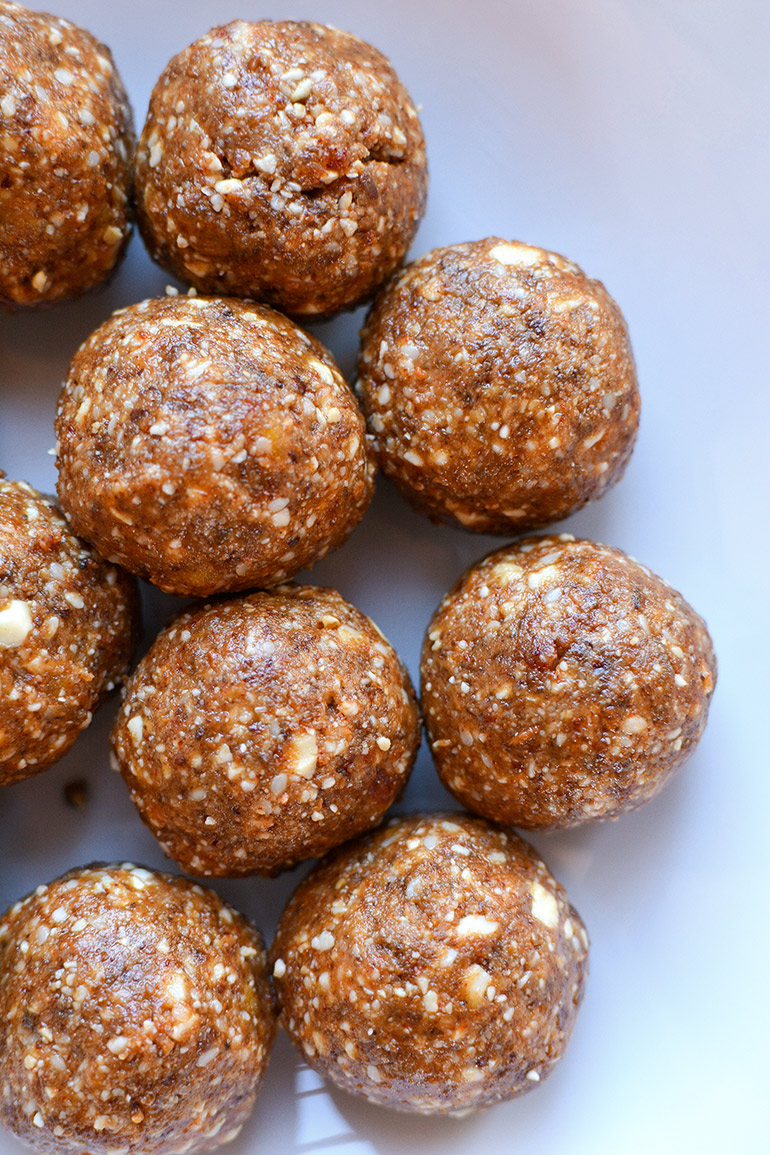 The nuts and seeds are held together with honey and Now Foods' Coconut Infusions (basically coconut oil infused with non-dairy butter flavor). I also love to scramble my eggs in it... or add it to smoothies.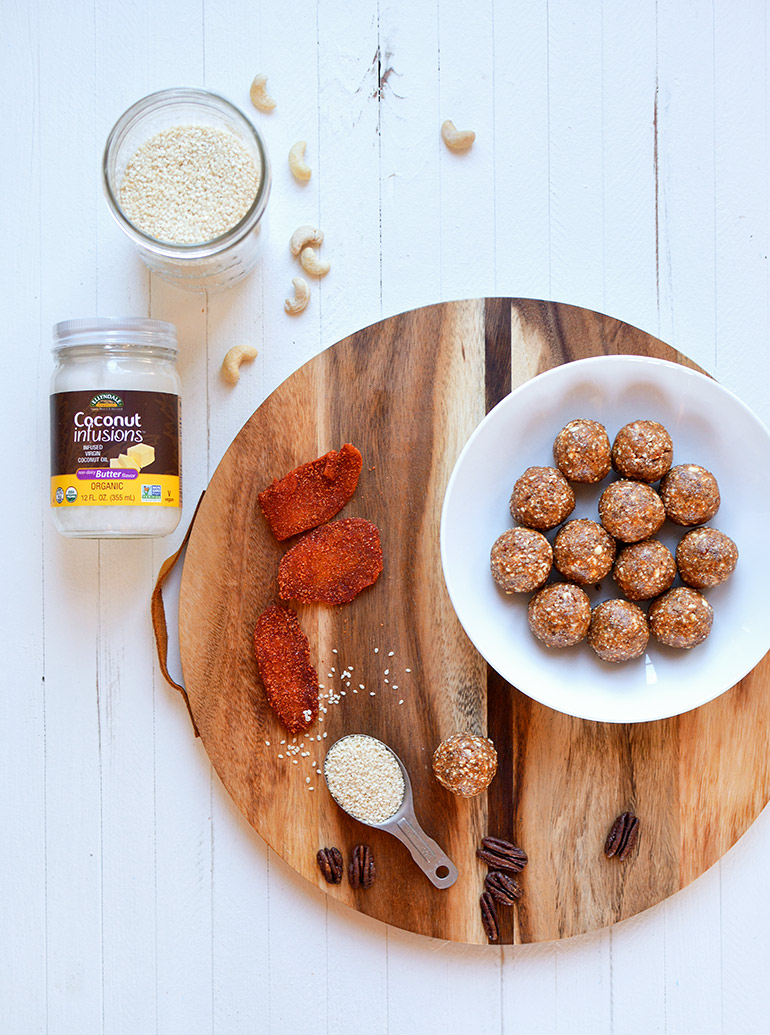 /////////////////////////////////////////////////////////////////////////////////////////////////////////////////////////////////////////////////////////// Disclaimer: this is a sponsored post written by me on behalf of NOW Foods. The opinions, text, recipe, and beautiful photos are all mine. Thank you for supporting brands that support Nosh and Nourish!! I choose them based on what I already cook/create with and feel 100% confident in recommending to you!
Chili Mango Energy Balls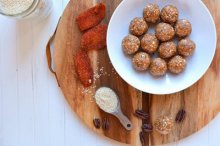 Description
Chili Mango Energy Balls | Chili Mango Energy Bites | Chili Mango Protein Balls |
Ingredients
1 tablespoon NOW Foods' Coconut Oil infused with butter flavor (or sub plain coconut oil)
5 slices Chili Mango (I like the Chimango brand-- organic and all-natural)
3⁄4 cups Now Foods' Honey Roasted Pecans
2 tablespoons sesame seeds
Instructions
Coarsely chop the chili mango.
Add all ingredients into a food processor. Blend until nuts are finely chopped and the mixture is coming together like a dough. You might need to stir once or twice. 
Roll into 1.5" balls. 
Store in the refrigerator.
Enjoy!
Yields 12 Balls