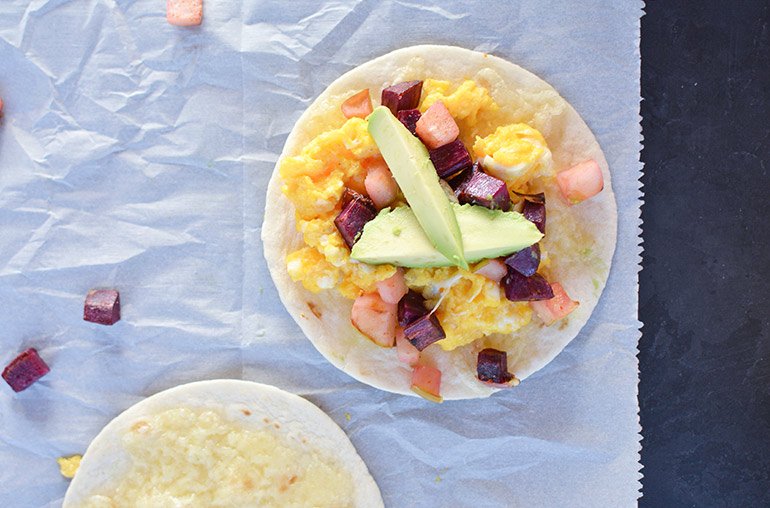 These breakfast tacos are the perfect way to start the day --- with scrambled eggs, melted havarti cheese, avocado, and an apple and sweet potato hash! They're colorful, super quick, and delish! 
Apples tend to be a snack or lunch item --- or even dessert (hellllllllllllllllo, apple pie!).  But they're great at breakfast too! 
Like in my apple pie green smoothies. 
Or in oatmeal bowls.
Or in pancakes. 
Or in these tacos! (recipe below)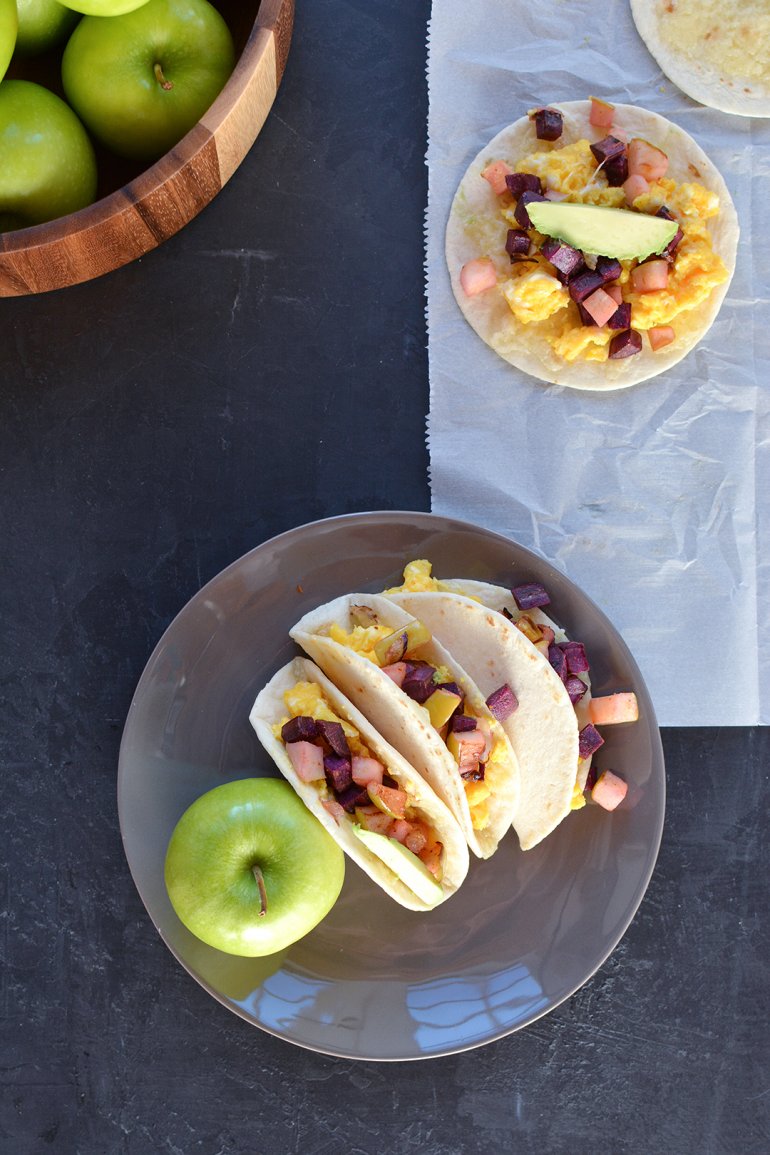 I had the privilege of visiting the apple orchards of Superfresh Growers in Washington state last month with a bunch of other bloggers.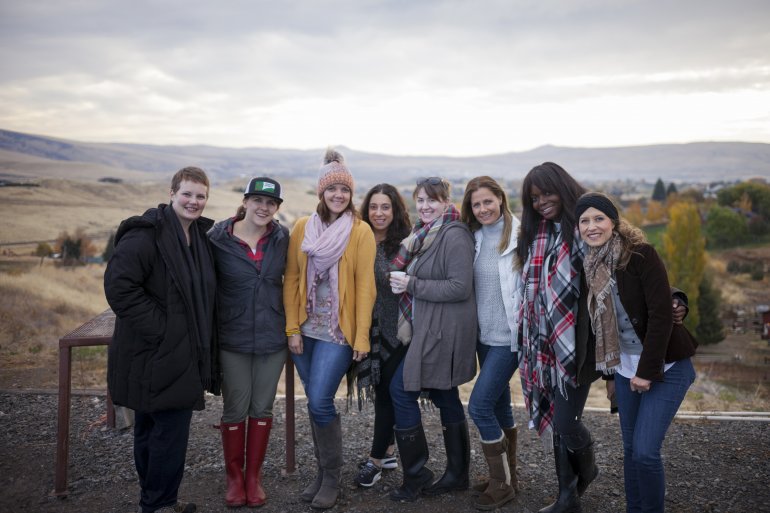 It was so great to hear about their dedicated farmers, their hard working pickers (every apple is hand-picked!), their processes, and honestly, the most exciting to me: their innovation.  They have created an entirely new apple variety: the autumn glory apple. And they are currently in the process of planting new orchards with a trellis system that will help them prune and grow trees in a way that makes it easier and safer (and faster) for the pickers to get the fruit off the trees during harvest!
I love that they aren't only thinking about their product, but also their people.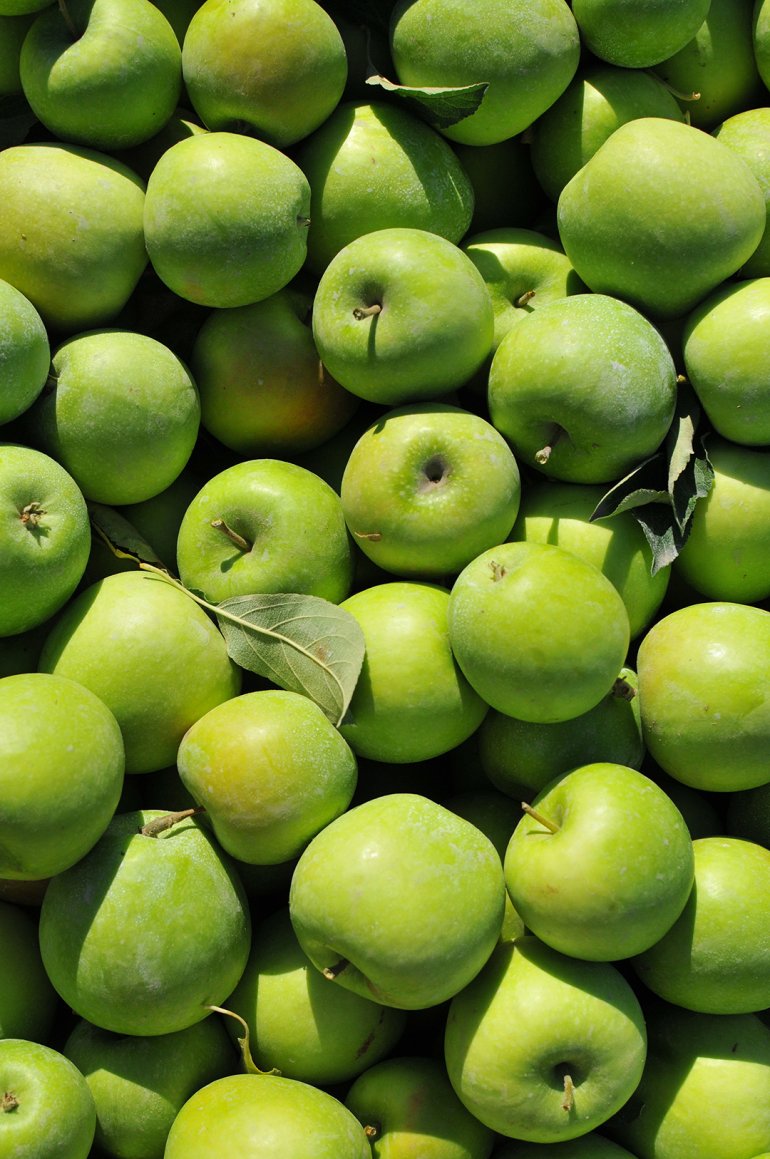 Can you guess how many apples they process (wash, sort, pack) per day?????
.
.
.
.
.
ONE MILLION. Oh my starzies, that's a lot of apples!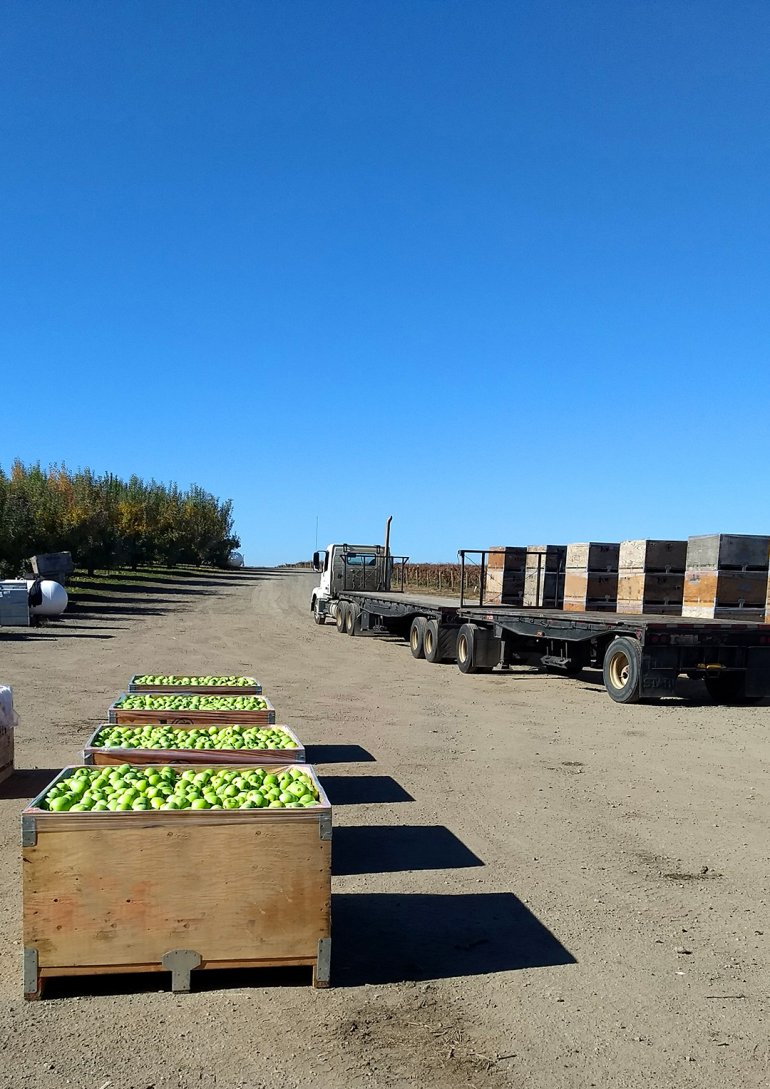 Oh, hi. 
Here I am... out in the autumn glory apple orchard picking a few apples at sunrise.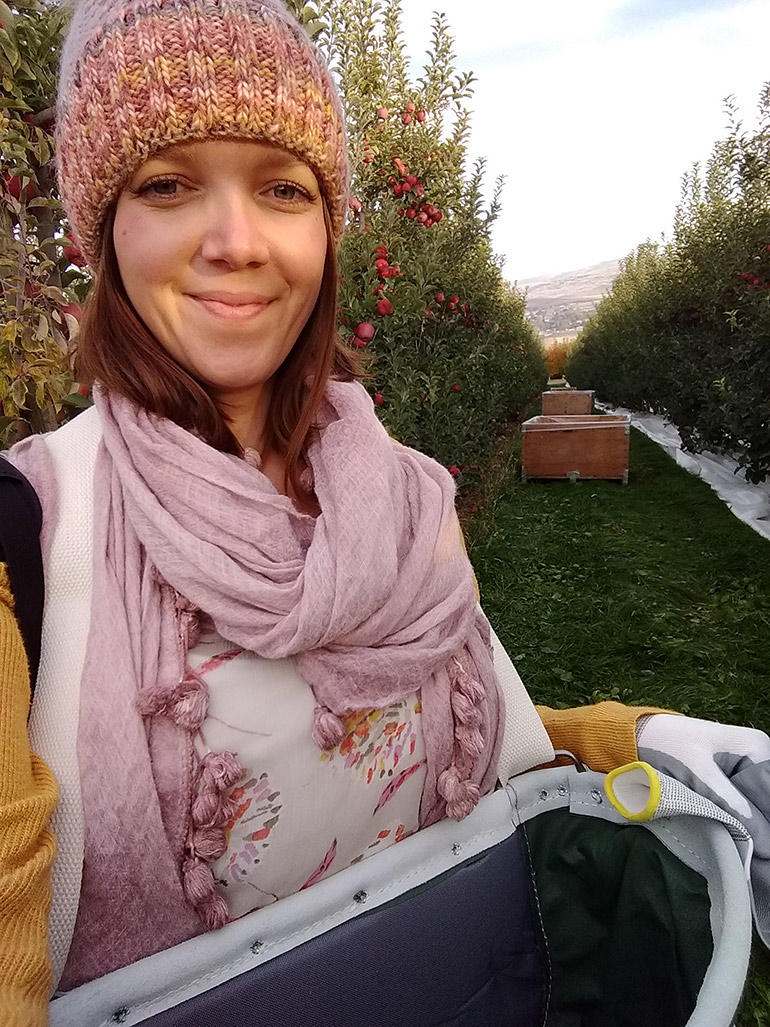 OK, back to tacos!
The apple sweet potato hash is made with the Superfresh organic granny smith apples (which I have to admit are much sweeter than I'd remembered --- I always thought grannies were really tart/sour.) They are sauteed with some purple sweet potato, diced sweet onion, and a bit of avocado oil. Then tossed with chile lime salt!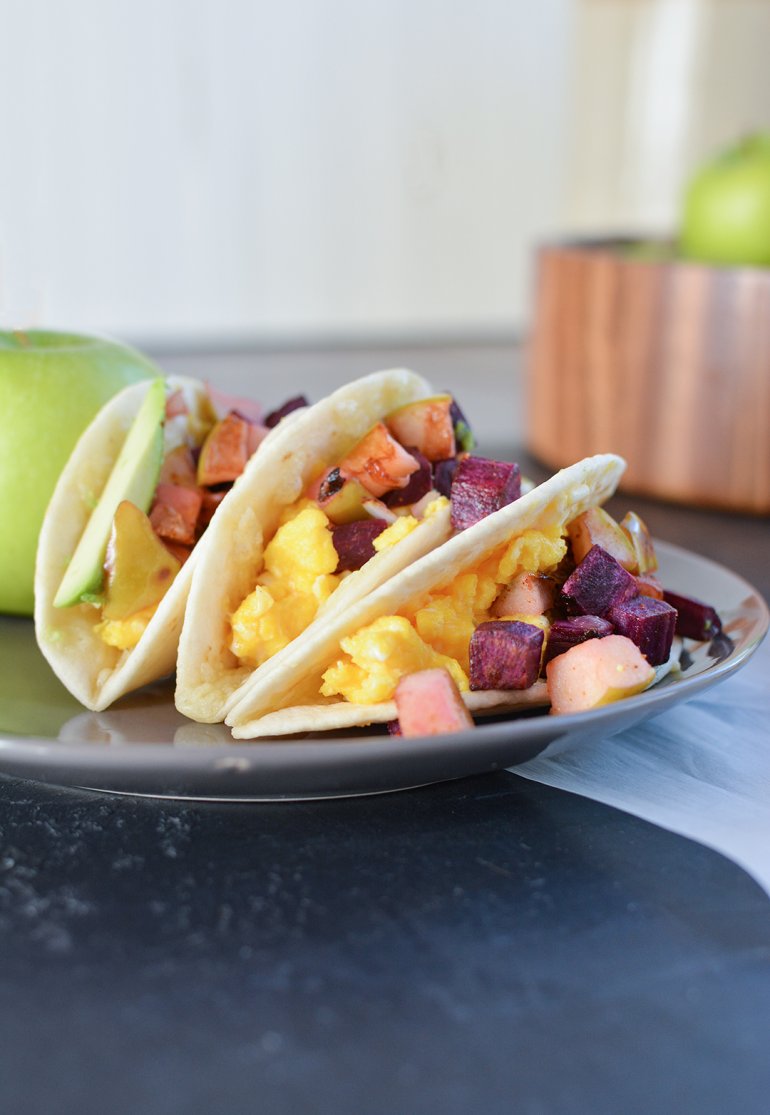 So tell me... 
(Q:) What is your favorite way to eat apples at breakfast?
////////////////////////////////////////////////////////////////////////////////////////////////////////////////////////////////////////////////////////////////// Disclaimer: this is a sponsored post written by me on behalf of Superfresh Growers. The opinions, text, recipe, and beautiful photos are all mine. Thank you for supporting brands that support Nosh and Nourish!! I choose them based on what I already cook/create with and feel 100% confident in recommending to you.
Breakfast Tacos with Apple and Sweet Potato Hash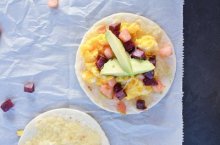 Description
Breakfast tacos | vegetarian tacos | apple breakfast
Ingredients
8 Small Flour Tortillas (or sub your favorite)
1 cup shredded havarti cheese
1 tablespoon avocado oil (or sub evoo)
1⁄4 cup diced sweet onion
1 small purple sweet potato (or sub a regular orange one)
1 granny smith apple (diced)
1⁄2 tablespoon chile lime salt (I love the one from Trader Joe's!)
1⁄2 tablespoon avocado oil (for scrambling the eggs)
Instructions
Preheat oven to 425 degrees. Lay out tortillas on a cookie sheet in a single layer. 
Sprinkle havarti evenly over all the tortillas. Bake for 6 minutes, or until cheese is melted/bubbly. Remove from oven. 
In a large skillet over medium high heat, saute the onion, sweet potato, and diced apples in 1 tbsp of avocado oil. Stir frequently. Saute for approximately 10 minutes, until sweet potatoes are cooked / softened. Then place the sauteed fruit and veggies in a bowl and sprinkle on the chile lime salt. Stir until evenly covered. 
In that same skillet, over medium low heat, add an additional 1/2 tbsp avocado oil and break open 8 eggs. Stir to break up the yolks so that they become scrambled. Stir frequently for approx 5 minutes until eggs are cooked through. 
Assemble your tacos: eggs, apple sweet potato hash, and a slice or two of avocado. 
OPTIONAL ADD-ONS: dollop of Greek yogurt or bacon crumbles.
Yields 8 Tacos