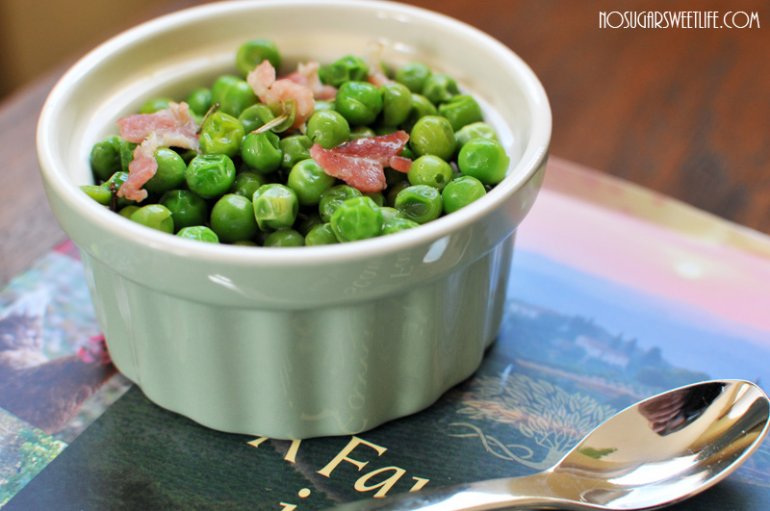 A few months ago, I was contacted by one of my readers, Ginny, to see if I'd be interested in reviewing a new Italian cookbook called "A Family Farm in Tuscany."  I'm Italian. I love food. And I love free things.  So, I agreed almost immediately :)  Then life happened...and I quit my job, sold my house in one day, had my mountain dream home turn into a nightmare, and moved into my inlaws' house last week.  Ginny knew all this and sent me the nicest, most encouraging emails for which I am so thankful!  So, here it is, from book to blog...better late than never.
A Family Farm in Tuscany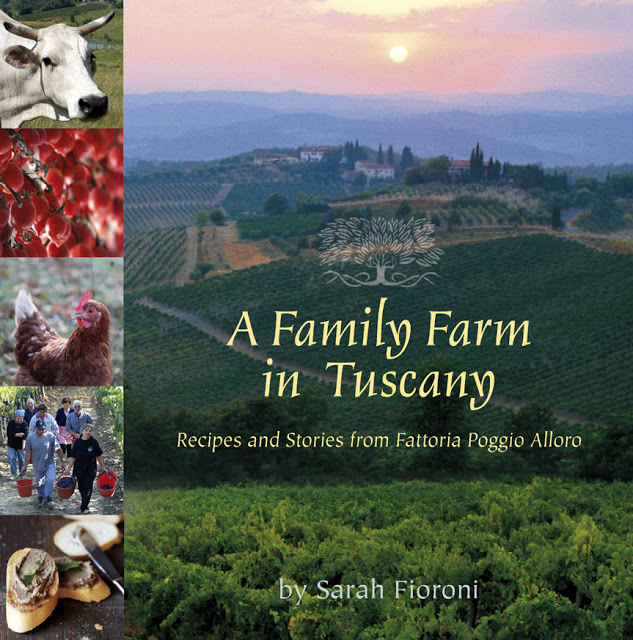 In the book, the author Sarah, who is also a chef, instructor, sommelier, and manager of her family's organic farm, shares stories and descriptions of what life is like month to month on the farm as well as seasonal Tuscan recipes.  I was most drawn in by the plethora of photography - beautiful food, breathtaking landscapes, and real smiles of workers, family, and friends.
There are 50+ recipes in the book.
Upon first glance and doggie-earing multiple pages, I narrowed down my initial favorites to:
Crostini with Mozzarella & Sausage
Florentine Peas
Vegetable Tart
Autumn Risotto
Apple Cake
And ultimately I decided on the florentine peas.  They were simple, yet savory.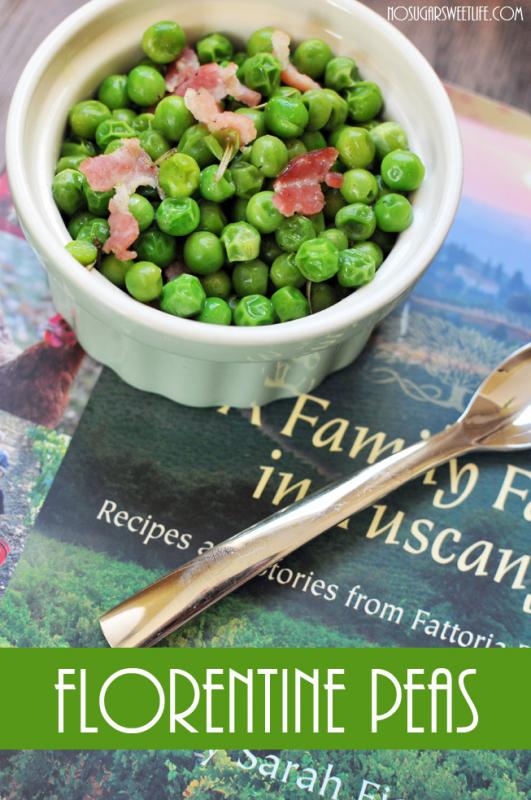 Flavored with olive oil, bacon, rosemary, garlic, and sage, these peas are sure to please everyone at the table.  As the book describes, they would be the perfect side dish to serve with beef tenderloin.  Or you could toss them in with some bowtie pasta and sprinkle with cheese for an easy full dinner meal.  Speaking of...I think that's what I'll do for dinner :)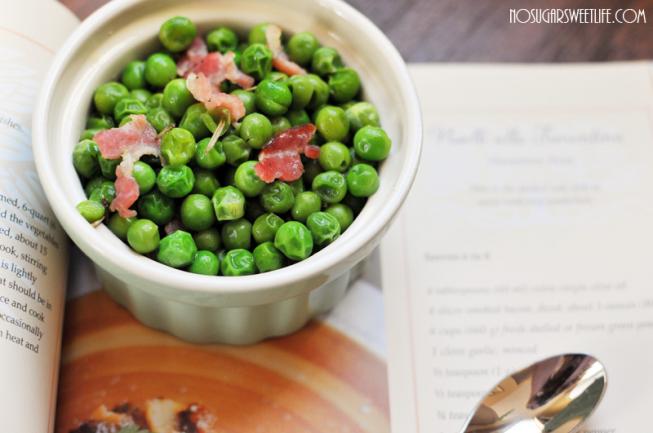 I am definitely looking forward to trying more of the recipes soon!
The cookbook is available on Amazon and at other book retailers, or you can visit the farm's website to find out more.
Florentine Peas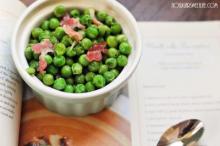 Description
Florentine Peas | No Sugar Sweet Life
Ingredients
4 slices Smoked Bacon (diced)
6 cups Green Peas (fresh shelled OR frozen)
1⁄2 teaspoon Sage (minced)
1⁄2 teaspoon Rosemary (minced)
1 pinch Ground Black Pepper
Instructions
Heat the olive oil in a heavy-bottomed, 14-inch saute pan over medium heat.  When the oil is hot, add the bacon and cook for 2 minutes, stirring occasionally.  Add the peas, garlic, sage, and rosemary.  Season with salt and pepper.  Cook for 2 minutes, stirring frequently to prevent sticking.  Add 1 cup of the warm water and cook, uncovered, until the water has evaporated, about 20 minutes.  When all the water has evaporated, add the remaining 1/2 cup warm water and cook, uncovered, for an additional 10 minutes.
Yields 8 Servings