The official start of Summer (6/21) may still be a few weeks away, but unofficially: Summer. Is. Here!
Hey! Lunches + Littles here and last week we wrapped up another school year, and now this week we're already feeling all the summer vibes. Bring on the later mornings, swimsuit-wearing, barefoot-all-day days, cookout dinners, and of course – frozen treats to cool off with.
Now, if you are a long-time follower of mine, you already know that I LOVE my frozen treats. Homemade ice creams and frozen fruit pops may be my favorite part of summer. Though just to be real with you, I make these kinds of things all year-round… don't judge! And, Kelly loves a pretty frozen treat too…. I mean, have you seen her Unicorn Yogurt Pops? So beautiful!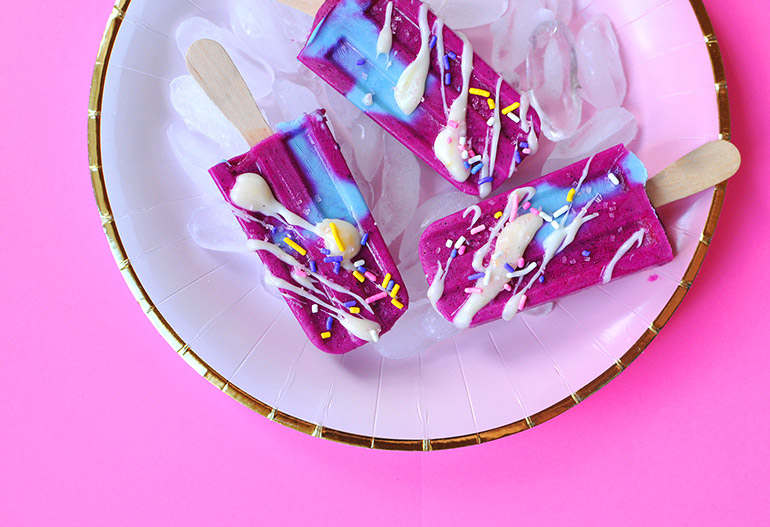 Frozen popsicles like these just scream summer, and they can be a great way to serve up a whole bunch of goodness to your kiddos in the form of a treat. The possibilities are endless when it comes to make-at-home popsicles, and by using real ingredients you can feel good about offering a treat that beats out many of the sugar-filled options that you'll find down the grocery aisles.

Now, I'll be the first to admit that I have gotten a bit complicated with some of my layered creations in the past (see the 7 Layer Smoothie Pops at the top of the page!), but today I am keeping things simple with my Ombre Frozen Fruit Pops. These popsicles are pretty, delicious, and made entirely with real food. Oh, and they are easy – like, only-takes-a-couple-minutes-to-prep kind of easy, which you've gotta love!
But, before I go into the details of that recipe, let me share a round up of our favorite summer popsicle recipes:
STRAWBERRY & ORANGE OMBRE POPS (RECIPE BELOW)
You will love them alllllllll --- and so will your kids! Here's my son on the left and Kelly's daughter on the right, enjoying their popsicles.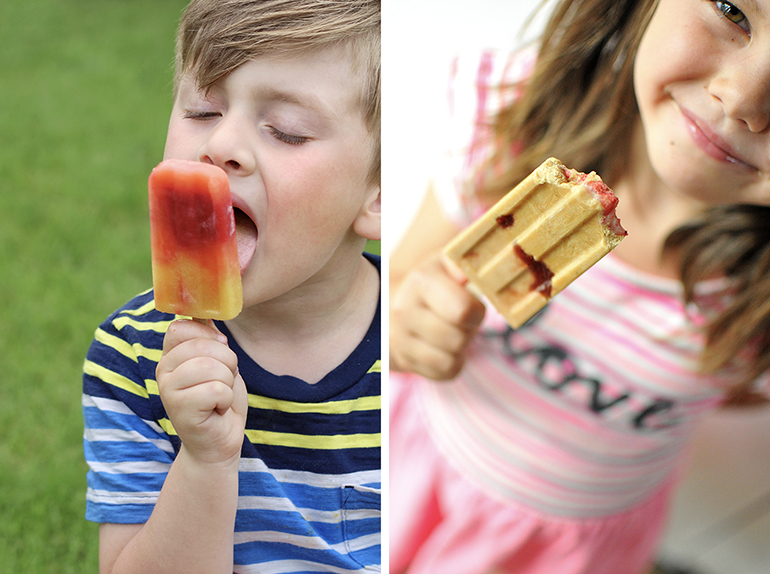 These new Ombre Frozen Fruit Pops are a mini rainbow of goodness and naturally sweet – thanks to the strawberries, oranges and pineapple that make up the layers, and how fun are they to look at?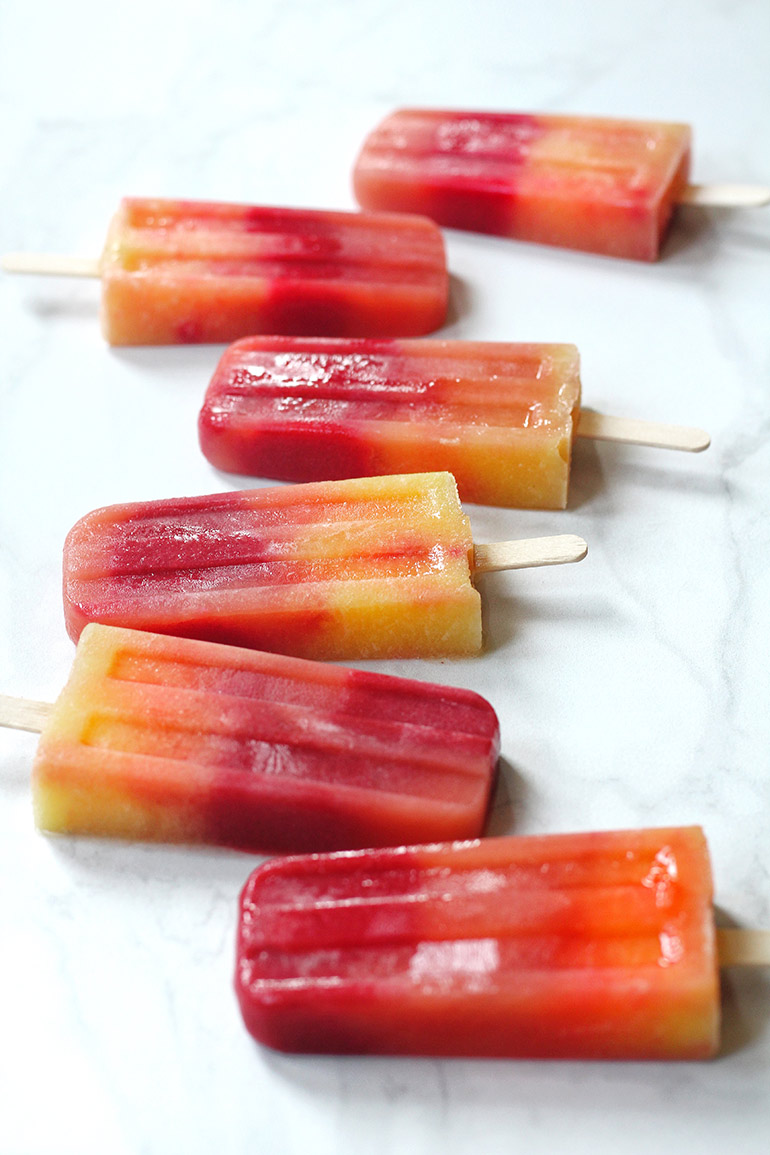 Scroll down for the full recipe. And no matter which frozen treats you try over the next few months– enjoy every moment of this season!
-Joy
Ombre Frozen Fruit Pops
Ingredients
1 3⁄4 cup Strawberries (hulled -- for the red layer)
1⁄8 cup fresh squeezed orange juice (or more as needed -- for the red layer)
5 Clementines (or sub 2 large naval oranges -- for the orange layer)
3 Strawberries (hulled -- for the orange layer )
1 1⁄2 cup fresh pineapple chunks (-- for the yellow layer)
1⁄8 cup fresh squeezed orange juice (or more as needed -- for the yellow layer)
Notes
Instructions
• Place ingredients for each layer, separately, into a high-powered blender (I use a Vitamix) and puree until completely smooth. *Be sure to wash out blender jar in between colors/layers.
• Alternate pouring your pureed colors into the molds. I did ours: red (first), orange (middle) and yellow (last). If you want very defined layers, you can freeze layers for a couple of minutes, before pouring the next one, but I prefer a more mixed/ombre look, so I just poured the layers slowly one on top of the other and some mixing did occur naturally.
• Next, insert popsicle sticks and freeze pops until completely solid (4 hour minimum. I usually leave mine in overnight).
• Once frozen, simply run molds quickly under hot water to help release from molds and enjoy immediately.
Yields 10 Popsicles