Simple Pleasures + {Spicy Stuffed Tomatoes}
Posted: April 7, 2013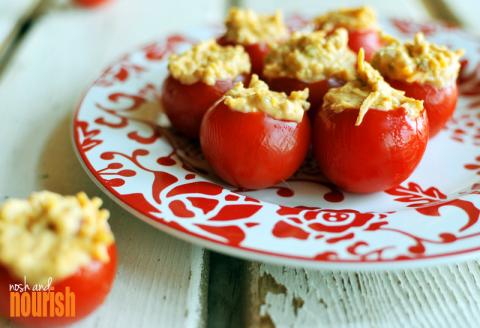 It all started when my father-in-law innocently said to Babycakes at bedtime: "Sleep tight. Don't let the bed bugs bite."  WHAT? There's bugs in my bed? How big are they? Will they hurt me? How do we get rid of them?  What color are they?  Which spurred into a discussion about the "olden days" and why that saying came to be...and how in the olden days there were no washing machines, no cars, no TVs, no Dora <she gasped>, no ice, no grocery stores, etc.  Things were simpler. Kids played with dirt and sticks outside. To which she exclaimed, "I LOVE dirt and sticks!!!"  So this weekend we embraced the simple pleasures.
Smiles and laughter:
The weather was gorgeous, so Babycakes and I picnic-ed on the deck and did a little mini-photoshoot. This was one of my favorite pictures from the day, which captured her truly beautiful smile and demeanor.
Exercise & Endorphins:
We went on a long bike ride by the river with Dear Hubby and the doggies. He and I alternated mountain biking and running, which was perfect!! And my friend Shannon said I looked "slammin'" - in a sports bra and bike helmet, which I felt was quite impressive :)
Good Food:
We savored a few bites of lime tortilla chips before moving on to butternut squash mac & cheese followed by strawberries dipped in the best fruit dip ever.  I think this picture is just the cutest...pure delight.
And Cute Appetizers:
I was so excited to have my blend (blogger + friend) Lauren, from Oatmeal After Spinning come over this weekend.  Even better than this one time visit is the fact that she is MOVING to Colorado permanently in just a few short weeks!! So I will get to see her pretty face and hike with her and eat with her and cook for her again very soon :) In anticipation of her visit, I whipped up a cute appetizer to share: Spicy Stuffed Tomatoes.
Jalepenos, Red Pepper Hummus, Sharp Cheddar, and plain Chobani make these little bites fiery and delicious! And come on, they're just plain cute...all stuffed like that. :)
Question:
What are some simple pleasures you enjoy?
Spicy Stuffed Tomatoes
Description
Spicy Stuffed Tomatoes // @noshandnourish
Ingredients
1⁄2 cup
Red Pepper Hummus
1⁄2 cup
Sharp Cheddar (finely shredded)
2 tablespoons
Plain Chobani greek yogurt
1 tablespoon
Diced Jalepenos (or less depending on how spicy you want it)
Instructions
Mix all ingredients, except for tomatoes.
Cut out the top of the tomatoes with a paring knife -- circle along the top, pointy bottom.
Fill each tomatoe with a small scoop of the spicy mixture.
Enjoy!
Yields 24 Tomatoes

You might also like...