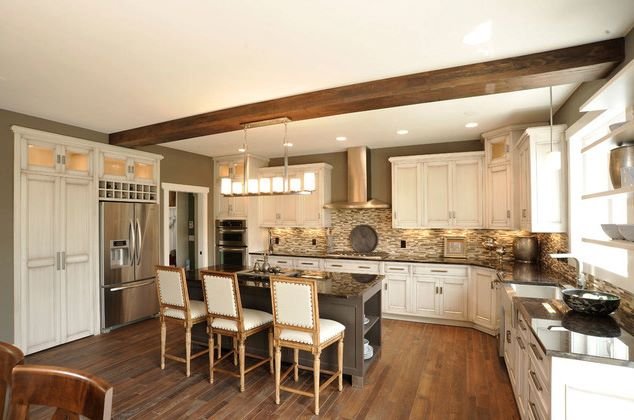 For as long as I can remember, this has been my idea of what my dream kitchen would look like (above). But it turns out, it's changed... Or I've changed. (image from Houzz.com)
My Dream Kitchen is:
... a place to be NOURISHED
Growing up I didn't spend too much time in the kitchen. In fact, for the first 30 years of my life I actually hated cooking. (Read more about that in my bio!) What changed? Simple -- my daughter, lovingly referred to as Babycakes on this blog. I wanted her to grow to love her body, to have a positive relationship with food, and to KNOW 100% that she is strong, beautiful, and loved. So, once she was born, I redefined "normal" for my family, and started eating and preparing healthier meals -- full of fresh vegetables, fruits, legumes, and lean meats. It was all about relearning how to eat nourishing foods that would fuel our everyday activities. 
... a place to be TOGETHER
I always try to include Babycakes in the actual meal prep (if she is interested and willing!). She loves stirring, cracking eggs, "painting" on pesto to pizza dough, pressing toppings onto bark, and even drying dishes! 
And even if she's not helping with meal prep, the island is a great place for her to sit and practice her letters, color, and eventually do homework when the time comes. 
... a place for BUSINESS
I am so blessed to have found this outlet that I love that combines two of my passions -- healthy eating and beautiful photography! I've lived in my current kitchen for 3 years and during that time I've published 300+ blogposts/recipes, written my first cookbook with 100+ recipes, and am working on my second book. 
As for Babycakes, will the kitchen be her key to success as well? Will she one day have her own cooking show like this boy or become a food blogger like her momma? Time will tell. 
And Last, but Not Least --- My Dream Kitchen is:
... the one I HAVE.
Sure there are nicer, dreamier kitchens than mine. But you know what, I'm content with what I have: reliable GE appliances, ample storage, good lighting, healthy food stocked in the pantry and fridge, and so many good memories of healthy meals made with love and devoured by all.
Enter daily on the Food Network website, for your chance to win your own dream kitchen from GE Appliances!
Watch the Richards Family story
here
!
This is a sponsored conversation written by me on behalf of GE Appliances. The opinions and text are all mine.