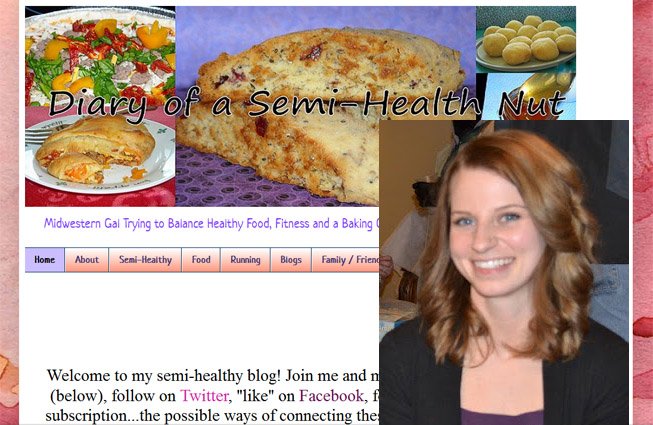 Hello Everyone!  My name is Amanda and I blog over at
Diary of a Semi-Health Nut
.  I share my
newfound love of running
, my
obsession with baking cookies
, and my two cents on living a well-rounded,
semi-healthy
life.  Kelly and I attended
Blend Retreat
(aka a life-changingly awesome blogging retreat) together this past May.  I'm super excited to be able to take over her blog for a day!   I realize that summer is half-way over already, but you may or may not have gotten into a fitness rut after numerous vacations and/or over-indulgent summer get togethers. 
Today's topic: Fun ways to keep moving this summer!
1.  Sign up for a fun-run or charity run.
This could give you some incentive to get training for the big day, even if it is only a 5K.  Not to mention, there are some really great causes out there!
2.  Take a hike!
No, I'm not being rude. ;-)  Hiking is a fun and distracting way to get a workout in..especially if you are with
friends
!
3.  Join a fitness class or boot camp!
Gyms often have summer boot camps you can sign up for or a variety of group fitness classes to partake in.  Trust me, I was wary of joining one as well and being the "newbie" in class, but most classes have such a variety of fitness levels that you will be both challenged and feel good about yourself.
4.  Have little ones?  Pushing your babes in a stroller can be a full body workout!
5.  Take a trip to the zoo!  And pull some kiddos around in a wagon while you're at it.
6.  Take a swim.  
I know it seems like an obvious thing to do in the summer, but many of us ladies simply sit around the pool soaking up the sun.  Get in the water and at least dog paddle a bit!
7.  Do some gardening!
I know it's not fun to weed the garden...but do it!  It will benefit you to get out and move around plus...your garden will look better!
8.  Be that person that takes the paddle-boat around the lake!
You will burn calories and get a nice look at all of the (usually) amazing lake houses!
Tips:
 Make sure that when you are out and about movin' and groovin' you are keeping hydrated and cool.
Listen to your body.  If you feel too hot, move inside or to the shade.  
Make sure to carry water and/or gatorade when you are walking or running outside.  
Drink gatorade if you've been working out for over an hour.  
If you plan on going for a run, weigh yourself before and after.  For each pound you've lost (it's water weight folks, sorry to say), drink 2 cups of water and/or a sports drink (if you've been out longer than an hour).  
Get up and have a blow-up bat fight with your little sister! ;-)
It will take less time than you think to get back on track so get moving and have fun! :-)
*~Amanda aka Semi-Health Nut~*
Question:

How do you stay active in the summer?