Yogurt Parfait with Strawberry Chia Jam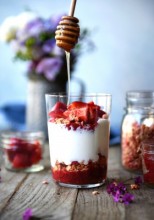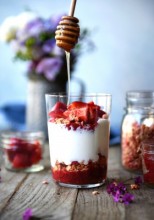 Description
Easy Yogurt Parfait with Homemade Strawberry Chia Jam
Ingredients
1 cup Diced Strawberries (fresh or frozen --- for the jam)
2 teaspoons honey (for the jam)
3 tablespoons Chia Seeds (for the jam*)
1 cup vanilla yogurt (Greek, Siggi's, or Silk will work)
2 fresh strawberries (sliced)
1⁄4 cup granola (of choice)
1 teaspoon honey (for drizzling)
Notes
*the jam ingredients will make more than you need in your single parfait. Store the rest in an air tight container in the fridge for up to 10 days.
Instructions
To make the jam:
Add washed & sliced strawberries to a small saucepan over medium heat. Stirring often, bring to a simmer and add the honey. Lightly mash the strawberries until you reach your desired consistency. Remove from heat and stir in chia seeds. Let sit until cooled. Store in the refrigerator for up to 10 days.
To make the parfait:
Spread a generous layer of the chia jam at the bottom & sprinkle with half of the granola. Add all of the yogurt, then top with more jam, granola, fresh strawberries and a drizzle of honey. Enjoy!
Yields 1 Serving