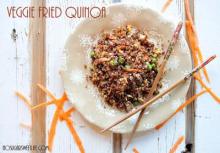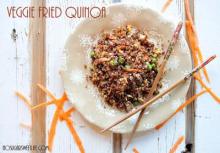 Description
Veggie Fried Quinoa // @noshandnourish
Ingredients
1 cup Uncooked Red Quinoa (or sub regular)
1⁄2 cup Water Chestnuts (diced)
2 tablespoons Bragg's Liquid Aminos (or sub soy sauce)
2 tablespoons Polynesian Sauce (or sub sweet & sour sauce)
Instructions
Cook quinoa on the stovetop per instructions (be sure to wash thoroughly) - mine was 1 cup uncooked quinoa to 1.25 cup water. Bring water to a boil, add in quinoa, reduce heat, and simmer for 15 minutes. Then, let it sit for 5 minutes before "fluffing."
Beat and scramble eggs, then break it into small pieces with a spatula.
Add in peas and carrots, and waterchestnuts to warm them (if frozen).
Once quinoa is finished, add it into the veggie mix.
Stir in the liquid aminos and polynesian sauce. Mix thoroughly.
Enjoy!!
Yields 4 Servings