Strawberry Watermelon Sparkling Sangria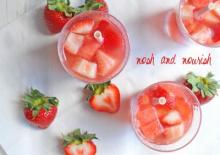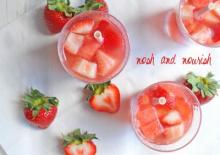 Description
Strawberry Watermelon Sparkling Sangria -- the perfect summer party drink! // via Nosh and Nourish
Ingredients
1 cup Vodka (I used Grey Goose)
1 tablespoon Key Lime Juice (I used Nellie & Joe's)
1 cup chopped strawberries (fresh or frozen)
1 cup watermelon juice (strained through a strainer)
1 bottle Yellowtail Bubbles Sparkling White Wine
1⁄2 cup white sugar (optional)
1 cup finely diced strawberries (optional)
Instructions
(optional) - make a simple syrup with 1/2 cup water, 1/2 cup white sugar, and 1 cup finely diced strawberries. Heat over the stove-top on medium until sugar is melted and sauce starts thickening, approximately 5 minutes. Stir continuously so it doesn't burn or stick to the bottom of the pan. Remove from heat and let cool completely before adding into the sangria. This will increase the overall sweetness of the sangria, but I'm listing as optional because it was plenty sweet for me without it. 
Combine vodka, key lime juice, chopped strawberries and chopped watermelon in a large measuring cup. Let sit for approximately 1 hour.
Use a large strainer to press the watermelon through, so that only the juice is used not the thick watermelon pulp. 
Add everything together in a large pitcher. 
Serve immediately.
Yields 64 Ounces