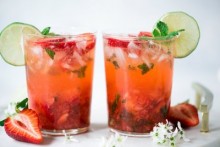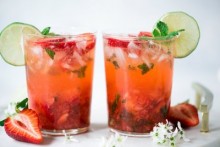 Ingredients
4 Strawberries (stems removed and quartered)
1 ounce agave (or simple syrup)
Instructions
In a cocktail shaker or highball glass, use a muddler (or the back of a spoon) to muddle the strawberries and agave. Once the strawberries are well-muddled (about 30 seconds), add the mint leaves and muddle very gently. (The point is just to release the oils without crushing the leaves, which leads to a bitter flavor).
Add lime juice and rum and some crushed ice, stir well, and pour into a glass. Top off with club soda and more ice if desired.
Garnish with sliced strawberries and mint. Enjoy!
Yields 1 Drink