Strawberries and Cream Pancakes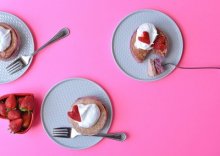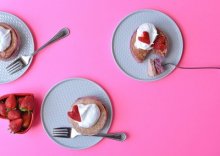 Description
strawberries n cream pancakes | vegan pancakes | dairy-free pancakes
Ingredients
2 tablespoons Ground Flax
2 cups organic all-purpose flour (or sub GF 1:1 )
1 tablespoon Baking Powder
2⁄3 cups Silk almondmilk creamer (vanilla or sweet cream would work)
1 cup Silk unsweetened almondmilk
1⁄2 teaspoon pink McCormick Color from Nature all-natural food dye (optional)
1 cup CocoWhip (dairy-free whipped cream)
Instructions
Create your flax eggs by combining the flax and warm water in a small bowl. Stir until combined, then refrigerate for 15 minutes. 
Meanwhile, in a medium mixing bowl, combine the flour and baking powder. Whisk until combined, then set aside. 
In a large mixing bowl, combine the flax eggs, the creamer, the almondmilk, and the pink color (optional). Stir, then slowly add in the dry flour mixture, stirring as you go. Combine until there are no lumps. 
In a large skillet pan over medium low heat, use non-stick spray or dairy-free butter to grease the pan. Pour the batter into small 3 - 4 inch circles. When the pancakes start bubbling a bit and the bottom is lightly browned, flip them over. Continue cooking for a minute or two on the other side.
Serve warm with a dollop of Cocowhip and fresh strawberries.
Yields 10 Pancakes