Smashed Potatoes with Lemon Basil Aioli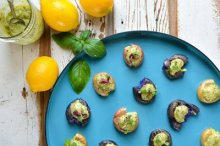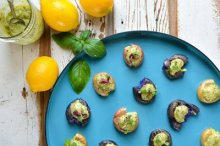 Description
Smashed Potatoes with Lemon Basil Aioli || vegan aioli
Ingredients
1 1⁄2 pound petite medley potatoes (about the size of golf balls)
2 tablespoons Silk unsweetened almondmilk (warmed)
2 tablespoons Vegan Pesto* (recipe below)
1 teaspoon organic lemon pepper
1⁄4 cup micro greens (optional)
Instructions
Preheat the oven to 425 degrees. On a parchment lined baking sheet, lay out the potatoes in a single layer. Brush them with olive oil and sprinkle on some sea salt. Bake for 25 -30 minutes, until lightly browned and softened. 
Meanwhile, combine the flax and warmed almondmilk in a large measuring cup. Stir, then put in the fridge for 15 minutes to chill. 
Then, add in the other aioli ingredients on top of the chilled flax mixture (olive oil, garlic, basil paste, lemon pepper, and lemon zest). 
Use an immersion hand blender to emulsify / puree. 
When the potatoes are done roasting, smash them with a large fork. Then add a dollop of aioli and a few micro greens to serve. 
Yields 6 Servings