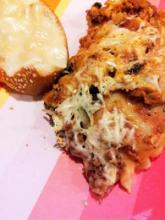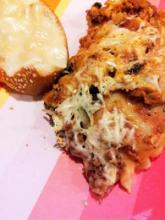 Description
Slow Cooker Lasagna | No Sugar Sweet Life
Ingredients
1 package McCormick's Basil Bruschetta Mix
6 cloves Roasted Garlic (or 2 Tbsp minced)
24 ounces Cottage Cheese (I used 2%)
1⁄2 pound Lasagna Noodles
1 Jar of Vodka Spaghetti Sauce (it's lighter/creamier than regular sauce)
1⁄2 cup Shredded Parmesan Cheese
Instructions
Brown Turkey meat in a pan, slowly stirring in the McCormick's basil bruschetta mix.
Chop the kale, removing most of the stems.
Once meat is cooked, remove it from pan into large mixing bowl. 
Saute the kale for a few minutes to get it soft, then add to mixing bowl.
Peel and dice the zucchini, then add to mixing bowl.
Add sauces.
In a separate bowl, mix garlic and cottage cheese.
Use a non-stick spray in your slow cooker, then start layering.
Sauce mixture, dry noodles, cottage cheese.  Repeat.  It made about 3 iterations before running out of stuff. 
Cook in the slow cooker for 4 hours on high.
Add cheese in the last 10 minutes, and cook until melted.
Oh.my.YUM!!!!!!!!
Yields 8 Servings