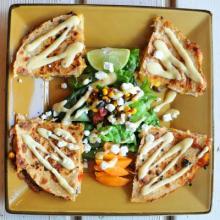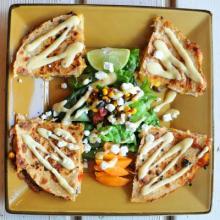 Description
Salmon Quesadillas // @noshandnourish
Ingredients
1⁄2 cup Mango Ginger Habanero Sauce (Brand = Fischer & Weiser)
6 ounces Plain Chobani greek yogurt
4 slices Pepper Jack Cheese
1 cup Roasted Corn and Bell Peppers
1 cup Shredded Colby Jack Cheese
1⁄2 package Goat Cheese Crumbles
2 Apricots (pitted and sliced)
Instructions
Panfry the salmon filets with 1 tbsp of Olive oil and 2 tbsp of the Mango Ginger Habanero Sauce.
Set aside the salmon.
Panfry the corn and bell peppers.
Set aside the veggies.
Assemble the quesadillas: flour tortilla, 2 slices of pepper jack, flakes of cooked salmon, a spoonful of corn and peppers, covered with colby jack cheese, additional tortilla.
Cook over medium heat, about 8 minutes total --- flipping halfway through.
Meanwhile, assemble your side salad: mixed greens, topped with goat cheese crumbles, additional corn/peppers, and a side of sliced apricots and lime wedges.
Make the dressing for the salad, which is also the dip for the quesadillas: 1/2 cup Mango Ginger Habanero Sauce plus 6 ounces of plain Chobani yogurt.
Drizzle the dressing over the salad and the quesadilla wedges or serve on the side for dipping.
Yields 4 Servings