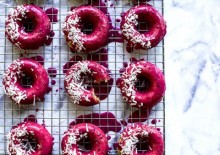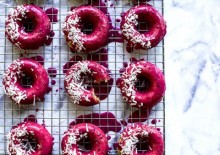 Ingredients
2 cups all purpose gluten-free flour (or sub regular flour)
2 teaspoons Baking Powder
1 teaspoon coconut extract (or sub vanilla extract)
3⁄4 cups coconut milk (canned)
1⁄4 cup Melted Coconut Oil
1⁄2 cup pureed pitaya (aka dragonfruit, defrosted from frozen)
3 tablespoons full fat coconut milk
1⁄2 cup coconut shreds (optional)
Notes
*You can mix Pitaya, coconut milk, greek yogurt , and honey if you want a refined sugar free version.
Instructions
Preheat oven to 325 degrees.
In a large bowl combine, GF all purpose flour, coconut sugar, baking powder, baking soda, and salt together.
In another bowl combine coconut milk, eggs, coconut extract, and coconut oil together and whisk until combined.
Slowly incorporate wet ingredients into dry ingredients until just mixed well.
Transfer batter to a large ziplock bag and cut the end off to create a piping bag.
Spray donut pan with nonstick spray.
Pipe donut batter into donut pan and bake for 12-15 minutes until a toothpick can be inserted and come out clean.
Let donuts cool slightly and then transfer to a cooking wire rack to cool the rest of the way.
Mix together glaze ingredients with a whisk until desired consistency. Add more coconut milk or powdered sugar if needed.
Dip the donuts into the glaze and then place back onto the cooling rack until icing has set.
Donuts are best kept in the fridge.
Yields 12 Donuts