Description
Peach Cobbler Ice Cream -- made in an ice cream maker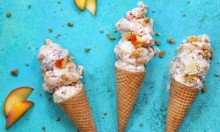 Ingredients
-----FOR THE ICE CREAM------
1 3⁄4 pound
Peaches (cut in half, pit removed, then cubed)
1 tablespoon
Pure Maple Syrup
1⁄2 tablespoon
Brown Sugar (or coconut sugar)
2 cups
whipping cream (divided)
1 cup
Horizon Organic whole milk
2 teaspoons
Vanilla Extract
1 teaspoon
Cinnamon (plus more for topping)
-----FOR THE CRUMBLE------
1⁄4 cup
light brown sugar
1⁄3 cup
old fashioned oats
3 tablespoons
Butter (slightly softened, but not quite room temp)
-----FOR THE GRAHAM SWIRL------
3⁄4 cups
graham cracker crumbs
1⁄8 cup
raw cane sugar (or white sugar)
3 tablespoons
Butter (melted and slightly cooled)
Notes
*You will also need an ice cream maker that is at least 1 qt in capacity.
** I use and prefer celyon cinnamon. I also prefer to fresh grind mine (makes such a difference in taste!)
Instructions
• Start off by pre-heating oven to 375 degrees.
• Put your cut peaches on a rimmed baking sheet and drizzle with a little maple syrup, then sprinkle with brown sugar.
• Place baking sheet in oven and roast peaches for 15- 20 min. until soft and roasted. Once done, remove from oven and set aside. *Do not turn off oven, you still need it on for the crumble!
• Next, in a small pan heat up 1 cup only of your whipping cream, white sugar and salt over medium heat. Cook on medium-high heat, whisking pretty constantly, until sugar is completely dissolved.
• Once dissolved, remove from heat and place in your refrigerator to cool for 10- 15 minutes.
• While mixture is cooling, in a medium-sized mixing bowl, add the following: remaining 1 cup of whipping cream, milk and vanilla extract. Whisk to just combine.
• Then, add in your cooled mixture from refrigerator, cinnamon and half of peaches. Stir to combine. Then, refrigerate this mixture for at least 1 hour.
• While mixture is refrigerating you need to prep your crumble and your graham cracker swirl… 
FOR CRUMBLE: In a small-sized mixing bowl, combine brown sugar, flour, oats, cinnamon and salt. Whisk gently to combine, then work butter in little by little – breaking it with your fingers as you go. You want a crumbly consistency! Place crumble mixture in a small pan and brown in oven until crisp. This should take approx. 10 minutes. Be careful not to over cook the crumble! Once cooled, break apart in your hands and set aside.
FOR GRAHAM CRACKER SWIRL: In a small bowl combine graham cracker crust and sugar. Then add in melted butter until a nice crumbly consistency. You can press this mixture into little strips or balls or just leave it crumbled. Set aside.
• After an hour has passed (cont. from above), add your cold mixture to your ice cream maker and churn according to the manufacturer instructions. You will want your ice cream mixture to be similar to soft serve in consistency after done churning. At the end of your churning (with just a minute or two to go) add in about 1/2 of your crumble mixture and 1/2 of your graham cracker crust mixture. Mix in for last few minutes.
• Then, transfer ice cream mixture to a freezer safe container, and layer ice cream in two or three layers; placing additional crumble and graham cracker crust mixture in between layers for a ripple effect.
• Allow to firm up for at least 6 hours, or overnight. Top with additional peach slices or peach dices and crumble/ cracker mixture prior to serving. Can also sprinkle with additional cinnamon if desired!
Yields 8 Servings