Orange Power Pasta with Cauliflower Alfredo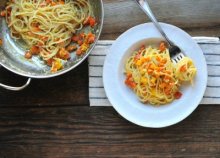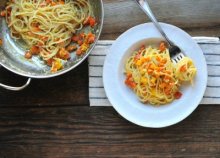 Description
Orange Power Pasta with Cauliflower Alfredo // via Nosh and Nourish
Ingredients
1 cup Silk Unsweetened Cashewmilk
1⁄4 cup Vegan Butter (I used Earth Balance buttery sticks... or sub regular butter)
1⁄2 teaspoon black pepper
16 ounces spaghetti noodles (or your favorite pasta)
Instructions
Preheat oven to 425 degrees. 
Slice carrots thinly, chop sweet potato and beet and bell pepper into 1/2 inch cubes, Add the chopped veggies into a medium mixing bowl and stir in 1 tbsp olive oil + paprika. 
On a parchment-lined baking sheet, lay coated veggies into a single layer. Bake for 25 minutes. 
Meanwhile, in a large glass microwavable mesauring cup (I used my largest 4 cup one), combine the cashewmilk and diced cauliflower. Microwave on high for 4 minutes. Then use an immersion stick blender to puree the cauliflower. Set it aside. 
Boil your pasta according to the package's instructions... usually about 8 minutes. Drain and set aside.
In a large skillet over medium heat, melt the butter and olive oil. Then stir in the almond flour and salt and pepper. Then slowly, about 1/3 at a time, stir in the cauliflower mixture. Stir continually for about 5 minutes, until sauce is thickened. 
Combine pasta, sauce, and veggies together in a large bowl. Serve immediately.
Yields 6 Servings