Mason Jar Carrot Noodle Salad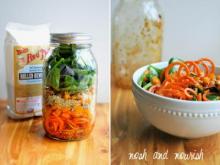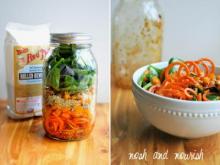 Description
Mason Jar Carrot Noodle Salad w/Sweet Chili Sesame Vinaigrette // via Nosh and Nourish
Ingredients
1 tablespoon toasted sesame oil
1 tablespoon Thai sweet red chili sauce
1⁄2 teaspoon Garlic Powder
1 teaspoon Dark Amber Maple Syrup
1 tablespoon toasted sesame seeds
1 Carrot (spiralized, or julienned)
2 tablespoons Bob's Red Mill hulled hemp seeds
1⁄3 cup cashews (plain or flavored, like Asian Sesame)
2 cups Spinach (or sub your favorite greens)
Notes
This recipe fills up a 24 ounce mason jar.
Instructions
Combine all your sauce ingredients in a small bowl: sesame oil, sweet red chili, garlic powder, rice vinegar, soy sauce, maple syrup, and sesame seeds. 
Roast your bell pepper in a toaster oven or regular oven (425 degrees for 15 minutes).
Assemble your mason jar salad: dressing in the bottom, then spiralized carrot, roasted bell pepper, hemp seeds, cashews, and finally top it with the spinach. Make sure the jar is packed tightly. Put on your lid. 
When you're ready to eat, empty the contents of the mason jar into a large salad bowl. Stir, then devour.
Yields 1 Serving