Heirloom Tomato Flatbread with Honey Goat Cheese and Basil
Description
heirloom tomato recipes | summer heirloom tomatoes | tomato flatbread | sliced heirloom tomatoes |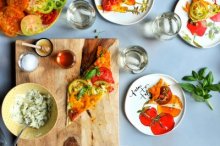 Ingredients
2
Flatout Artisan Thin Pizza Crusts
1⁄2
a log of honey goat cheese (~approx 5.4 ounces... or use plain and stir in 1/2 tbsp honey)
1⁄2 tablespoon
Basil Paste (this is a tube sold in the produce section, by Gourmet Garden)
1⁄2 tablespoon
lemon olive oil (or sub regular)
6
medium to large heirloom tomatoes (sliced)
1
handful of fresh basil leaves
drizzle of honey (optional)
sprinkle of salt and pepper
Instructions
Preheat oven to 400 degrees.
In a small bowl, using a fork mash the goat cheese together with the basil paste and olive oil until thoroughly combined. 
On a parchment lined baking tray, lay the Flatout crusts side by side. Using a butter knife, spread the goat cheese evenly in a thin layer on top of each crust. 
Cover the goat cheese with the sliced tomatoes overlapping them just a bit at the bottom of each slice, alternating colors if you so choose. 
Bake for 10 minutes, until the crusts are crispy and lightly browned. 
Top with a few fresh basil leaves and a drizzle of honey (optional). Sprinkle with salt and pepper to taste.
Then, slice and serve immediately. 
Yields 3 Servings