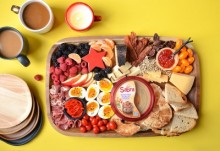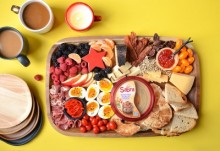 Description
How to Build an Epic Brunch Board
Ingredients
10 ounces Sabra Roasted Garlic Hummus (or your favorite flavor)
1⁄3 cup pineapple pepper jelly
1 wedge of espresso cheese (sliced)
1 wedge of apple gouda cheese (sliced)
4 Clementines (peeled and sectioned)
1 cup Grape Tomatoes (assorted color)
1⁄3 cup sliced peppadew peppers
1⁄3 cup honey roasted pecans
4 everything bagels (toasted and cut into 4ths)
4 slices sourdough bread (toasted and sliced in half)
Notes
*Place eggs into boiling water. Boil for 6 - 8 minutes, depending on how runny you want the yolks. Peel and slice in half. Top with everything-but-the-bagel spice.
Instructions
Anchor the board with the hummus container and a small bowl of the pepper jelly.
Then, arrange the items on the board --- keeping the fruits together and the breads together, etc.
Let everyone create their own custom plate!
Yields 8 Servings