Dark Chocolate Pumpkin Pie Bites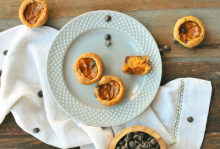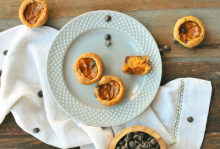 Description
Dark Chocolate Pumpkin Pie Bites on a Chocolate Chip Cookie Dough Crust! // via Nosh and Nourish #glutenfree #dairyfree #SpoonfulofSilk
Ingredients
5 1⁄3 ounces Silk Vanilla Dairy-free Yogurt Alternative
15 ounces organic canned pumpkin puree
1 Egg (or sub 1 flax egg to keep vegan*)
1⁄4 cup Silk Chocolate Cashewmilk (or sub almondmilk)
1⁄3 cup Dark Amber Maple Syrup (or your sweetener of choice: coconut sugar, honey, etc.)
1⁄4 teaspoon Ground Ginger
1⁄4 teaspoon Ground Cloves
2 tablespoons dairy-free chocolate chips
1 container of vegan cookie dough
Notes
*1 flax egg = 1 tbsp of ground flax plus 3 tbsp warm water. Stir then refrigerate for 15 minutes before adding into the batter.
Instructions
Preheat oven to 350 degrees.
In a medium mixing bowl, combine all ingredients, except for the cookie dough. 
Use non-stick spray or coconut oil to grease a mini muffin tin (that holds at least 24 mini muffins). 
Press cookie dough into each muffin cup, evenly so that the sides are covered and there's room in the middle for the pumpkin mixture. 
Spoon the pumpkin mixture into each cookie dough cup. 
Bake for 30 - 35 minutes, or until the pumpkin is set and a knife comes out clean. 
Remove the pumpkin pie bites from the oven and set them on a wire rack to cool for at least 20 minutes. 
Enjoy!
Yields 36 Mini Pie Bites