Curry Bombay Veggie Bowl with Yogurt Sauce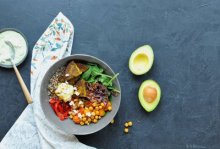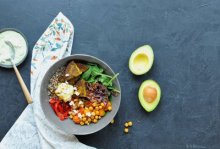 Description
Curry Bombay Veggie Bowl | Vegetarian Buddha Bowl | Veggie Bowl | Nourishing Bowls
Ingredients
1⁄2 a small red onion (thinly sliced)
1⁄2 cup Chickpeas (rinsed and drained)
12 heirloom grape tomatoes
1 teaspoon Montreal Steak Seasoning
1⁄2 teaspoon Curry Powder
2 Dr. Praeger's Bombay Veggie Burgers
1⁄2 cup yogurt sauce* (recipe below)
1⁄2 a roasted red pepper (either jarred, or made at home)
2 tablespoons paneer cheese (or sub sheep's feta (optional))
Instructions
Preheat oven (or toaster oven) to 450 degrees. 
On a foil lined baking sheet, arrange chickpeas, onion slices, and tomatoes in a single layer. 
Bake for 20 minutes, or until golden brown. 
Meanwhile, make the yogurt sauce (recipe below) --- and set aside. 
Cook the Dr. Praeger's veggie burgers according to the package instructions (sauteed in a pan with a bit of olive oil). 
Assemble each of your bowls: 1 cup of spinach, 1/3 cup cooked quinoa, half the roasted veggies and chickpeas in each bowl, 1 veggie burger cut into fourths, a dollop of yogurt sauce, a sprinkle of cheese, and a pinch of curry powder.
Yields 2 Servings