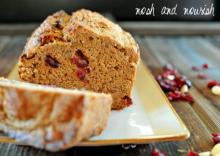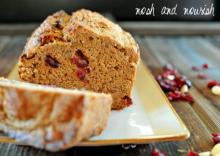 Description
Nosh and Nourish: Cranberry Banana Bread
Ingredients
2 cups White Whole Wheat Flour (I used King Arthur's -- or sub 2.5 cups brown rice flour to make it gluten-free)
2 teaspoons Baking Powder
3⁄4 cups Vanilla Almond Milk
2 tablespoons Ground Flax
4 tablespoons Earth Balance Vegan Butter (or sub 1/3 cup coconut oil)
1⁄2 cup Dried Cranberries
1⁄4 cup White Chocolate Chips (be sure to use vegan chips if you want to keep it vegan)
Instructions
Combine flax and warm water in a small bowl. Refrigerate for at least 15 minutes.
Preheat oven to 375 degrees.
Combine all dry ingredients in one bowl: flour, baking powder, sea salt, coconut sugar.
Combine all wet ingredients in a separate bowl: almond milk, bananas, coconut oil, and flax/water mixture.
Stir wet and dry ingredients together until combined.
Gently stir in cranberries, walnuts, and chocolate chips.
Use coconut oil or non-stick spray to coat a loaf pan.
Bake for 70 minutes, or until a knife comes out clean.
I usually let mine sit overnight in the fridge before slicing.
Yields 1 Loaf