Butternut Squash Mac & Cheese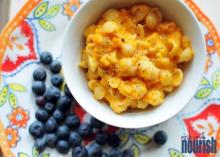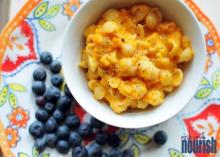 Description
Butternut Squash Mac and Cheese // @noshandnourish
Ingredients
1 1⁄2 cup Butternut Squash (cubed)
2 cups Shells (or Elbow Macaroni)
1 cup Shredded Cheese (I used a combo of American & Swiss)
Notes
Note: I bought the pre-cubed butternut squash that comes in a 12oz bag --- so worth it!!
Instructions
Boil the cubed butternut squash in about an inch of water over the stovetop for approximately 6 minutes, or until soft.  Then, drain out the water and transfer back to the saucepan.
In a separate saucepan, cook the pasta.
Smash the cooked butternut squash with a masher or an immersion blender.
Add in the cheese and milk to the smashed butternut squash, and stir over low heat.
Once pasta is done, drain out the water and add back to the saucepan. Melt in the butter to coat the pasta.
Then add in the pasta to the butternut squash/cheese mixture.
Stir and then serve!
Add salt and pepper to taste -- this made a big difference for us actually!
Yields 4 Servings