Buffalo Ranch Veggie Burgers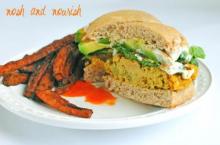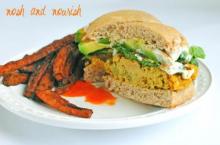 Description
Buffalo Ranch Veggie Burgers + 8 Other Favorites // via Nosh and Nourish
Ingredients
15 ounces canned chickpeas (rinsed and drained)
1⁄2 cup garbanzo bean flour (or sub all purpose flour)
1 cup chickpea chips (crushed, or sub breadcrumbs)
1 tablespoon buffalo sauce
2 tablespoons Ranch Dressing
2 teaspoons Montreal Chicken Seasoning
2 teaspoons Yellow Mustard
6 hamburger buns (to serve with the burgers)
3 Avocados (to serve on top of the burgers)
2 cups Mixed Greens (to serve on top of the burgers)
Instructions
Mash chickpeas in a medium mixing bowl with a fork, or use an immersion stick blender. 
Add in all other burger ingredients (everything except buns, greens, and avocado), stirring thoroughly. 
Preheat oven to 375 degrees. 
Form mixture into patties and place them in a single layer on a greased cookie sheet. 
Bake for 40 minutes, flipping halfway through. 
Serve with additional ranch, buffalo sauce, greens, and avocado slices (optional). 
Yields 6 Burgers