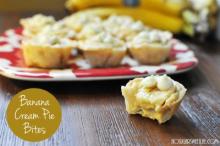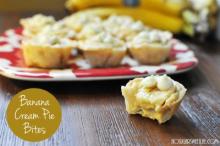 Description
Nosh and Nourish: Banana Cream Pie Bites
Ingredients
3 1⁄2 ounces Chobani Honey Nana Greek Yogurt (or sub regular Vanilla Chobani)
3⁄4 cups Gerber Organics' Banana & Squash Puree (or sub mashed bananas)
1 cup Vanilla Almond Milk
3 Egg Yolks (save egg whites for crust)
16 Nilla Wafers (crushed)
1 teaspoon Vanilla Extract
1 1⁄2 Bananas (sliced into 36 thin slices)
3 tablespoons White Chocolate Chips (or whipped cream for the top)
3 Refrigerated Pillsbury Pie Crusts
Instructions
Preheat oven to 350 degrees.
Divide each pie crust into 12 small circles. Press them into each hole of the muffin tin.
Brush egg white onto the crusts.
Bake pie crusts in mini-muffin tin for 10 minutes. 
Meanwhile, mix together in a large sauce pan: the greek yogurt, the banana squash puree, almond milk, agave nectar, yolks, nilla wafers, and vanilla extract.
Cook over medium heat for approximately 8 minutes, stirring frequently to prevent it from burning.
Once filling has thickened, let it cool for about 10 minutes.
Slice the one and a half bananas into 36 thin slices.
Place one banana slice at the bottom of each pre-cooked pie bite crust.
Spoon the banana cream filling on top of the banana slice.
Top each pie bite with 3 white chocolate chips, or a dollop of whipped cream, whichever your preference.
Let the pie bites cool for at least 2 hours in the fridge before serving.
Oh.My.YUM!!!!!!!!!!
Yields 36 Pie Bites