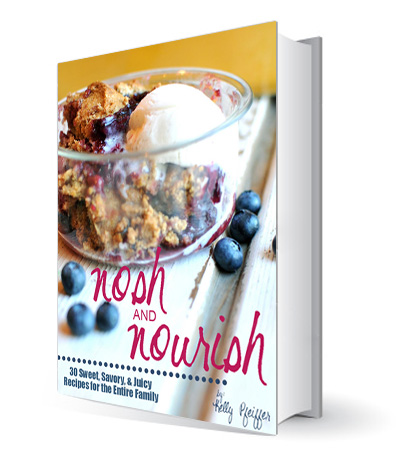 This e-cookbook features:
11 Sweet dessert recipes, such as:
Fudgey Brownies w/Pomegranate
Double Chocolate Cupcakes
Lemon Blueberry Pound Cake
7 Juice recipes, such as:
The Spicy Carrot
Peach Pie Juice
Sunrise Citrus
12 Savory dinner recipes, such as:
Lemon & Garlic Chicken Pasta
Peach Compote & Ham Grilled Cheese
Bruschetta Quinoa Sliders
...each with one or more nourishing add-ins.  
Not only are the recipes delicious and appealing to a wide audience, the photography is stunning, showing you what each completed dish should look like. The recipes are simple to put together, yet complex in the combinations of flavors and nutrients.  
It is truly a masterpiece!
For the full table of contents, more pictures and more info, click here.