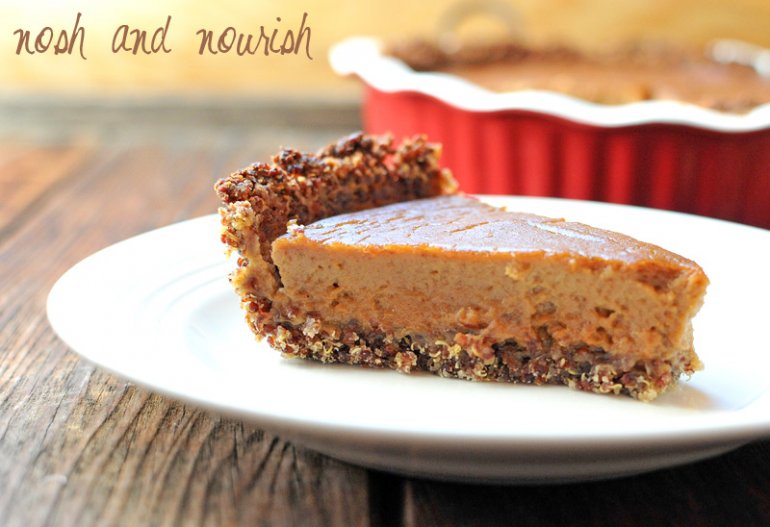 Let me just start out with this:  I am in love with this pie. It was all I had hoped for and more:
Tasted divine.

Perfectly cooked.

A quinoa crust success.
And Babycakes and I may or may not have had 2.5 slices for breakfast after yesterday morning's photoshoot... OK, we did, and it was awesome!!! And I didn't even feel that bad about "pie for breakfast" because, heck, there's 2 full sweet potatoes and 2 cups of quinoa in there!! #superfoods  Speaking of superfoods, it is my daily goal and passion to nourish my family and pack in the best foods into every meal -- like quinoa, chickpeas, greek yogurt, kale, sweet potatoes, pistachios etc... so I have been trying to come up with more creative ways to use them. 
Introducing the Maple Quinoa Crust:
This really is the backbone of this lovely holiday dessert.  And it's so simple to make!  There's only 5 ingredients: cooked quinoa, brown rice flour (to keep it gluten-free, but sub regular all-purpose if you want), ground flax, butter, and maple syrup.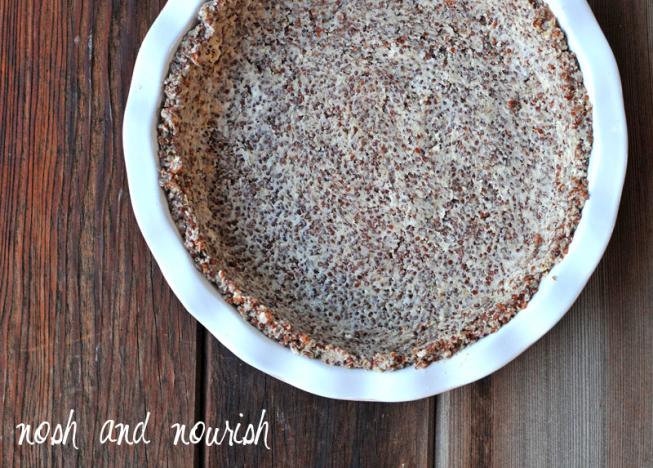 It has structure and integrity as a crust, a sweet buttery flavor, and is the perfect backdrop to this sweet potato pie. #moveoverpumpkin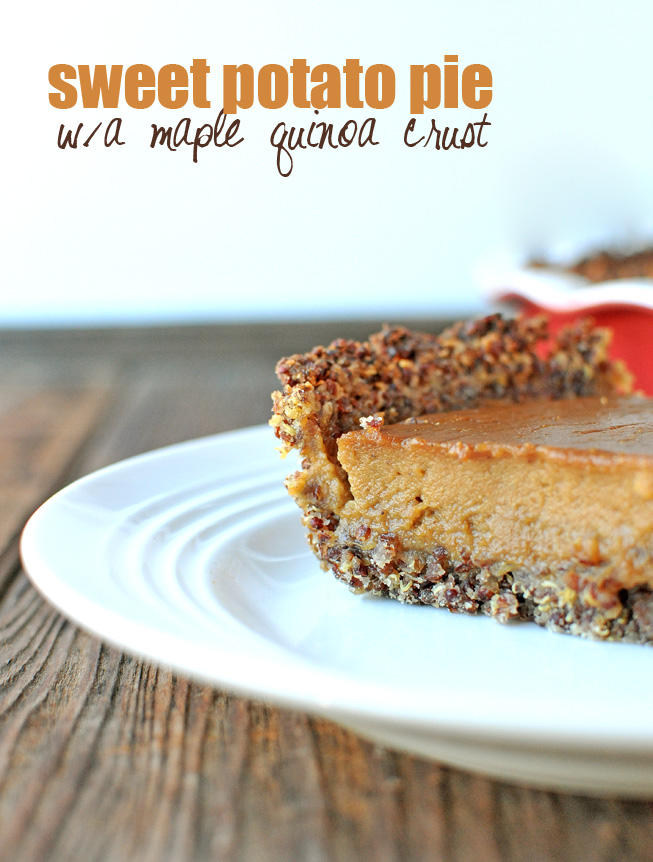 I really do LOVE pumpkin pie. I even have weird rituals about it. But, I might make this instead for all future holidays! It was that good!!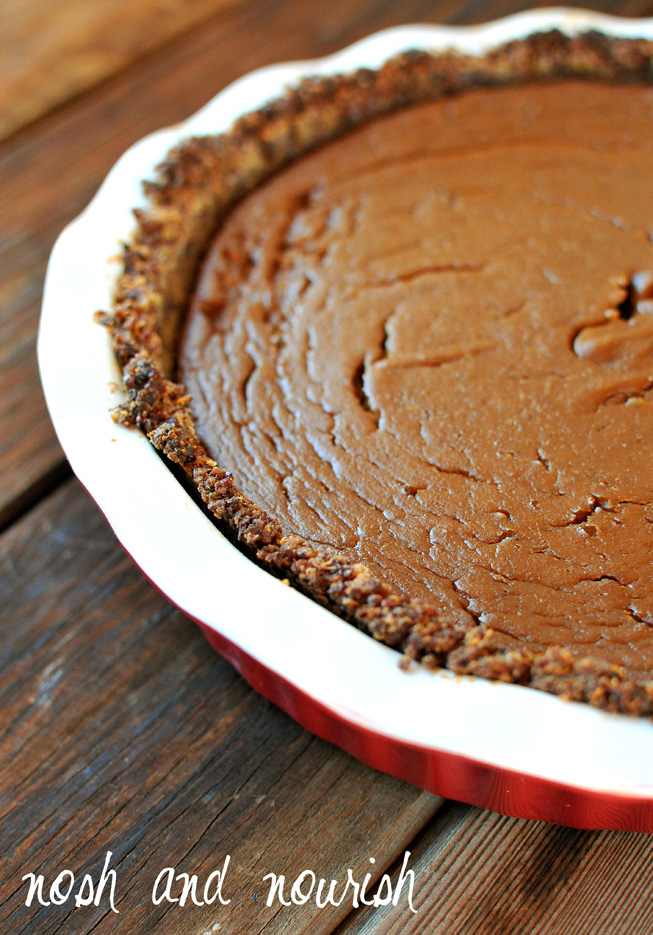 And can we just take a moment to admire how beautiful this pie is?! And I'm loving my new photo board and white plate. Ya know, it's the little things that get me excited :)  #thriftstorefinds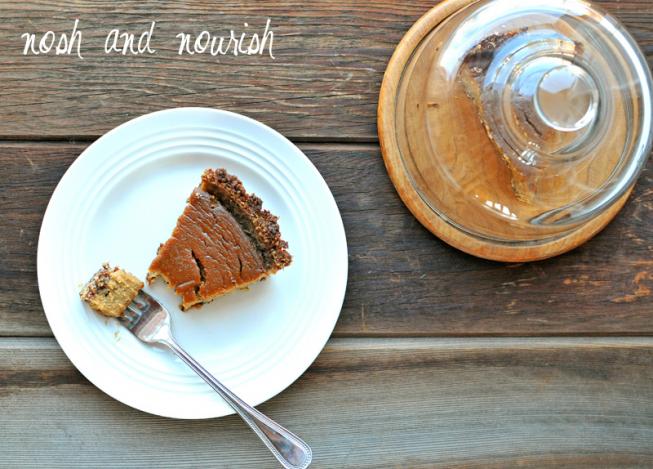 Question:
What's your favorite kind of pie to eat during the holidays?
Sweet Potato Pie with a Maple Quinoa Crust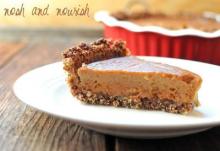 Description
Sweet Potato Pie with a Maple Quinoa Crust
Ingredients
2 cups Cooked Quinoa (for the crust)
1⁄2 cup Brown Rice Flour (for the crust, or sub all-purpose flour)
2 tablespoons Ground Flax (for the crust)
4 tablespoons Vegan Butter (for the crust, or sub regular butter)
4 tablespoons Dark Amber Maple Syrup (for the crust)
4 cups Sweet Potato (approx 2 medium sweet potatoes)
1 cup Vanilla Almond Milk
1⁄4 teaspoon Ground Cloves
1⁄4 teaspoon Ground Ginger
2 Eggs (or sub Flax Eggs (2 Tbsp ground flax + 6 Tbsp warm water) to keep vegan)
Notes
I used Earth Balance vegan butter
Instructions
Preheat the oven to 400 degrees.
Prepare the crust by stirring the cooked quinoa, brown rice flour, flax, and maple syrup together. 
Then, use a fork to fold in the room-temperature butter.  Be sure to combine evenly.
Press the quinoa crust into a pie plate that is either greased with coconut oil or sprayed with non-stick spray. 
Bake the empty pie crust for 10 minutes. 
Peel, dice, then boil the sweet potatoes in water to soften -- approximately 20 minutes. 
Drain the water and put the sweet potatoes in a medium mixing bowl. 
Add the almond milk and use an immersion blender to puree.
Add remaining ingredients. 
Pour into pre-baked quinoa crust. 
Bake for one hour, or until a knife comes out clean. 
Be sure to check on the crust partway through to make sure it's not burning. If it's browning too fast, add foil around the edges to protect it. 
Dig in!
Yields 1 Pie