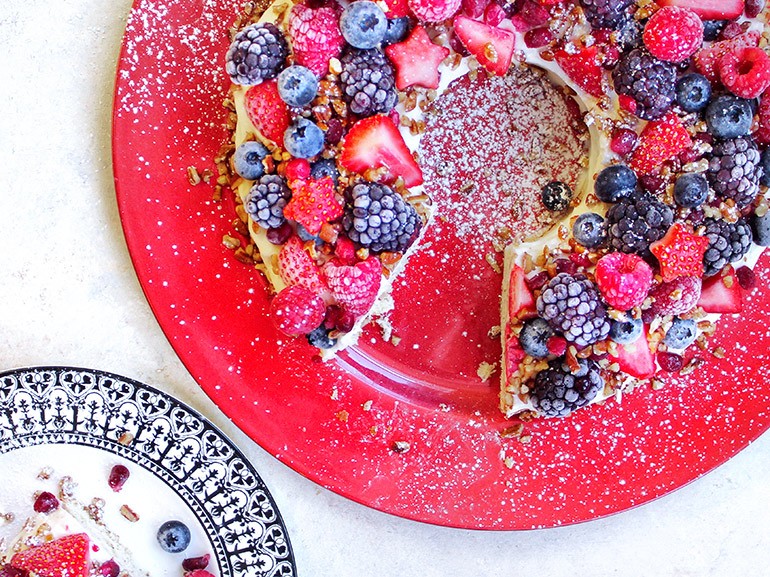 Happy December and Merry Christmas! @lunchesandlittles here. With Christmas and New Year's right around the corner (seriously, how did that happen?) I am spending even more time than normal in the kitchen whipping up creations that are sure to impress over the holidays. It's true – while I am alllllll about a quick and easy recipe, I also love creating dishes and the occasional desserts that just scream show-stopper, and this Vegan Pound Cake w/ Coconut Whipped Cream and Berries is just that!
This cake is perfect for the holidays – and because it is vegan, it can be enjoyed by even more people this season.  A lot of baked goods and traditional desserts include eggs and milk, making them completely off limits for those who are vegan and/or dairy-free.
And while we aren't strictly vegan in our house, we do have family and friends who are... so having options like this at the dessert table is important. After all, the more the merrier. Yes, the dessert table should be a place for everyone. Am I right?!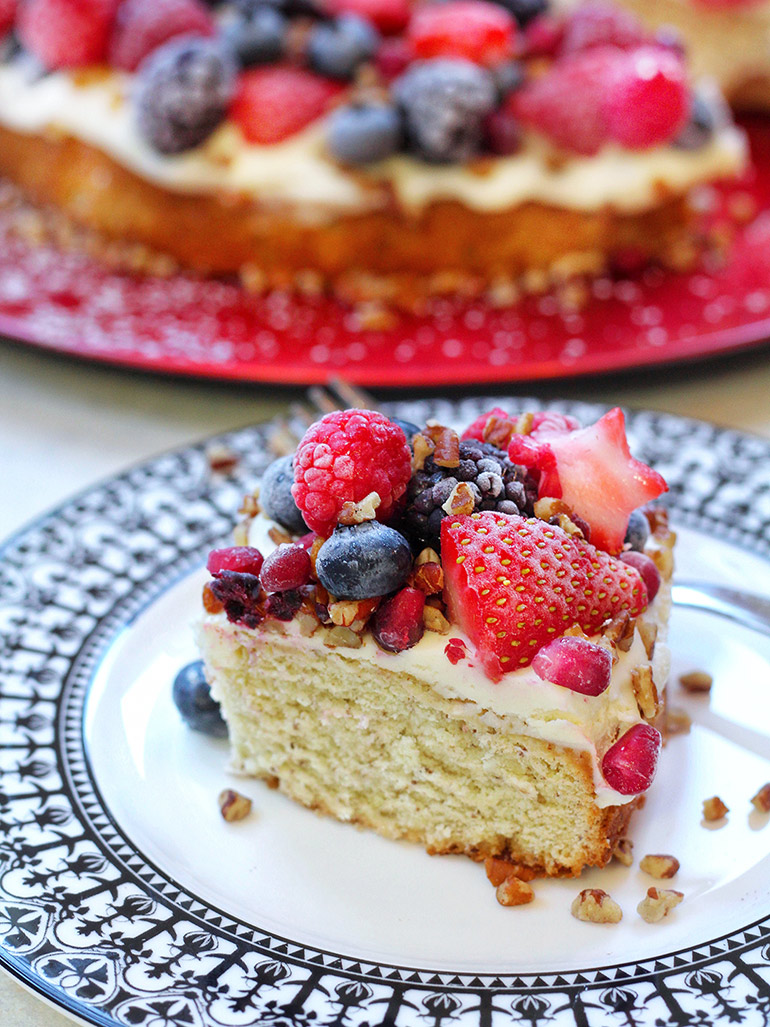 And even if you aren't vegan; I promise this pound cake tastes just as delicious as non-vegan versions!
A couple things I should mention:
1) I used a round springform pan for the cake shown here, and just cut out the center circle after it was all done baking and cooled. I have made this recipe with a traditional Bundt pan before; it results in a shorter Bundt cake/not full size, but when baking the other day, I could not find it (perhaps I will ask Santa to bring me a new one!). Anyways, if you have a Bundt pan you would like to use, you could certainly do that, though I really like the flatter shape the regular round pan gives it. There's a lot more room to "decorate" the top with all of the berries this way!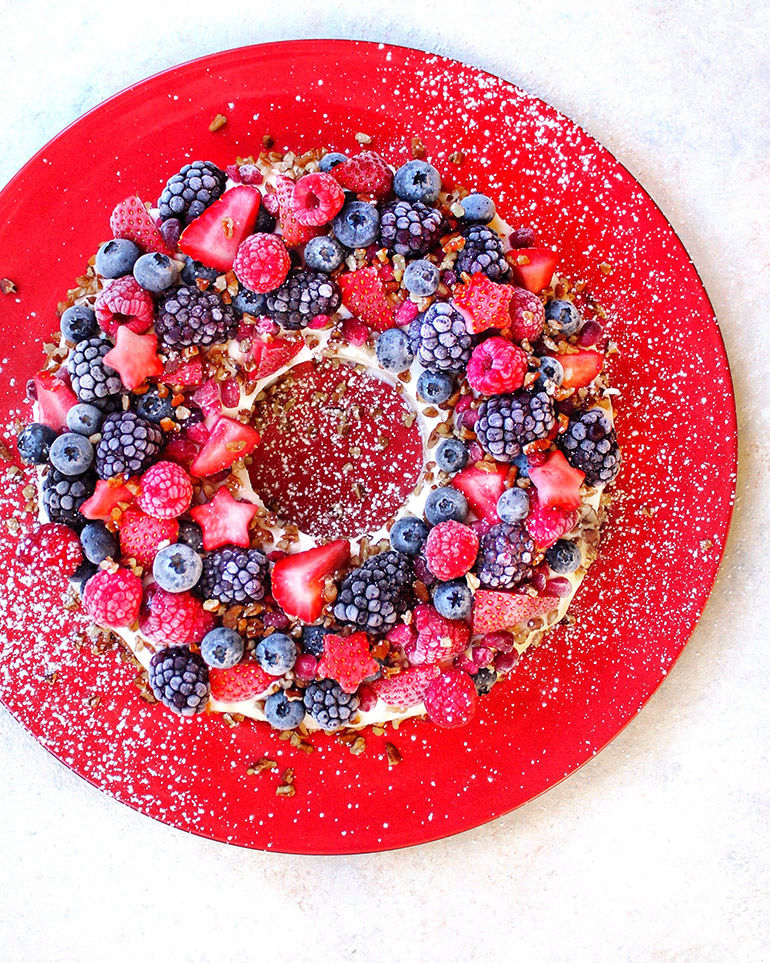 2) I used a pecan extract, though if you would prefer to use almond extract and crushed almonds in place of the pecan bits, that would definitely work. I also used a variety of fruits for the toppings including strawberries, blueberries, blackberries and pomegranate arils. You can use what you have on hand or what you think your family/friends would like best. I have made this with just strawberries and blueberries and it is equally as tasty, but I think the combo we used here really lent itself to a beautiful final result; don't you think? You can top with fresh fruit, OR get the frosty berry look too by following my method below!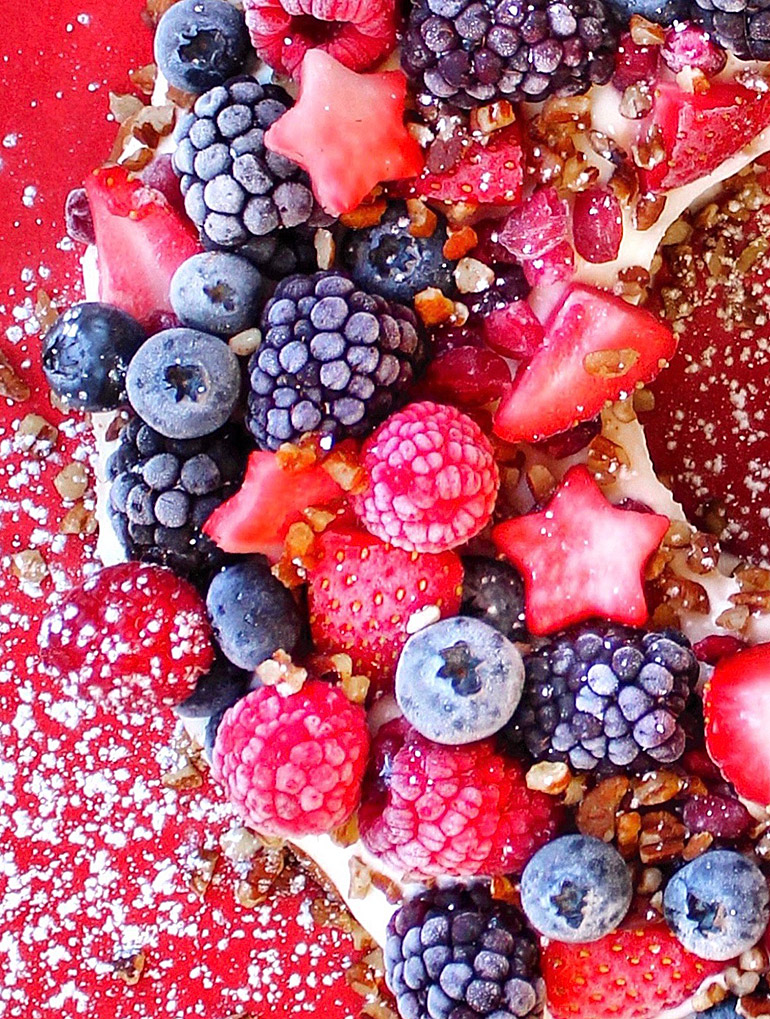 Be sure to read the recipe in its entirety before beginning to ensure best results (note: this recipe requires overnight refrigeration of ingredients used).
We hope that no matter what you cook, bake and/or whip up this holiday season that it is delicious! Merry Christmas!
-Joy
Vegan Pound Cake with Coconut Whipped Cream and Berries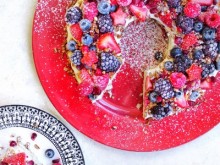 Description
Vegan Pound Cake with Coconut Whipped Cream and Berries
Ingredients
1 tablespoon fresh squeezed lemon juice
1 cup unsweetened almondmilk (or sub your favorite)
2 teaspoons pecan extract
1 teaspoon Vanilla Extract
1 tablespoon Pure Maple Syrup
3 teaspoons Baking Powder
1 tablespoon ground flaxseed
---FOR THE WHIPPED CREAM---
14 ounces can of full fat coconut milk (refrigerated overnight)
3 tablespoons Powdered Sugar
1⁄2 teaspoon Vanilla Extract
1⁄2 cup coarsely chopped pecans (or sub pistachios or almonds)
Notes
You will also need: cooking spray for greasing pan, assorted fruit as described above (we used: strawberries, blueberries, blackberries and pomegranate arils) and chopped pecans (or sub another nut of choice). Powdered sugar for topping optional.
Instructions
Pre-heat oven to 350 degrees and grease the pan you will be using (Bundt or springform). Set aside.
Combine lemon juice and almondmilk. Set aside and wait for milk to curdle; this will serve as a buttermilk. (just a few minutes)
Next, using a stand mixer or hand mixer, cream together your vegan butter and sugar (mixing approximately 2 minutes). Then add in the pecan and vanilla extracts and maple syrup. Mix again until combined. Turn mixer off.
Sift flour into a large mixing bowl. Then add in your baking powder, salt and flaxseed. Mix together until incorporated.
Carefully add your flour mixture to your creamed butter mixture.
Pour your pre-made "buttermilk" into mixing bowl and then mix all ingredients together by hand. You do not want to overmix, but you do want all the mixtures well-combined. Cake batter will be thick.
Transfer your mixture into your pre-greased pan and bake for approximately 55 minutes. Oven time will vary, so be sure to check in at about the 45 min. mark. Once cooked through, remove from oven to cool.
While cake cools make coconut whipped cream: open refrigerated can of coconut milk and pour out any liquid. Then, scoop out the solidified coconut cream and place in a medium-sized bowl.
Using a hand or stand mixer, whip cream for approximately 3 minutes, or until light and fluffy.
Next, add sugar, salt and vanilla.
Refrigerate whipped cream frosting until ready to use.
While whipped cream is in refrigerator and cake is cooling: prepare any fruit: wash and cut your fruit and be ready to top cake with it. If you want the frosty berry look like we've shown in the pictures, wash your fruit and then lay it in a single layer on a plate and freeze for 1 - 2 hours. Once you remove the berries from the freezer and they have been at room temperature for about 10 minutes, they will look frosty. The look does fade fast though!
To finish things up: frost your cooled cake with your whipped coconut cream. Then decorate with your fruits as shown and top with crushed pecan bits. This is my favorite part; there is just something so satisfying with making something so beautiful!
Place finished cake in refrigerator until ready to eat. Dust with powdered sugar if desired, immediately before serving. Cut into slices and enjoy!
Yields 8 Servings