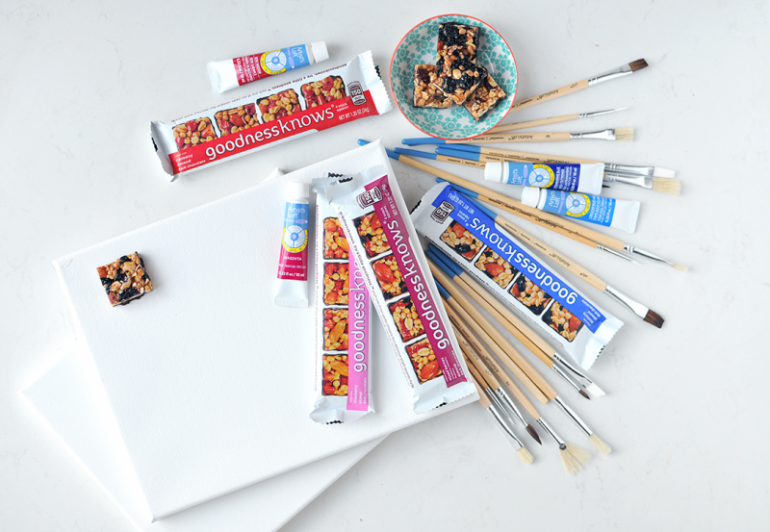 As much as I absolutely love the New Year and the sort of blank canvas that awaits (What will I focus on? How will I grow? What will I enjoy more? What will I commit to?), sometimes there's failure... or disappointment that you didn't meet your goal fast enough... or at all. But remember, every try is a step to being your best.
goodnessknows is encouraging and celebrating every attempt on the path to greatness – no matter how small or imperfect - so they challenged me to try something new in 2017. I took them up on this challenge and I've tried a few things this year (in these first 18 days):
making a smoothie every single day
doing an oil painting for the first time in 10+ years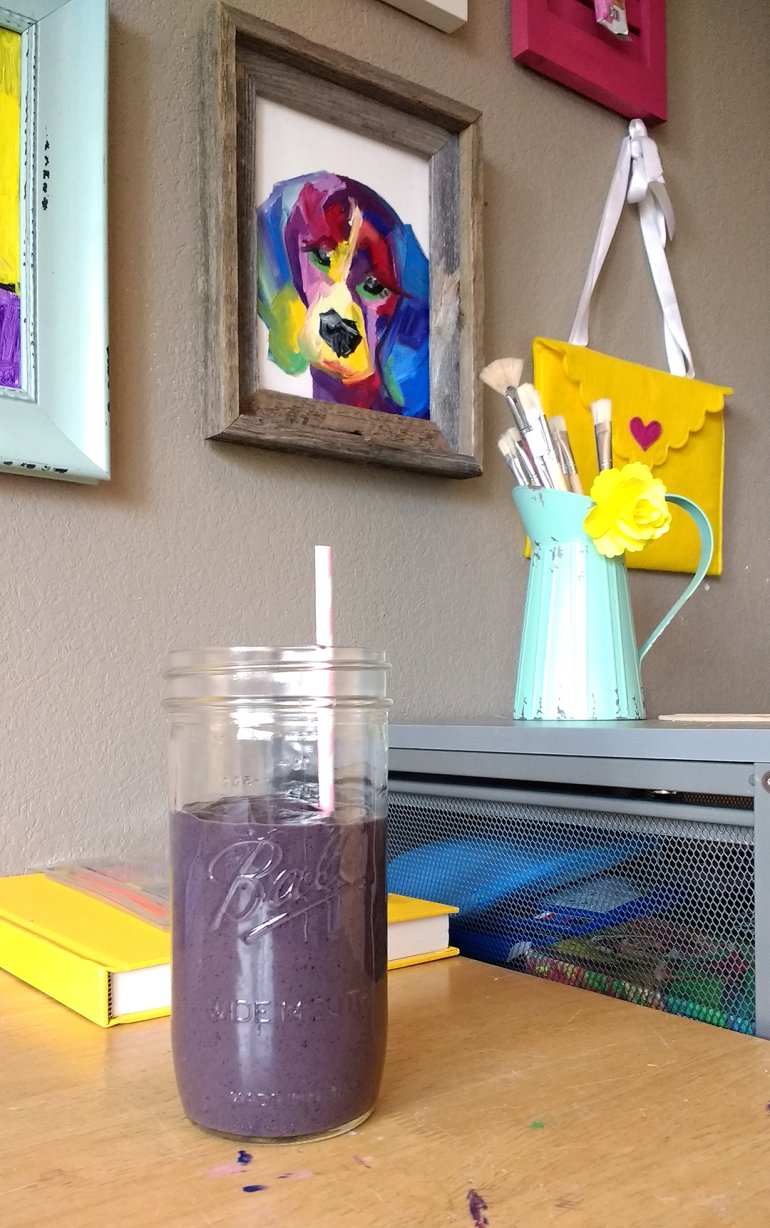 And I've come up with some tips for trying something new:
1. Just start--- half the battle (or more) is just starting. So don't put it off 'til Monday, or next week, or next year. Just start. Now. You've all seen that inspiring quote floating around Facebook --- "a year from now, you'll be glad you started today." <---- seriously.
2. Do some planning --- I know, I know... this kind of contradicts the first one. But hear me out. Don't let OVER planning paralyze you so you never start. But, some planning is good. So I want to make smoothies every day... Well, I better buy some cashewmilk ... and some greens... and some frozen blueberries... and some protein powder so that I have everything on hand. Likewise, I need to buy paintbrushes, canvases, and oil paint to create a painting. What am I going to paint? Sketching something out on the canvas first will help guide my brush. Doing a little planning in the beginning will help you be successful in the long run.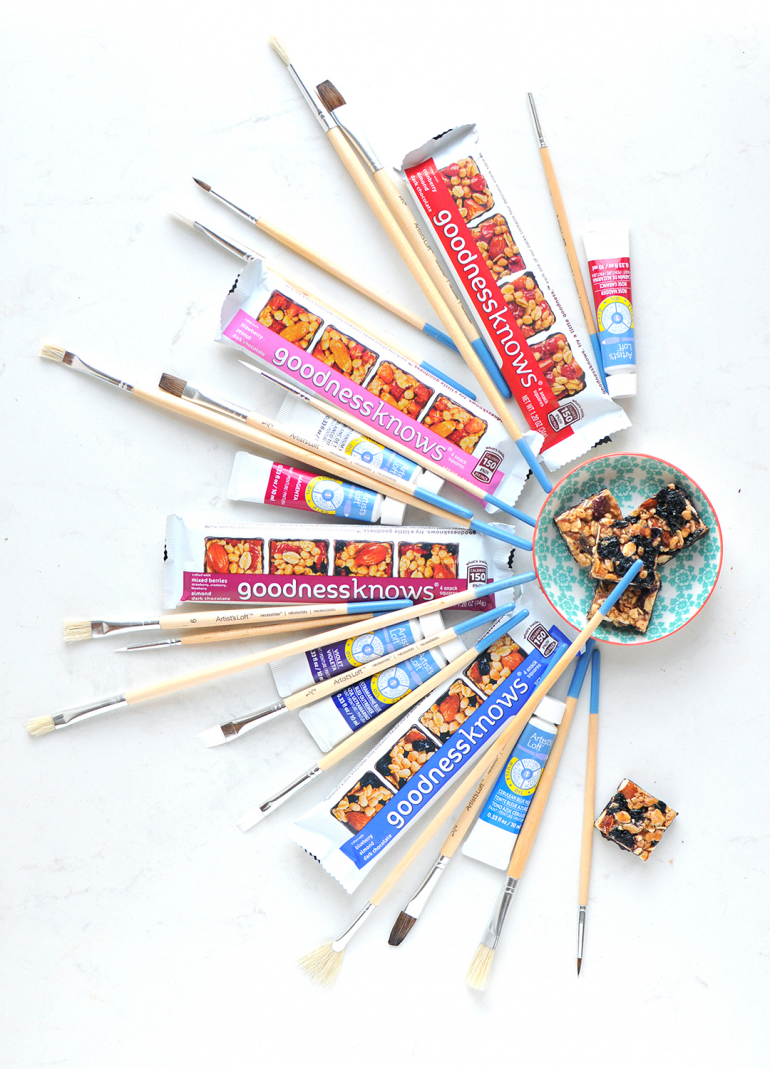 PSSSSSSSSST. Do you see those new vibrant pink, maroon, and blue goodnessknows snack squares above?!        I'm super excited to share the news: goodnessknows JUST introduced three new delicious flavors for you to try - blueberry, almond, dark chocolate; mixed berries, almond, dark chocolate; and strawberry, peanut, dark chocolate. And they are alllllllllll delish.
//////////////////////////////////// ok, back to tips.
3. Give yourself some grace --- progress, not perfection, people! So you mess up on your first canvas... luckily you planned ahead (see #2) and bought the 10pk when it was on sale! So you got a little too adventurous and put beet AND swiss chard AND cucumber in your smoothie and it was a little gross... I bet you won't do that combo again! So you had to rush out the door to help a friend move and you didn't have time for your daily smoothie... there's always tomorrow. And your body is thankful for the smoothies you did have time for the 17 days prior... and the smoothie you'll have tomorrow. 
4. Be adventurous --- don't let fear hold you back. It might be scary to try something new, but it's a key part of the journey to learning, growing, and being your best.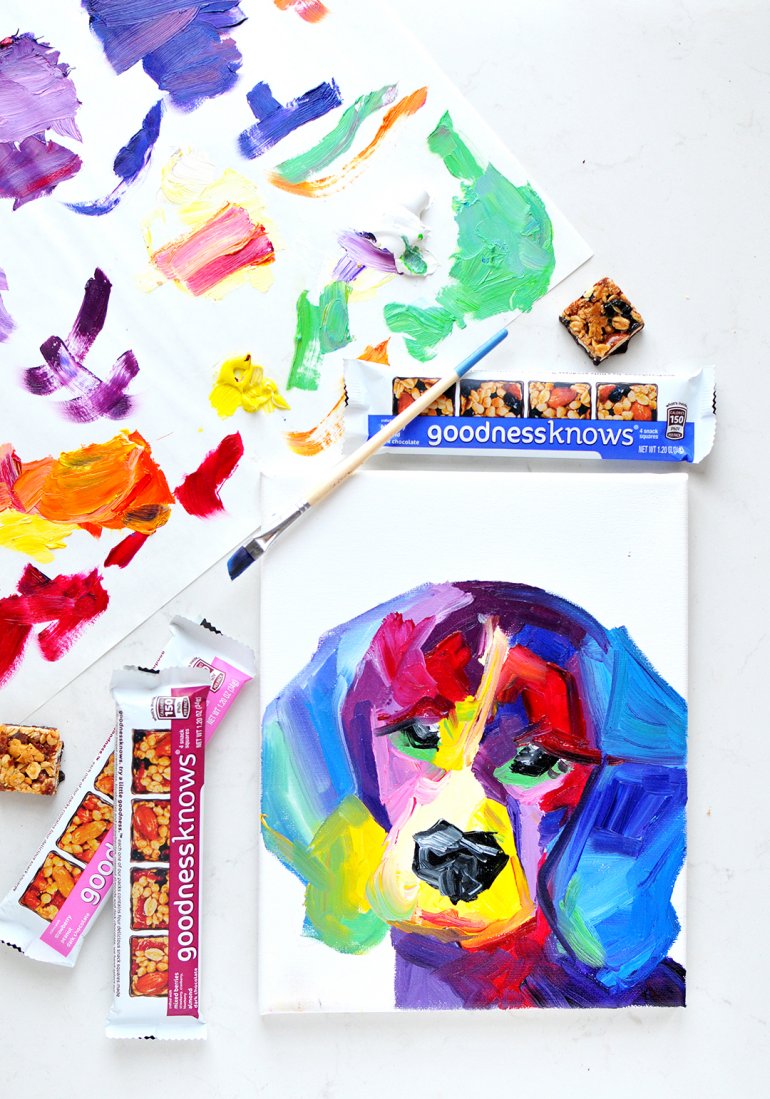 5. Celebrate your successes --- you guuuuuuuuuuuuuys, that is MY PAINTING (above) of one of my beagles. And I'm like overflowing with excitement about how it turned out!!! I love how colorful and fun it is. And that I made it. And to celebrate this success, I also worked on setting up an art display wall in my office / Babycakes' craft room to show it off. The other two paintings you see displayed below are Babycakes'! She has the artistic bug that I had as a child, and I couldn't be more thrilled to nourish that part of her life.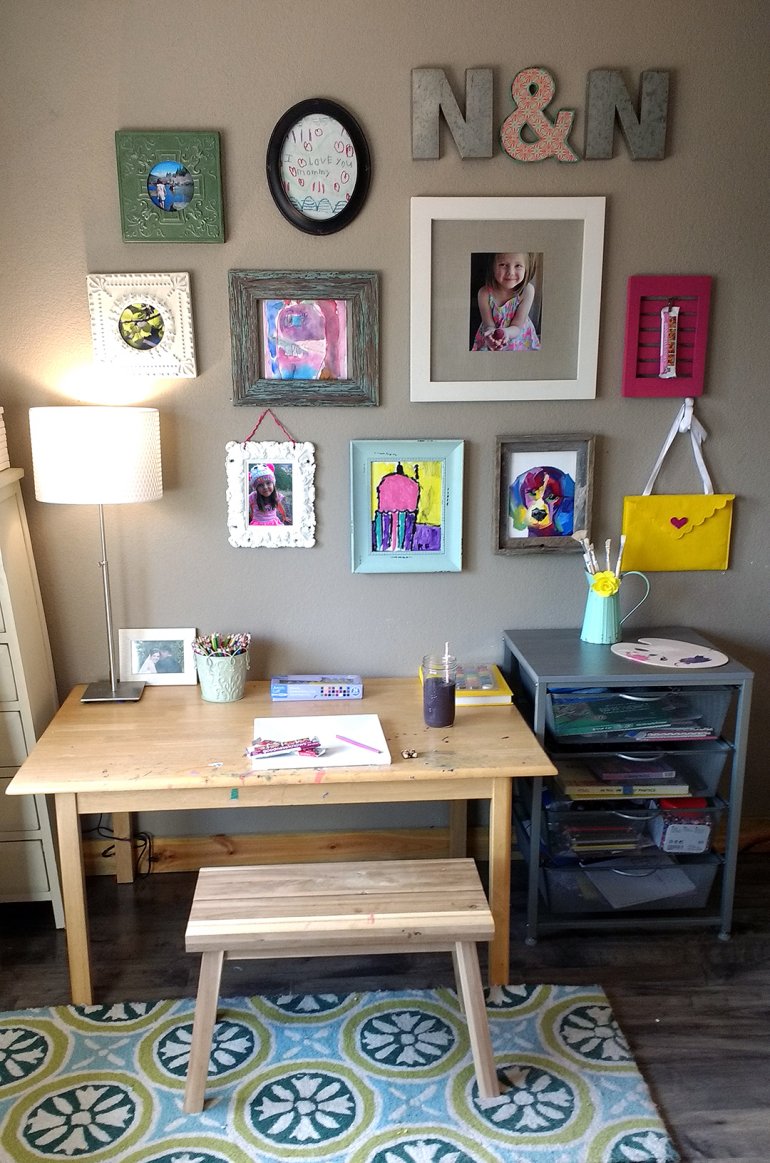 6. Encourage others --- once you've been successful at some of your goals, share your experience with others. Encourage them to follow their dreams. Come alongside them and give them wisdom about what worked (and what didn't work!) for you.  And then, experience the greatest joy of all --- celebrating in others' successes!
So now I want to encourage you to: 
* Try something new.... will it be:
biking to work?
taking your first zumba class?
making a smoothie every day?
weekly meal planning?
volunteering at a local charity?
unplugging for a day with no phone or computer?
something else entirely...
* Try a little goodness. 
* Try the new flavors of goodnessknows snack squares. 
* Try my Mixed Berry Chocolate Smoothie, inspired by one of the new goodnessknows' flavors!!  (recipe below)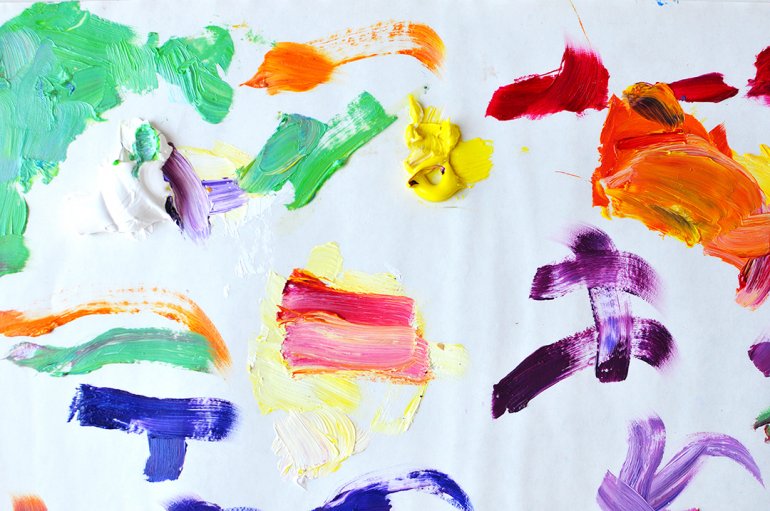 To find out more about goodnessknows, visit them on Instagram, Twitter, Facebook or the web!
This is a sponsored conversation written by me on behalf of goodnessknows. The opinions, beautiful photography, recipe and text are all mine. Thank you for supporting brands that support Nosh and Nourish!!! I choose them based on what I already cook/create with and feel 100% confident in recommending to you.
Mixed Berry Chocolate Smoothie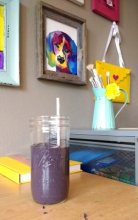 Description
Mixed Berry Chocolate Smoothie // via Nosh and Nourish
Ingredients
1 cup frozen mixed berries (I use a blend of blueberries, blackberries, and raspberries)
1 cup unsweetened almondmilk
2 tablespoons Chocolate PB Fit (this is powdered peanut butter; feel free to sub in regular nut butter)
1 serving of Arbonne chocolate protein powder (or sub your favorite)
Instructions
Combine all ingredients into a high speed blender. 
Blend until smooth. 
Enjoy immediately.
Yields 16 Ounces