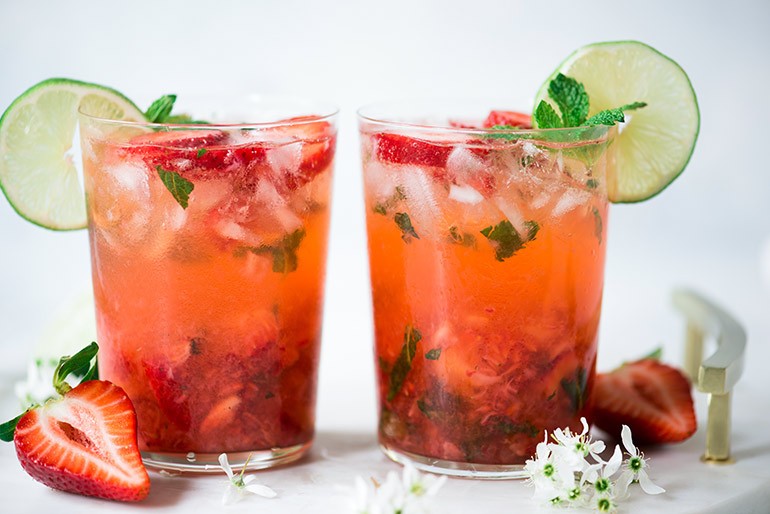 Hi Nosh and Nourish readers! Lexi and Beth here from Crowded Kitchen. If you follow us on Instagram (or on our blog), it's likely no surprise to you that this week's recipe is a cocktail. We LOVE making cocktails and try to post at least one new recipe every week or two; it's so much fun to experiment with different spirits, freshly squeezed juices, homemade simple syrups and more.
This week's cocktail is a pretty simple one, but it's absolutely delicious and tastes best when all of the components are fresh and mixed correctly. We recently participated in a mixology class to work on our basic mixology skills and one of the most important things we learned is that technique is everything. A cocktail that should be shaken won't taste quite right stirred and vice versa.
We applied a few of those learned techniques to this cocktail, which we'll outline below!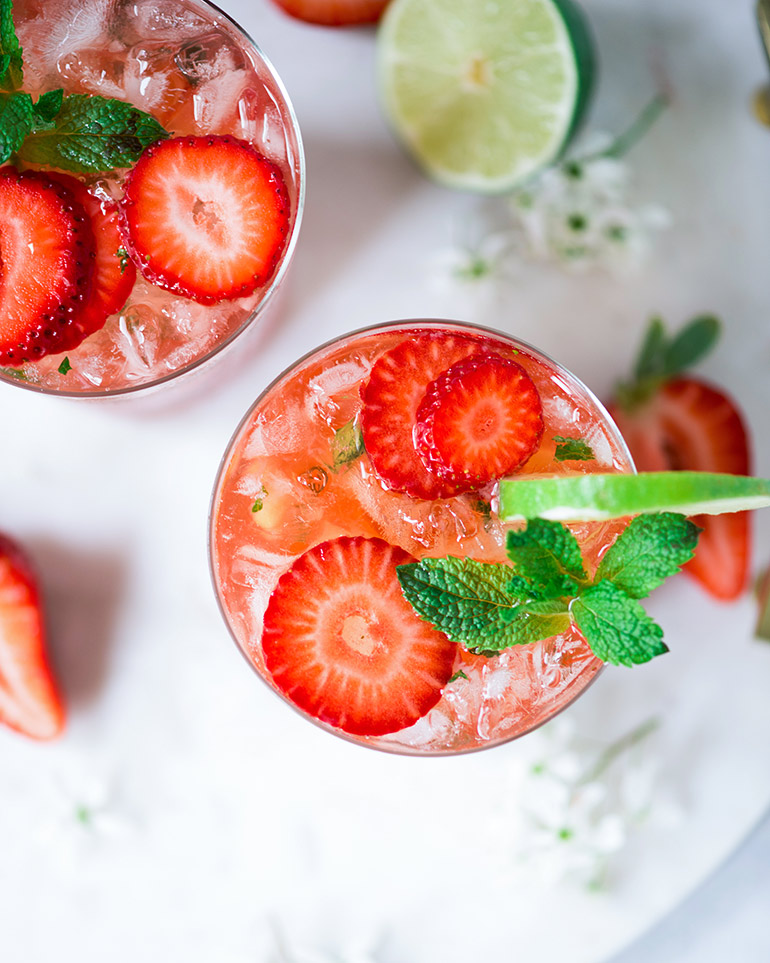 1) A traditional mojito involves muddled mint. We've added strawberries to ours for a fun summery twist, but mint is still an essential component. When muddling mint, you must be very careful not to over-muddle. The idea is to gently release the oils - it just takes a few seconds to do so. If you bruise the leaves too much, they become bitter and can really ruin your whole drink. In this particular recipe, we muddle the strawberries with agave first, and then add the mint in order to avoid over-muddling.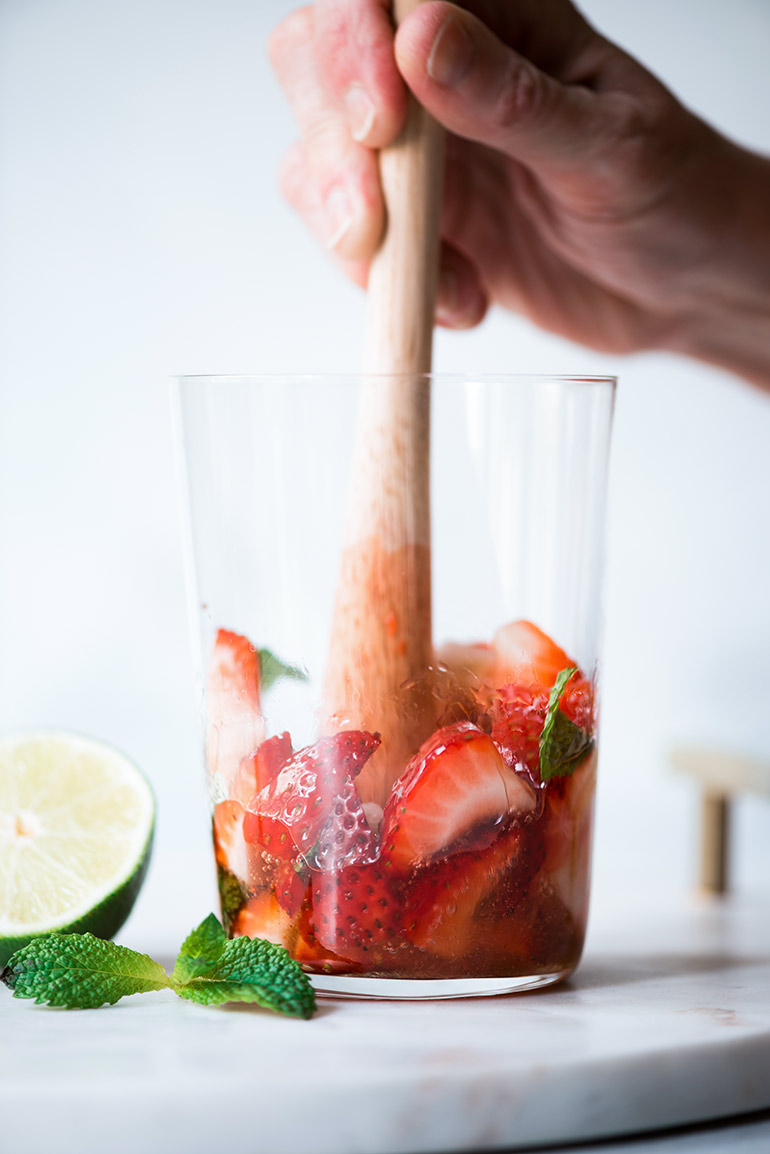 2) This recipe is best stirred - not shaken. Use a bar spoon to stir gently, yet quickly around the outer edge of the glass. Be sure to add ice before stirring to cool the drink, but don't over-stir or else you'll melt too much ice and dilute the drink. Instead of using your wrist to stir, try using your fingers to twirl the spoon.
3) Homemade simple syrup is incredibly easy to make, but we opted for agave here instead. They are really interchangeable, though, so if you'd like to use simple syrup, simply combine equal parts sugar and water in a saucepan over medium and stir until sugar is dissolved. Bring to a simmer and then remove from heat and let cool completely. You can even add a few mint leaves once you remove from heat if you'd like to infuse some flavor!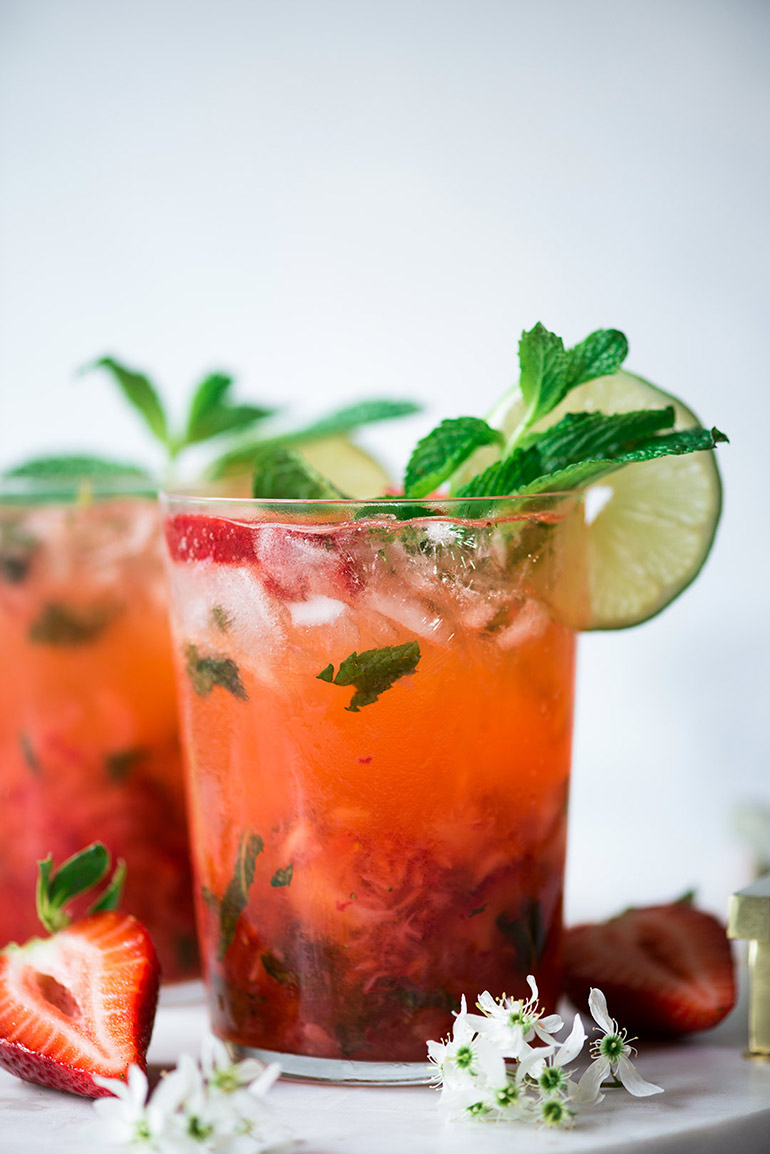 This would be a great Memorial Day weekend recipe - we'll be hosting family for some pre-wedding festivities, so we'll be making a few pitchers of these to go around!
- Lexi + Beth
Strawberry Mojitos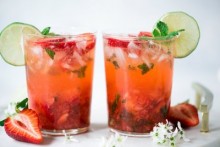 Ingredients
4 Strawberries (stems removed and quartered)
1 ounce agave (or simple syrup)
Instructions
In a cocktail shaker or highball glass, use a muddler (or the back of a spoon) to muddle the strawberries and agave. Once the strawberries are well-muddled (about 30 seconds), add the mint leaves and muddle very gently. (The point is just to release the oils without crushing the leaves, which leads to a bitter flavor).
Add lime juice and rum and some crushed ice, stir well, and pour into a glass. Top off with club soda and more ice if desired.
Garnish with sliced strawberries and mint. Enjoy!
Yields 1 Drink