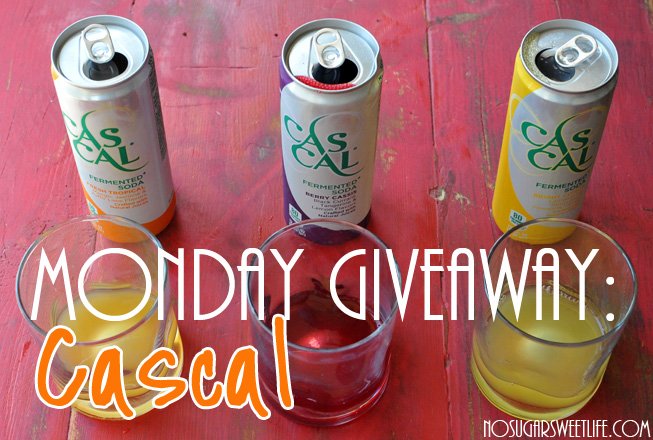 You probably don't know this about me, but I grew up in the South, Georgia to be exact.  I am a Southern Belle and a connoisseur of Coke.  When dining out at a restaurant they'd ask what you want to drink, and you'd say a Coke; then they'd ask you what kind.  Sprite, please.  Yes all soda was lovingly referred to as Coke. That's what happens when you grow up in a suburb of Atlanta, home of Coca-Cola.  Pepsi would never cross these lips!!  And the word "pop" was only for what happens to a balloon when it's pricked with a needle. When I started on this journey towards health, soda was one of the first things to go. I would much rather EAT my calories than drink them and I didn't want all the added sugars that go along with most sodas on the market. 
Recently though, a company called Cascal contacted me about their new fruit juice based fermented sodas as they seemed like a good fit for my blog/journey/readers.
And I'm so glad they did!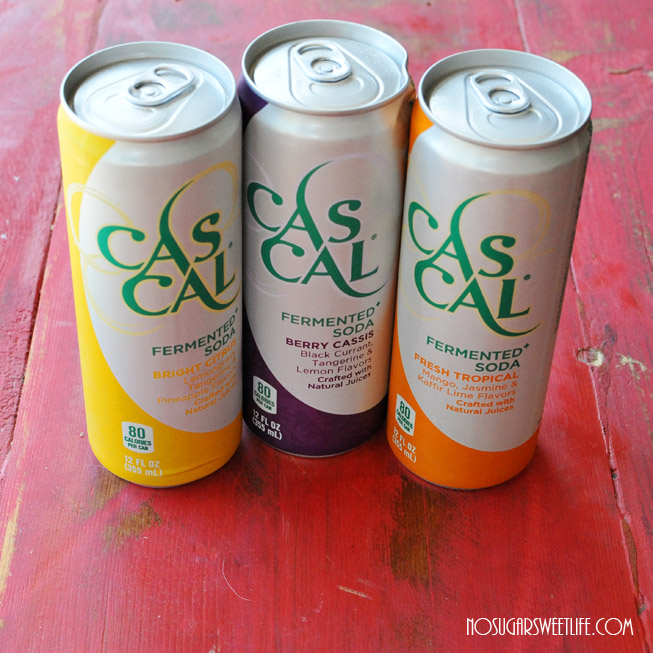 Highlights:
Deliciously bubbly soda
Fermented for a unique and sophisticated taste
Crafted with natural juices
Light, sweet flavor
60-80 calories per can
Caffeine-free
Gluten-free
They come in 5 flavors, though I only received/tasted/reviewed 3 of them: Crisp White, Ripe Rouge, Bright Citrus, Berry Cassis, and Fresh Tropical.  These are very similar to the Izze sodas you've probably all had, but I liked them even better!  I found their combinations of flavors more interesting and sophisticated.
Bright Citrus: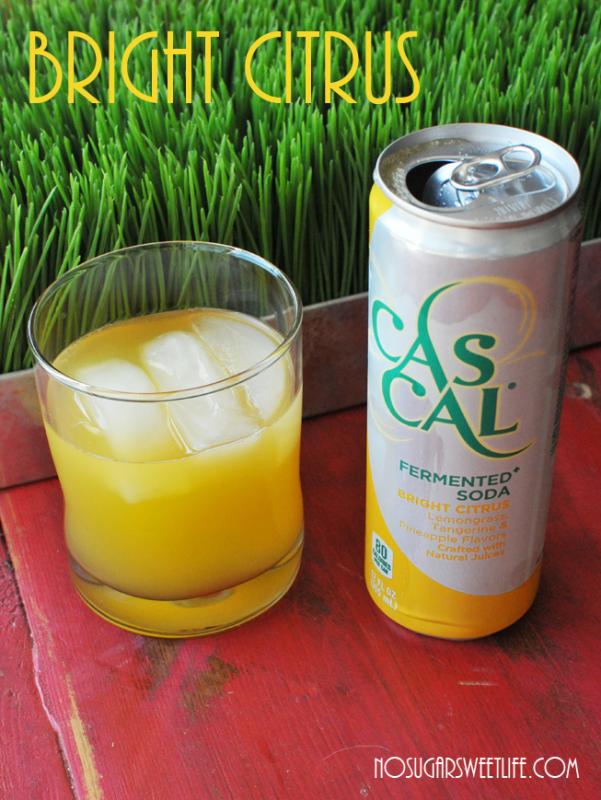 Light, refreshing, and citrus-y, indeed! With notes of lemongrass, tangerine and pineapple, Bright Citrus pairs especially well with tangy teriyaki chicken, a gourmet chicken sandwich or fresh guacamole and chips.
Berry Chassis: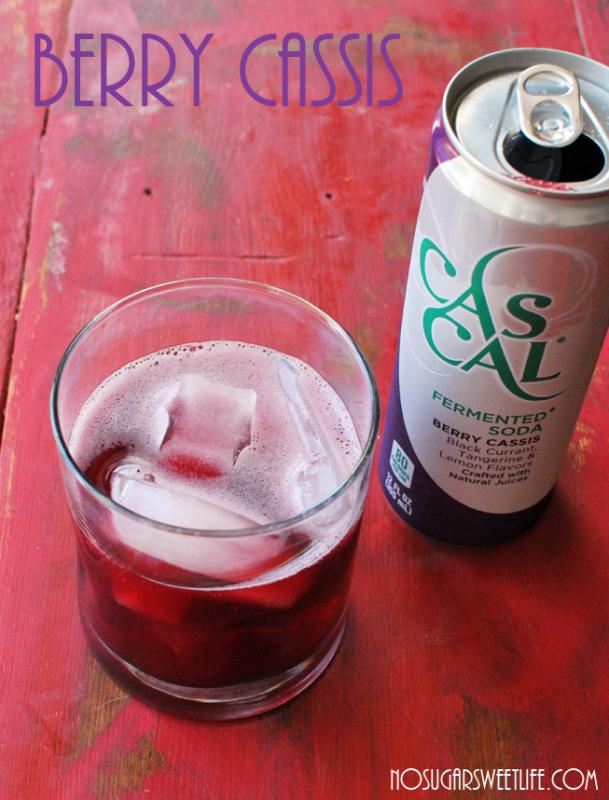 Deep, flavorful, and sophisticated.  With notes of black currant, tangerine and lemon, Berry Cassis pairs especially well with creamy hummus and crisp pita chips or spicy tandoori chicken.
Fresh Tropical: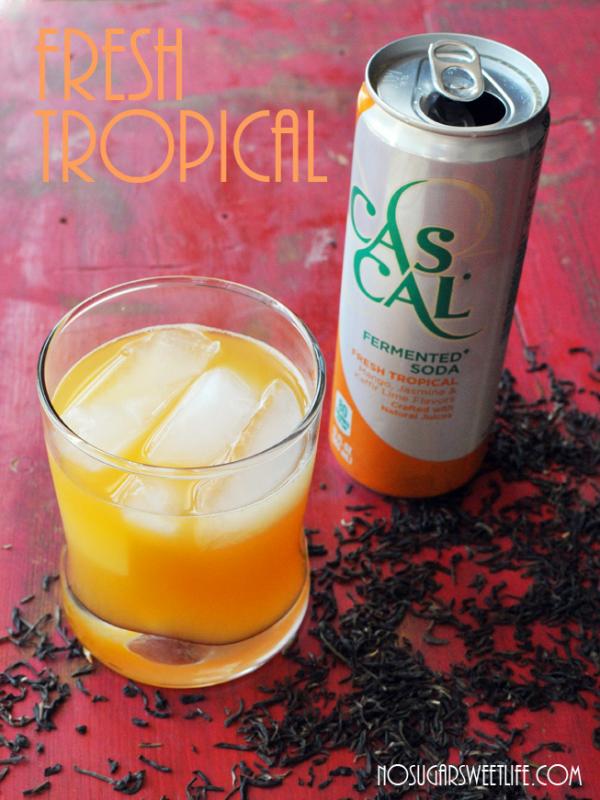 By far my favorite.  Light, peppy, and sweet.  With notes of mango, jasmine and kaffir lime, Fresh Tropical pairs especially well with Pad Thai, barbecue sandwiches or sweet mango salsa and crisp tortilla chips.
And I can't wait to try:
Crisp White – With notes of pear, apricot and magnolia, Crisp White pairs especially well strawberry ice cream, fresh salads, a mild Brie cheese or any number of the more robust cheeses.
Ripe Rouge – With notes of cherry, rose and chocolate, Ripe Rouge pairs especially well with Marcona almonds, marinated olives, Asiago cheese, or grilled beef.
I still don't recommend soda (even these awesome ones!!) as a daily habit, but for an every-once-in-awhile thing, most definitely.
So now for the giveaway!
Up for grabs: One reader will win a variety pack with one of each of the five Cascal flavors.
To Enter:
Leave me a comment below with what you call it: soda, pop, or Coke... and which Cascal soda flavor you're most excited to try. 
Bonus Entries:

1) (optional) Leave me an addtional comment below after you're Tweeted the following: 
Delicious, light, natural @cheerscascal fruit soda giveaway via @nsSweetlife #freshtropical #glutenfree #noaddedsugars http://tinyurl.com/bs9uqpx
2) (optional) Leave me an additional comment below after you've shared a link to this page (http://tinyurl.com/bs9uqpx) on Facebook.
A winner will be chosen on Thursday night, July 26th at 8PM MST, and announced in Friday's Blogpost. The winner must be in the U.S.
Additionally, you can interact with Cascal by:
Disclaimer: because I have to make SURE you know this... these products were given to me to taste/review for free.  These thoughts and opinions are strictly my own, and I was not compensated for this post.