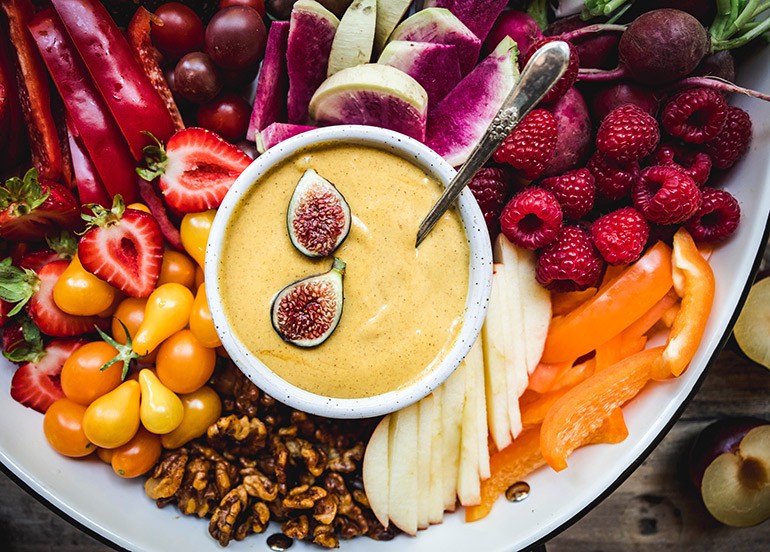 Hi, Nosh and Nourish readers! Lexi here from the Crowded Kitchen team. Now that it's officially fall, we can finally share a pumpkin recipe!! (Who are we kidding - we couldn't wait - we definitely posted one or two in September ;))
This pumpkin cheesecake dip is super creamy, not too sweet (but just sweet enough) and believe it or not, completely vegan! It's perfect for any fall entertaining occasion served as part of a snack platter appetizer, or even as a healthy dessert. Whether you serve it with sliced fruit or cookies, we're pretty sure you'll love it.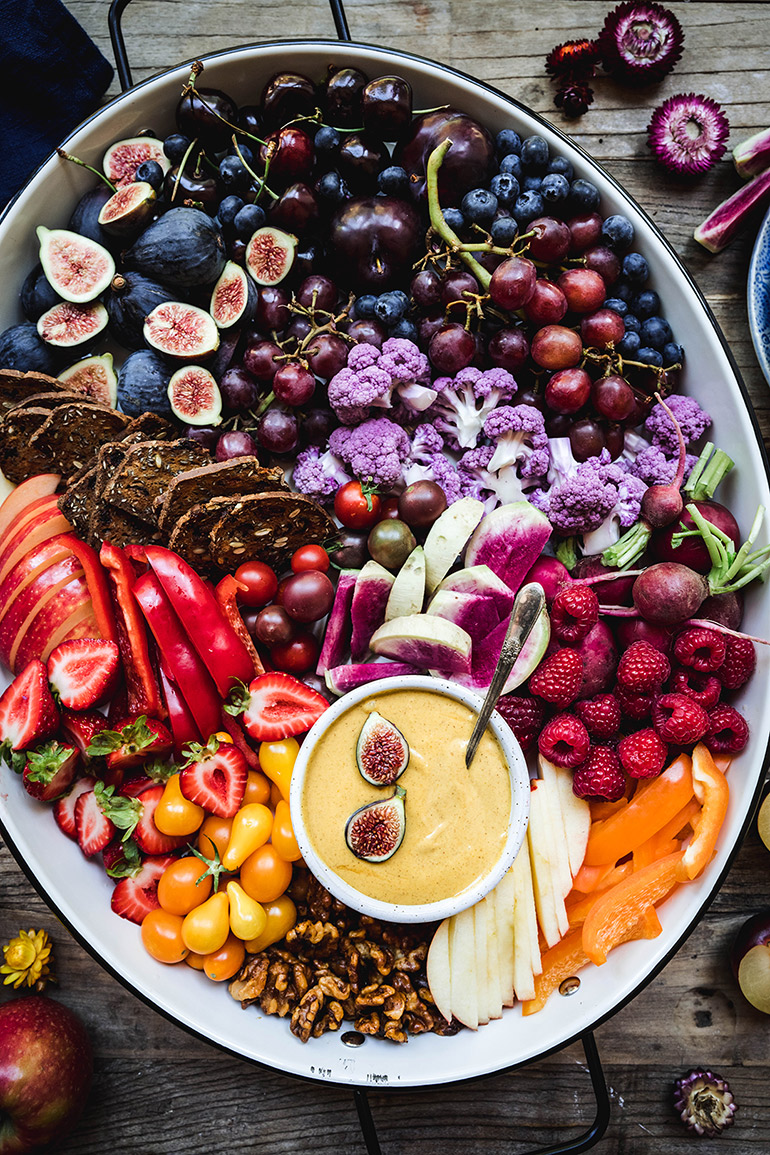 If you've been following us for a while, you're probably not surprised to see this color-coordinated snack platter. We LOVE creating gorgeous snack platters - we make them all the time and bring them to just about every entertaining occasion possible! The more aesthetically pleasing, the better. And not just for likes on Instagram (lol) - we've found the prettier the platter, the more likely our guests are to eat everything.
Fruit & veggie platters are a great way to introduce picky eaters to new raw vegetables and fruits. We always try to pick up a few special items like watermelon radishes, purple carrots or cauliflower, figs, or anything else we can find at our local store. They add color and the added bonus of being a great conversation starter! Watermelon radishes specifically (the bright pink veggie you see below!) are always a point of intrigue amongst our guests.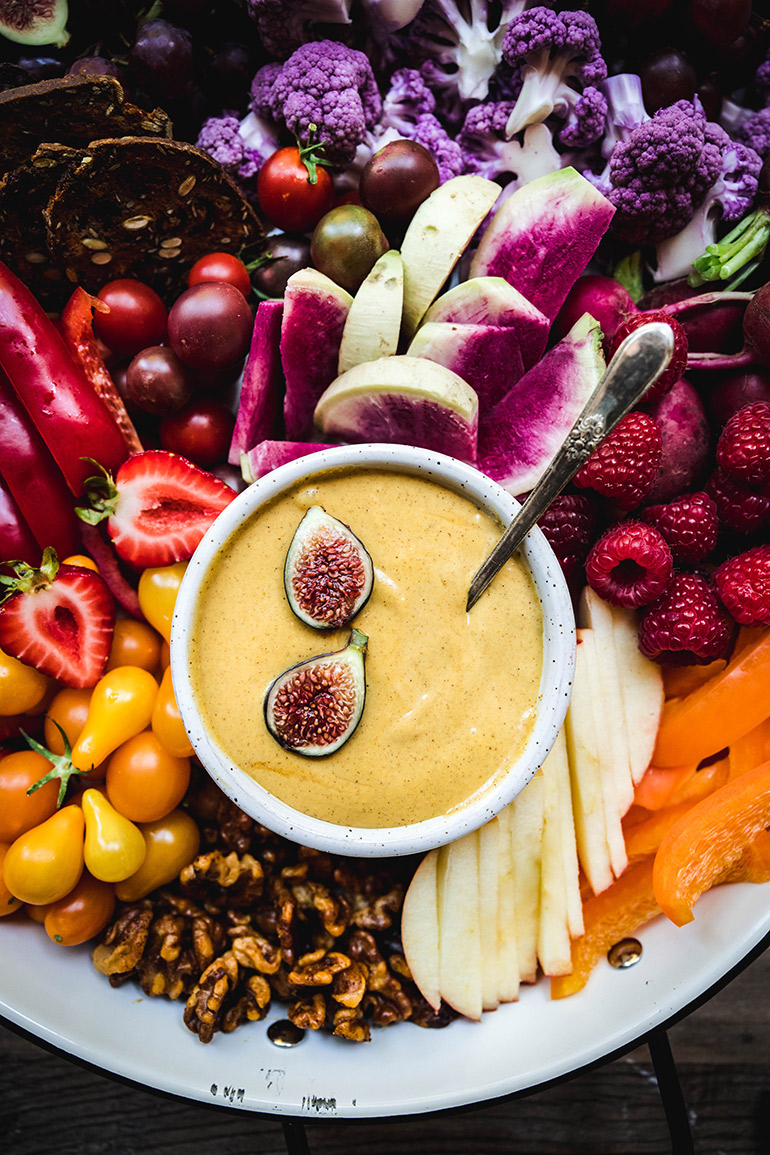 For more versatility, feel free to add in a few savory dips to serve alongside this sweet pumpkin spice dip. We always have hummus on hand at our house- whether it's store-bought or homemade - to pair with vegetables and crackers/pita.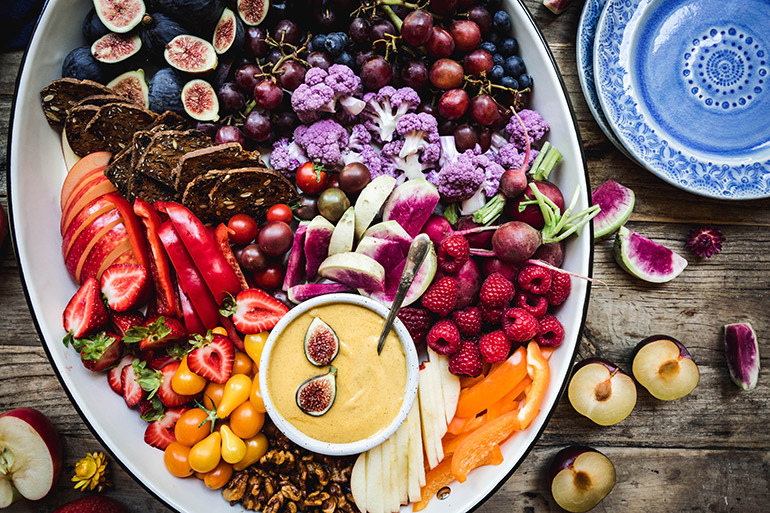 Looking for a few more vegan homemade dip recipes to add to your fall entertaining menu? Try a few of these from the #TeamNosh ladies!
- Roasted Carrot Eggplant Tahini Dip - I LOVE eggplant dips, and this roasted carrot version is no exception. It's my favorite fall dip!
- Vegan Caramelized Onion Dip - Warning: this dip is seriously addictive.
- Easy Homemade Guacamole by My Diary of Us - If there's no guac, is it even a party?
- Easy Romesco Sauce by The Pig and Quill - great served hot over gnocchi, or as a dip!
- Vegan Artichoke Kale Dip by Brown Sugar & Vanilla - Artichoke dip is everything.
- Or try Kelly's Vegan White Bean Dip:
Pumpkin Cheesecake Dip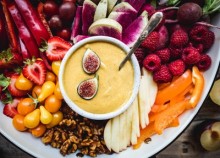 Description
Pumpkin Cheesecake Dip (vegan)
Ingredients
1⁄2 cup raw unsalted cashews (soaked in room temp water for 1 - 2 hours)
3 1⁄2 ounces vegan cream cheese
2 tablespoons Maple Syrup
1 teaspoon pumpkin pie spice
1 teaspoon Vanilla Extract
Instructions
Soak cashews in room temp water for 1-2 hours to soften. Drain and rinse.
Add all ingredients to small blender and blend until smooth and creamy.
Serve with fresh fruit, cookies, crackers, etc.
Yields 10 Servings