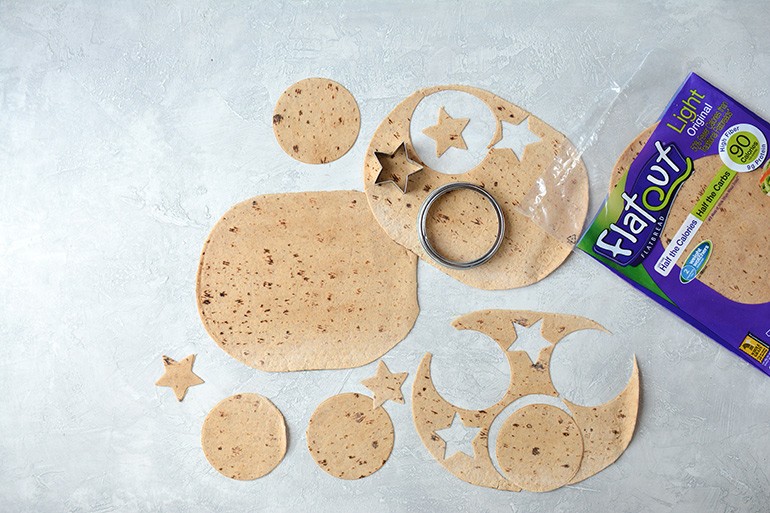 These adorable little dessert cups are made from Flatout Original Light wraps --- you cut them out into circles, brush with coconut oil, sprinkle with cinnamon and sugar (of choice) and then bake for 10 minutes. Then you can fill them with whatever you like: nice cream, pudding, chopped fruit... the options are endless!
We're in full-on summer mode over here. 
And now, you guessed it... nice cream. But more on that later.
First, how adorable are these little dessert cups? I love that you can eat the whole thing and have no dishes to clean up afterwards!!! AND, we used the extra pieces of wrap (after the circles were cut out) to make extra stars to put on top of the nice cream.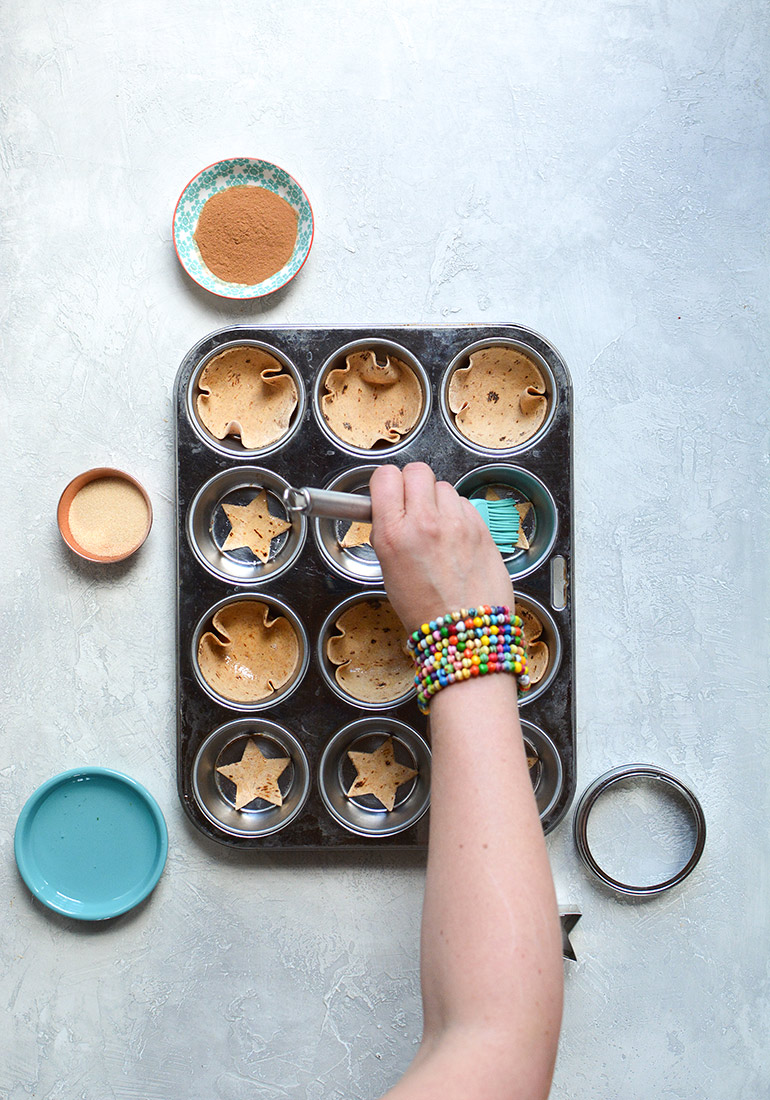 ADORBS.
We topped with chopped pieces of dark chocolate... but you could also add fresh fruit for a pop of color.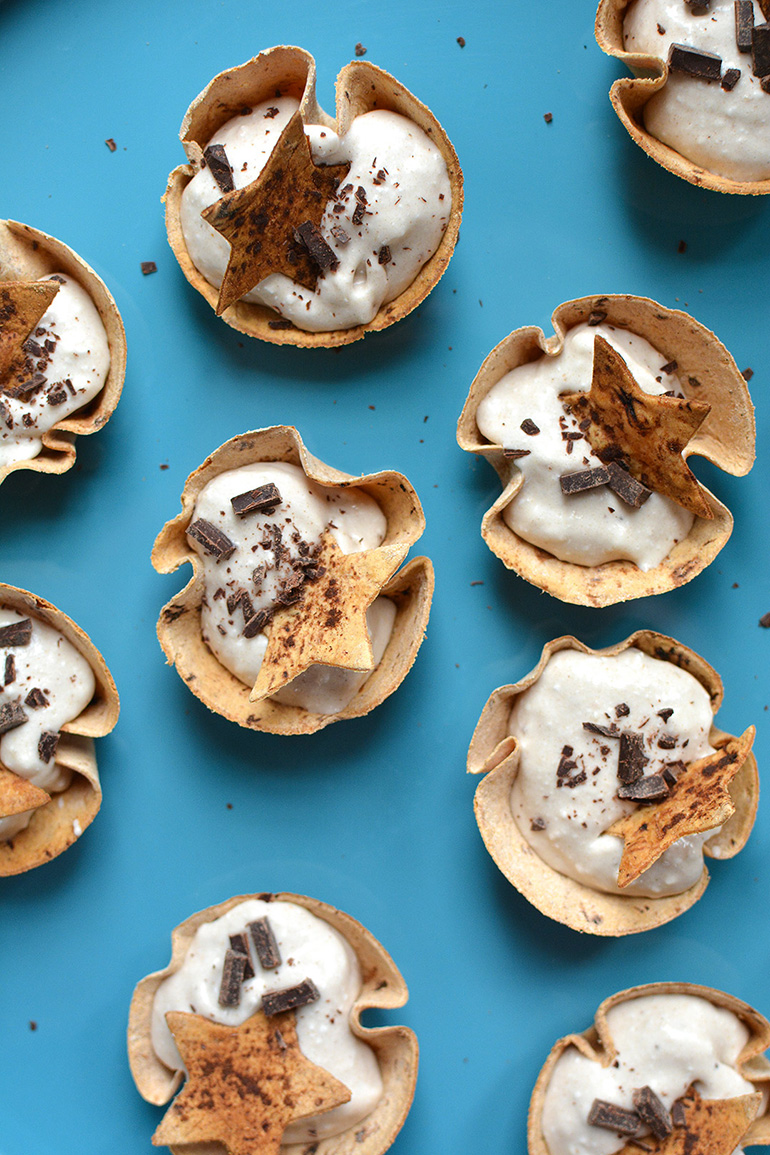 Sooo, have you heard of "nice cream" before? At its most basic, it's literally JUST blended frozen bananas. But, you can add other flavors and things to it as well, still keeping frozen bananas as the base. This one is:
frozen bananas
coconut cream
cinnamon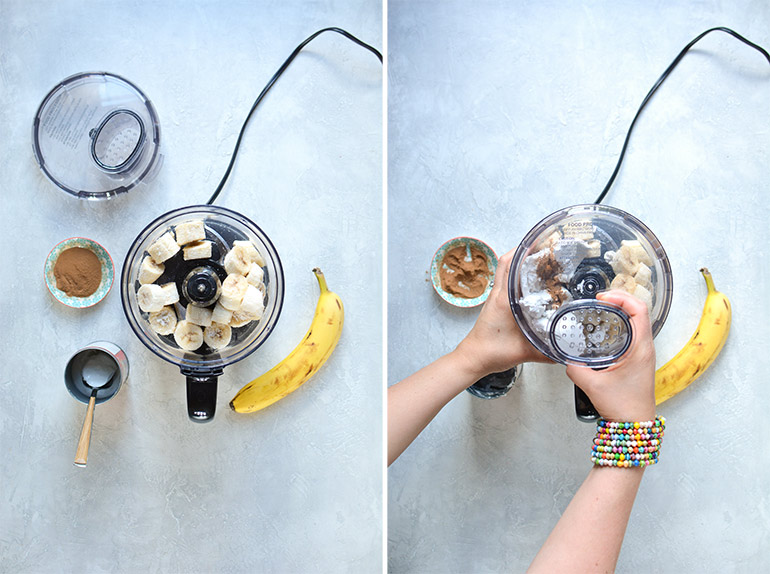 Scoop the nice cream from the food processor into the little dessert cups and serve immediately. Or transfer the nice cream to a freezer safe container and let it re-harden for a few hours before scooping with an ice cream scoop. It's totally up to you! Happy unofficial start to summer, friends!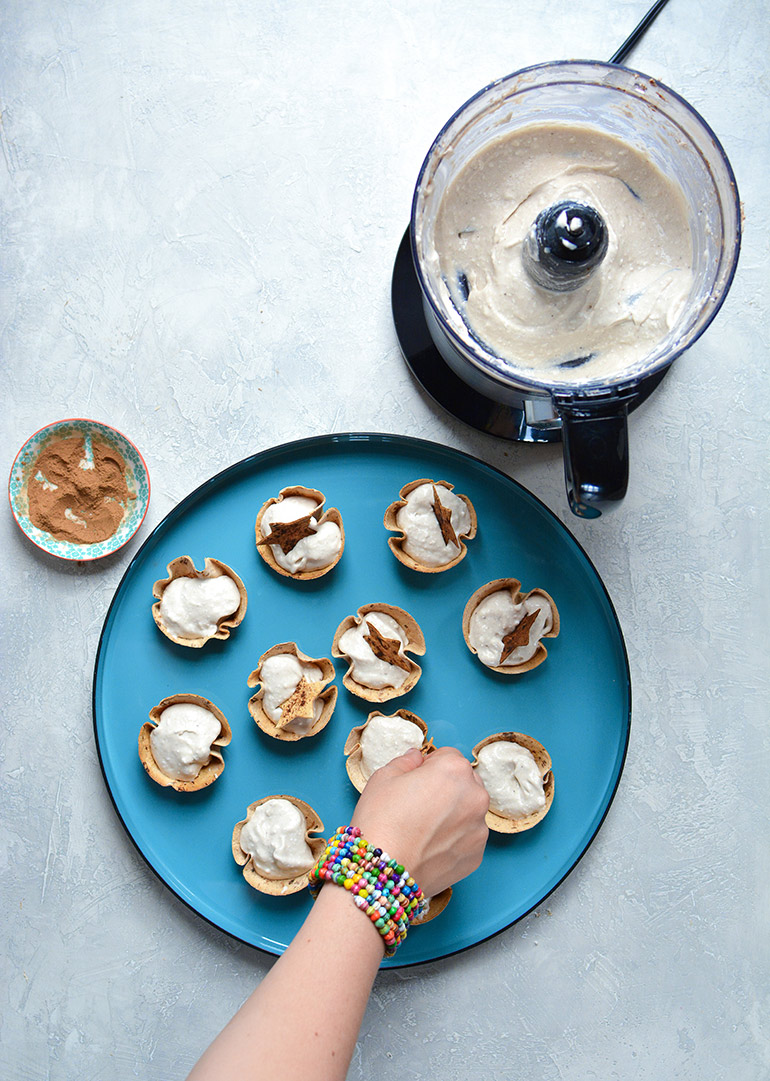 SHORTCUT: and if you really want to save time, just make the dessert cups and use So Delicious Dairy Free's salted caramel cluster cashewmilk ice cream instead of the nice cream. It's nice-ish too!
---------------------------------------------------------------------------------------------------------------------------------------
This is a sponsored conversation written by me on behalf of Flatout. The opinions, recipe, beautiful food photography and text are all mine. Thank you for supporting brands that support Nosh and Nourish!! I choose them based on what I already cook/create with and feel 100% confident in recommending to you.
Nice Cream Dessert Cups
Ingredients
4
Flatout Original Light Wraps
2 tablespoons
Melted Coconut Oil
2 teaspoons
powdered monkfruit (or sub coconut sugar or sweetener of choice)
2
Bananas (sliced and frozen)
1 can
refrigerated full-fat coconut milk (only use the coconut cream (~ 1/2 cup), discard liquid)
2 tablespoons
chopped dark chocolate (optional for topping)
Notes
*you will need 2 muffin tins, a wide-mouth mason jar lid or biscuit cutter, and a small star cookie cutter (optional).
Instructions
Preheat oven to 375 degrees.
Cut 3 circles out of each Flatout wrap, for 12 total --- using a wide-mouth mason jar lid or biscuit cutter. In the leftover pieces of wrap, cut out 12 small stars (optional). 
Press each circle into a muffin tin cup and place the stars in the others. I do 6 circles and 6 stars in each muffin tin.
Brush each piece of wrap with melted coconut oil. 
Then, sprinkle sugar (of choice) and cinnamon on each, evenly. 
Bake for 8 minutes, then remove from heat and let cool. 
Meanwhile, combine your frozen banana pieces, coconut cream, and cinnamon in a food processor (or a high speed blender will work). Blend / puree until smooth. You  might need to let the bananas defrost a bit, or add 1 tbsp of coconut milk to help it blend more easily.
Then, add a spoonful of the nice cream into each dessert cup. 
Top with chopped dark chocolate and a crispy star. (optional, but recommended!)
Yields 12 Cups