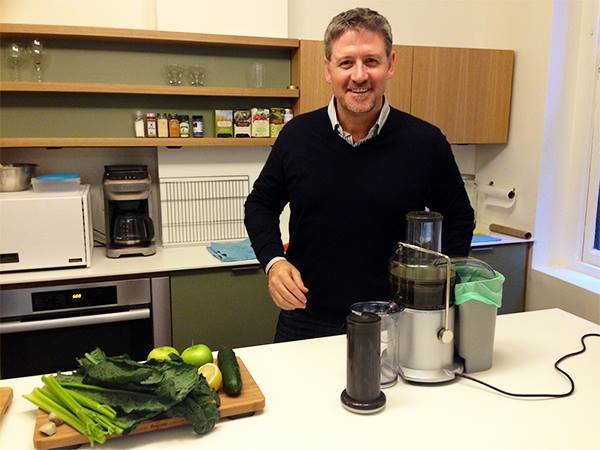 Many of you know my story about juicing. It's how I started my weightloss journey. And the person behind this whole juicing revolution is Joe Cross. He is the star of "Fat, Sick, and Nearly Dead" and has become the juicing king -- speaking all over the world encouraging others to reboot their life, writing books, and making more films. And did I mention, he has the most fabulous Australian accent?!  As a side note, I have the high honor of being included in his follow-up juicing film that is in the works...it is expected to be released next summer.  This past week I was totally star-struck, when Joe Cross himself called my cell phone!! OMG. He called little ol' me.  He wanted to give a message of encouragement to my group of 260+ Rebooters!!
Message from Joe:
"G'day to all 260 of you doing the Nosh and Nourish October Reboot!
I've just put the phone down from the one and only Kelly Pfeiffer, and I'm so excited for you all! By my calculations, you're on day 3 of Juice only and it can be one of the toughest days….so I wanted to give you all a big pat on the back for giving your body a chance to rest and repair.
One tip, try not to focus on weight loss...that will happen if your body needs to use up the extra energy you might be saving. Try to stay focused on the health benefits of flooding your system with little packets of sunlight.
When we juice, we are drinking water filtered through plants...we are free basing Mother Nature. So let the sunlight in!! I know that my life has been changed for the better from my journey. I hope through this experience, yours will too.
Juice On,
Joe"
Introducing Pink-a-licious Juice:
We're now officially on Day 9 of the Reboot (day 4 of juice only).  I've been mixing it up, with some of Joe's recipes, some of my own, and some new ones :) This week, I created this fabulous new pink beauty: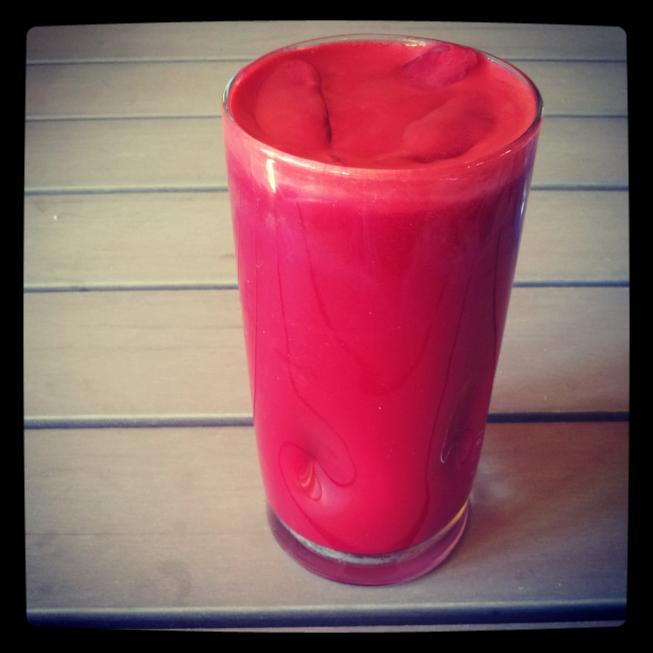 It's creamy. It's sweet. It's pink. And it tastes nothing like dirt, despite having 3 beets in it!!
Pink-a-licious Juice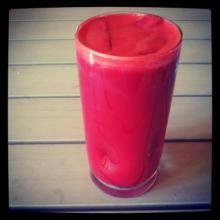 Ingredients
1 Garnet Sweet Potato (peeled)
Notes
Cut fruits and veggies into pieces small enough to fit through your juicer chute.
Juice everything.
Enjoy with ice.
Instructions
Yields 48 Ounces