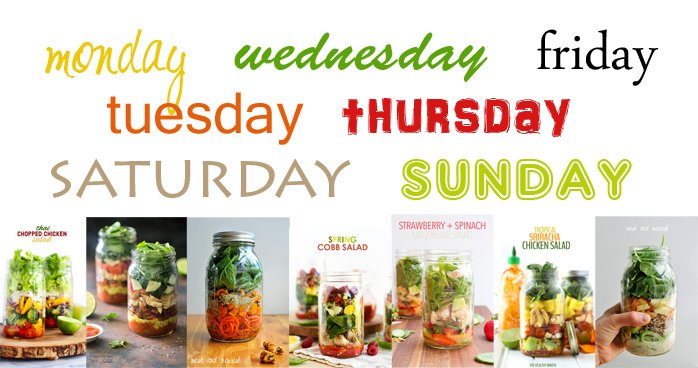 For some reason (maybe because I have a four-year old), when I started thinking about this post and sharing a mason jar salad for every day of the week, all I could think about was underwear. LOL! Remember those underwear that have the days of the week on them? Well, Babycakes is starting to read and now when she's getting dressed, she's all... "I can't wear these. They say Tuesday." Thanks, underwear makers. Make my life even more miserable! She was picky enough before and getting dressed already takes 233 times longer than it should!! So, this weekend, I'm on a mission to get non day-of-the-week labeled underwear. If it kills me. 
OK, back to salads! Mason jar salads are all the rage. They're such a great way to pack a healthy lunch for the work-week... and you can make make a few of them ahead so they're ready to grab on the go. Here's 7 you will love, and it doesn't matter which day of the week you pick, I won't judge. Or throw a tantrum. 
Monday. 
Thai Chopped Chicken Salad with Chili Vinaigrette // via Lexi at Lexi's Clean Kitchen
All of your favorite flavors come together in one jar! This Thai Chopped Chicken salad is loaded with veggies and packed with flavor. Taste the hints of chili and lime with a touch of sweetness in this easy-to-pack on the go meal!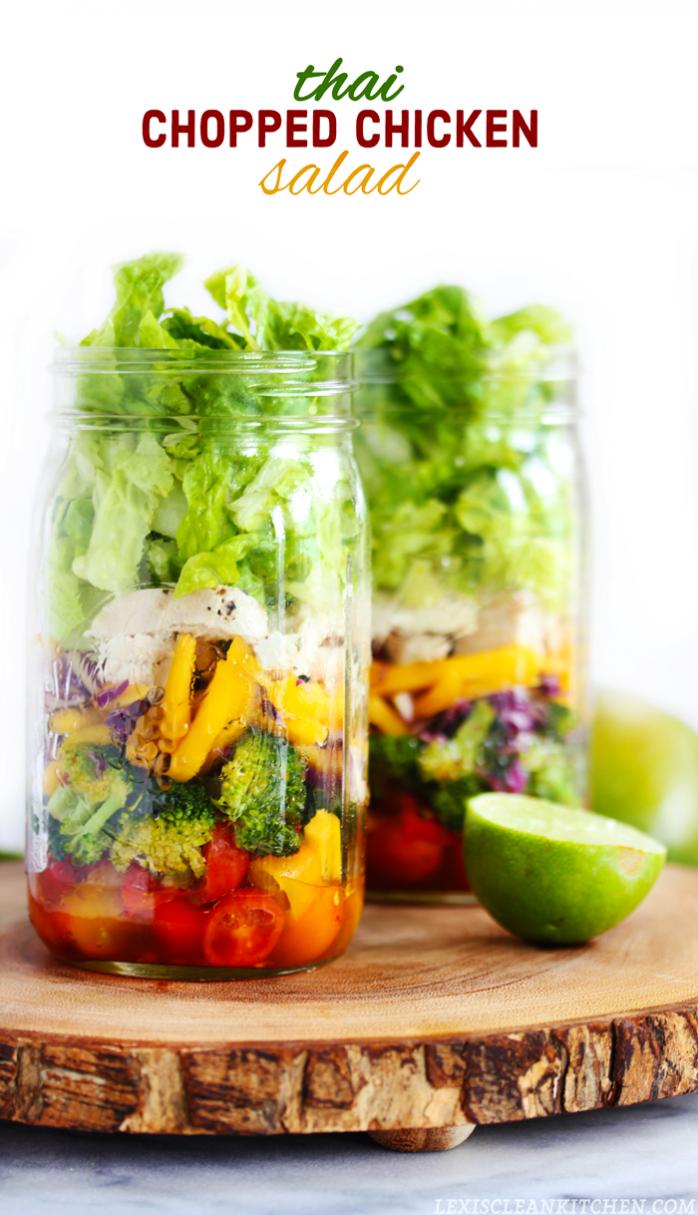 (Taco) Tuesday.
Chicken Taco Salads // via Taylor at Food, Faith, Fitness
A healthy twist on a restaurant favorite that sounds simple but is BIG on flavor, with the perfect amount of spice and creaminess from the cumin and avocado. It's packed in a mason jar for a portable, tasty lunch that won't get soggy!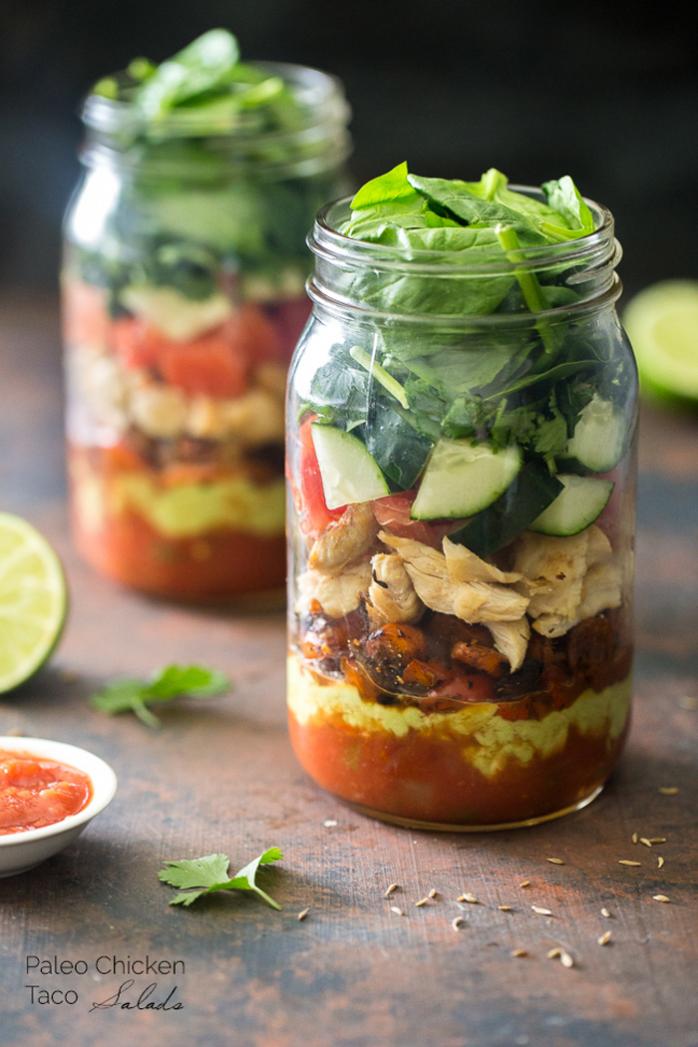 Wednesday.
Carrot Noodle Salad w/Sweet Thai Vinaigrette // via Kelly (me!) at Nosh and Nourish
This carrot noodle salad is vegan, but don't let that fool you. It's filled with plant-based protein so that you'll actually stay full 'til dinner! It's the perfect way to transport healthy, nutrient-packed salads to work... and it's gorgeous, delicious, and totally satisfying.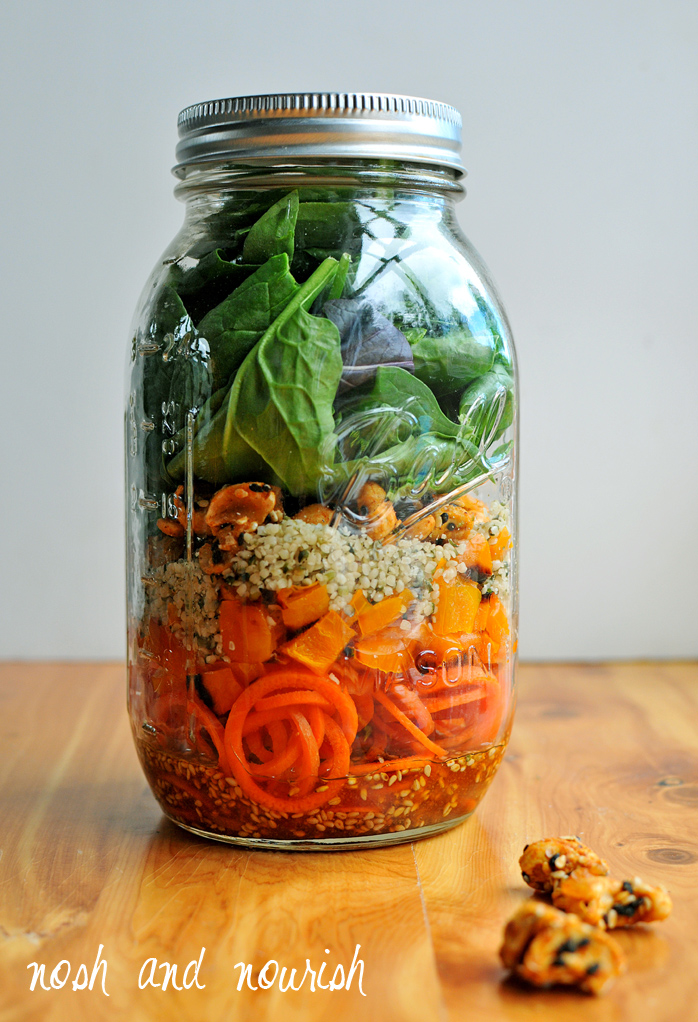 Thursday. 
Spring Cobb Salad with Raspberry Vinaigrette // via Lee at Fit Foodie Finds
No time to make a healthy lunch? I think not! Prep the ingredients for this Spring Cobb Salad and arrange it in a mason jar for easy access during the week!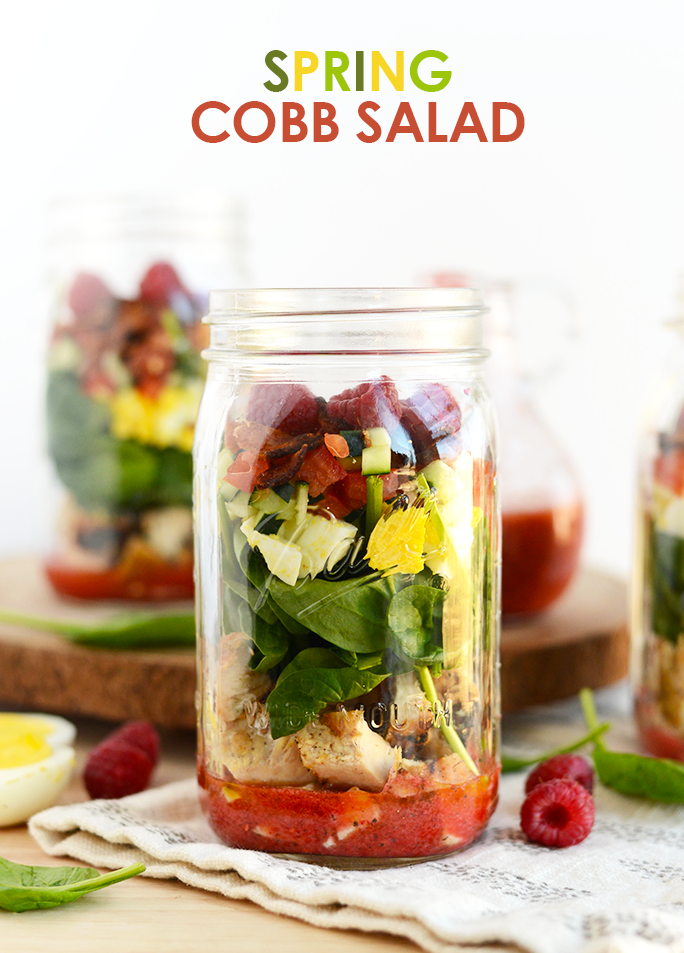 (TGIF) Friday.
Strawberry Spinach Salad with Citrus Poppy Seed Dressing // via Brittany at Eating Bird Food
Take advantage of the spring's bounty and make yourself this Strawberry Spinach Salad with roasted asparagus, grilled chicken, crunchy cucumber slices, avocado, red onion, toasted almond silvers and a citrus poppy seed dressing. Toss all the ingredients into a mason jar for a healthy, portable lunch that's way better (and prettier) than your average restaurant salad.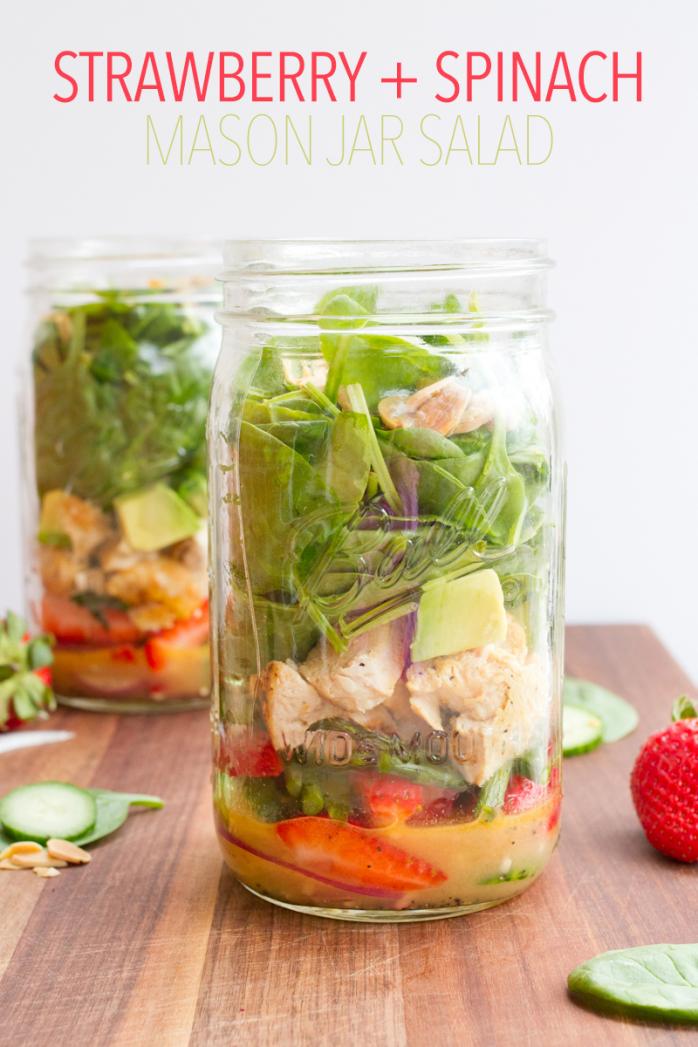 Saturday. 
Tropical Sriracha Chicken Salad // via Davida at The Healthy Maven
Change up your usual salad game with this spicy and sweet Tropical Sriracha Chicken Salad. It's packed full of veggies and flavor with an added boost of protein from the Sriracha-Pineapple Marinated chicken breast. ((Kelly here, and I wouldn't judge if you splashed in a bit of tequila into the marinade. -- Hey it's Saturday, afterall!))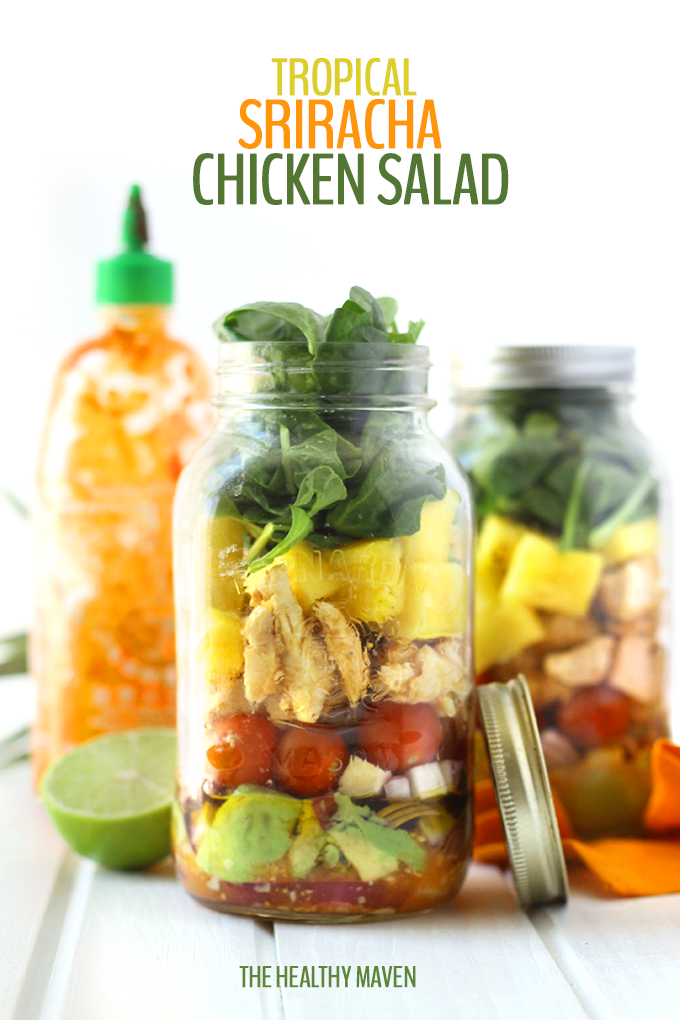 Sunday.
Cucumber Noodle Salad with a Creamy Lemon Poppyseed Vinaigrette // via Kelly (me!) at Nosh and Nourish
This cucumber noodle salad is layered with creamy lemon poppyseed dressing cucumber "noodles" -- made with the spiralizer, though a julienne peeler would work too,  cooked protein-packed quinoa,  heart-healthy fat in the form of avocado, cashews, organic apples, a big pile of spinach! It's another vegan option, though you're welcome to add in some grilled chicken!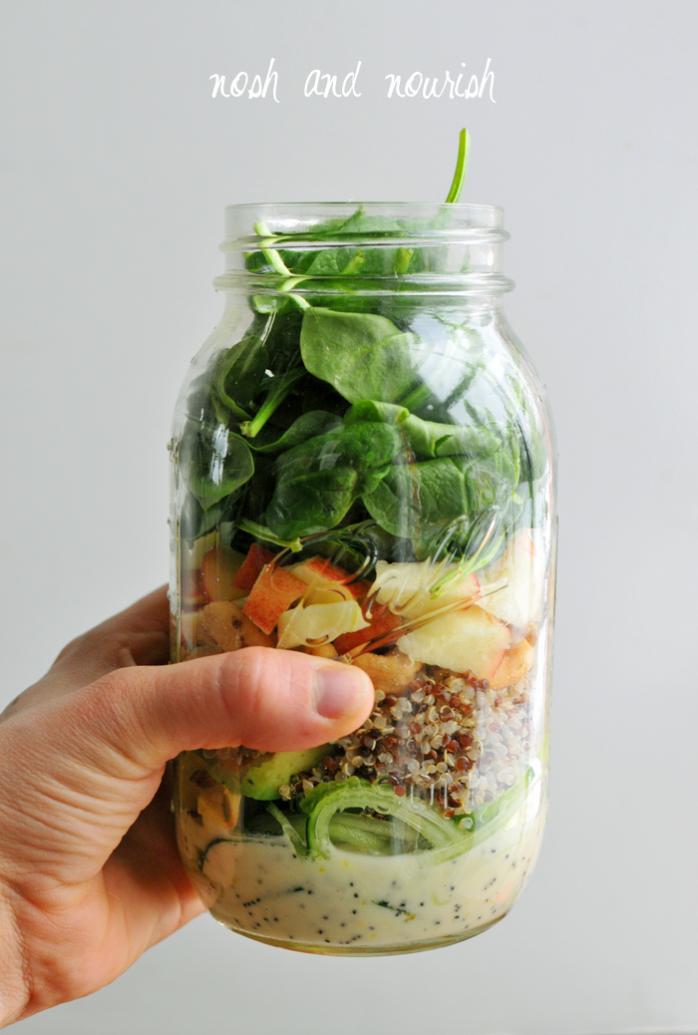 Pin them all.

Mason Jar Carrot Noodle Salad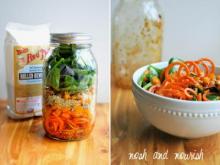 Description
Mason Jar Carrot Noodle Salad w/Sweet Chili Sesame Vinaigrette // via Nosh and Nourish
Ingredients
1 tablespoon toasted sesame oil
1 tablespoon Thai sweet red chili sauce
1⁄2 teaspoon Garlic Powder
1 teaspoon Dark Amber Maple Syrup
1 tablespoon toasted sesame seeds
1 Carrot (spiralized, or julienned)
2 tablespoons Bob's Red Mill hulled hemp seeds
1⁄3 cup cashews (plain or flavored, like Asian Sesame)
2 cups Spinach (or sub your favorite greens)
Notes
This recipe fills up a 24 ounce mason jar.
Instructions
Combine all your sauce ingredients in a small bowl: sesame oil, sweet red chili, garlic powder, rice vinegar, soy sauce, maple syrup, and sesame seeds. 
Roast your bell pepper in a toaster oven or regular oven (425 degrees for 15 minutes).
Assemble your mason jar salad: dressing in the bottom, then spiralized carrot, roasted bell pepper, hemp seeds, cashews, and finally top it with the spinach. Make sure the jar is packed tightly. Put on your lid. 
When you're ready to eat, empty the contents of the mason jar into a large salad bowl. Stir, then devour.
Yields 1 Serving