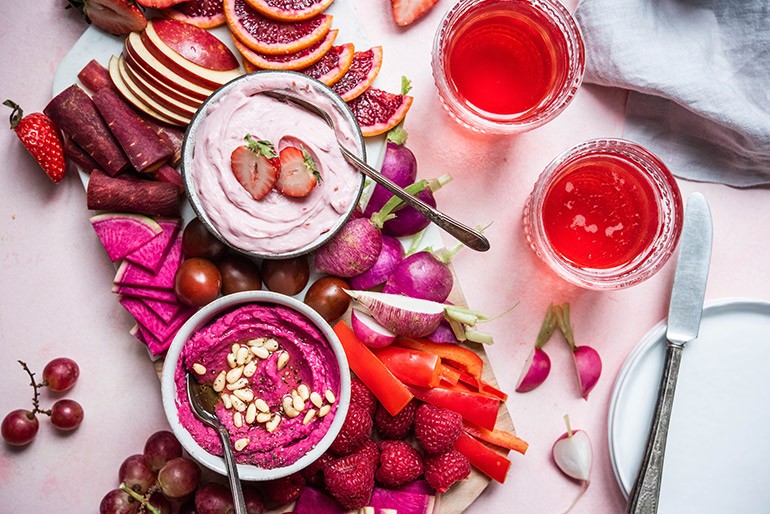 Hi Nosh and Nourish readers! Lexi and Beth here from Crowded Kitchen. It's been a while - hope you all had a fantastic and healthy holiday season!!
Almost every time we entertain, we make a huge snack board in lieu of more traditional appetizers; not only is it easier to prepare, but it's also a huge crowd pleaser. You might immediately think of meats + cheeses when you think of snack boards, but those items aren't REALLY necessary! We've actually found that our guests are plenty satisfied with fruits and veggies when they're arranged beautifully and paired with healthy, flavorful dips and spreads (no boring veggie trays + store bought ranch here!).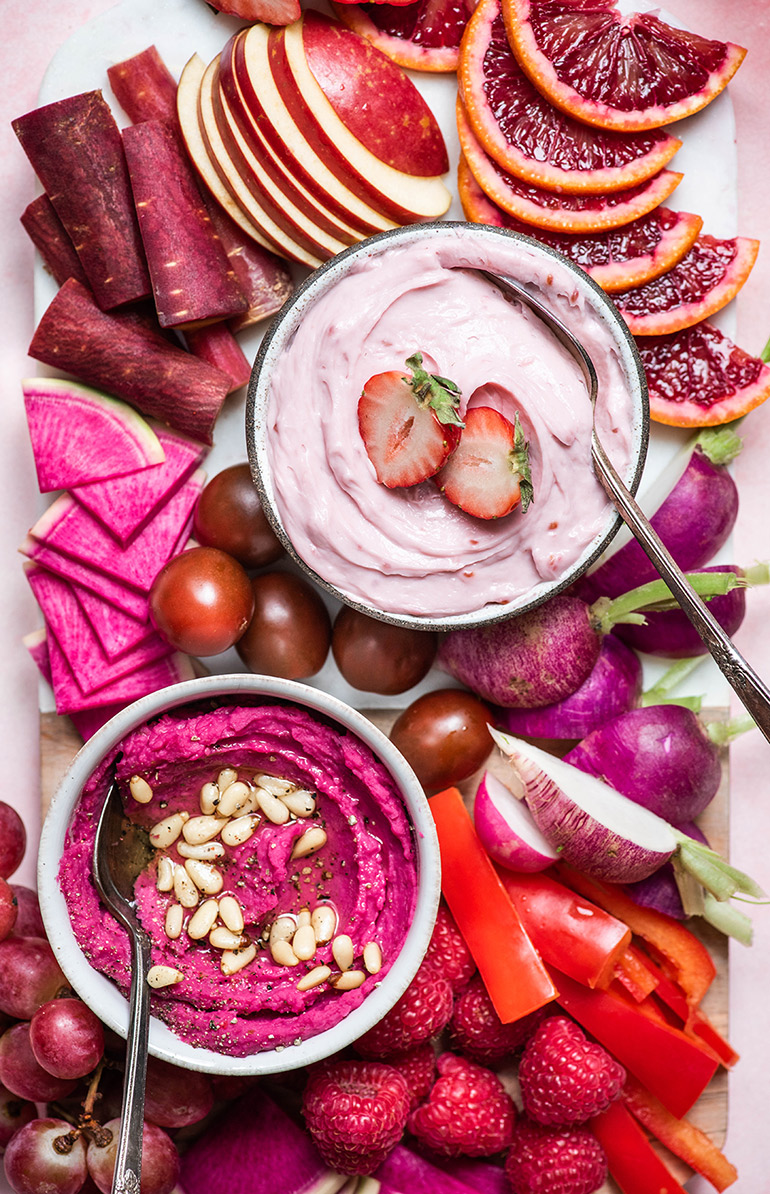 For this particular board, we decided to go with a pink/red color palette (Valentine's Day is coming up pretty soon!). Before assembling the platter, we typically prep everything and place it on a large sheet pan to take stock of colors, shapes and textures, which makes it easier to arrange.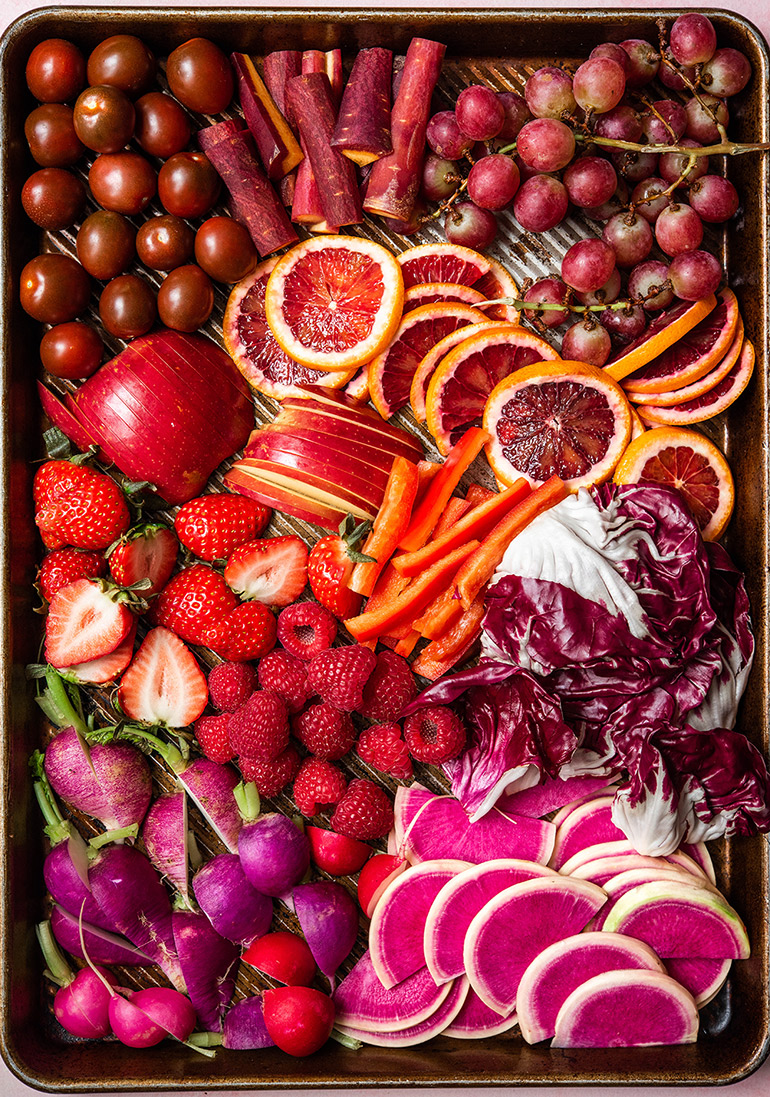 In case you're not familiar with all of the produce we used, here's a quick breakdown of our shopping list for this particular board (from top left to bottom right):
Mini Heirloom Tomatoes (how gorgeous is that deep red?)
Red carrots (our Whole Foods carries rainbow carrots - these come in the bunch)
Red grapes
Red apple
Blood oranges (one of the best citrus fruits, in our opinion!)
Strawberries
Red Bell Peppers
Radicchio (we didn't end up using these because we didn't have room on the platter, but we added them to a salad the next day!)
Raspberries
Easter egg radishes (they come in a variety of pink/purple/red/white shades)
Watermelon radish (those gorgeous, vibrant pink radishes!)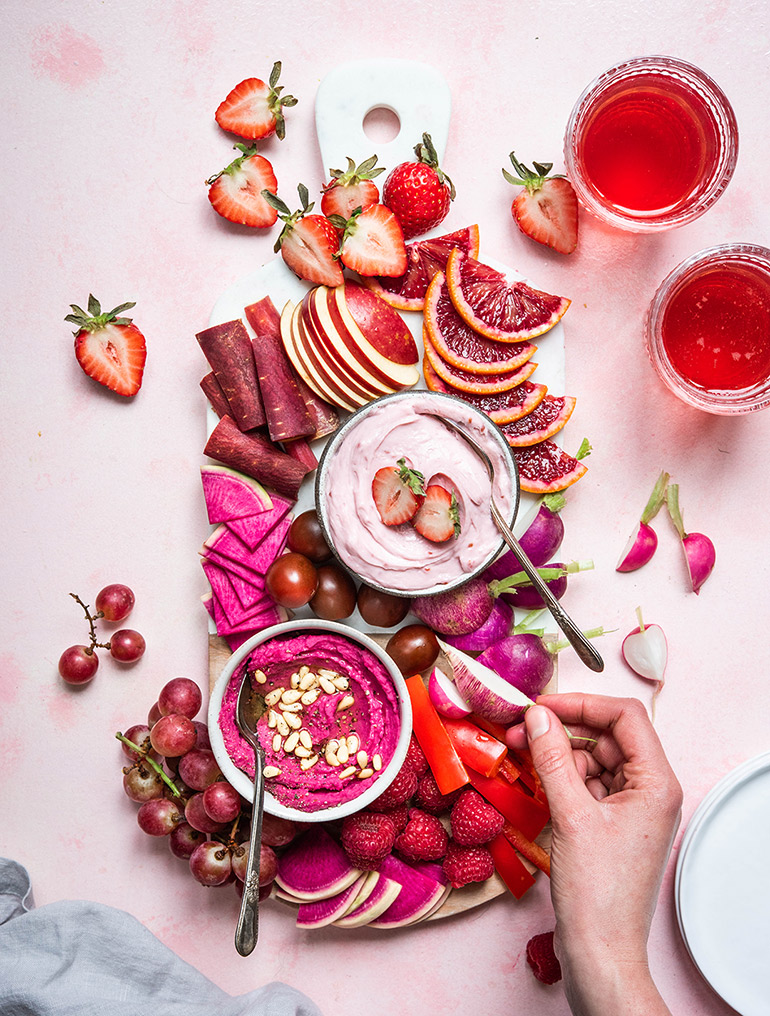 We paired the produce with one sweet and one savory dip - a raspberry vegan cheesecake dip and a beet hummus. If you'd prefer to make them from scratch, we've included two recipes below. If you're pressed on time/don't want to dirty extra dishes, here's what to do:
1) Look for pre-made beet hummus at your local grocery store. If they don't have any, buy your favorite hummus and one beet. Peel, dice and roast the beet, then throw it in the blender with your store-bought hummus and voila! Beet hummus.
2) Same goes for the cheesecake dip - here's an easy fix: Purchase your favorite cream cheese (we use a vegan brand) and some raspberry jam. Add cream cheese to a bowl with a few tbsp of the jam and use a hand mixer to blend until it's creamy and delicious. Taste and add a bit of sweetener/more jam if needed. If you'd prefer to make homemade versions, see the recipes below!
Happy snacking!
-Lexi + Beth
Beet Hummus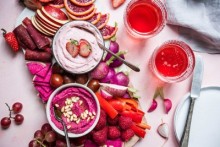 Description
Beet Hummus for Vegan Snack Board
Ingredients
15 1⁄2 ounces can of chickpeas (drain, but reserve liquid)
4 tablespoons freshly squeezed lemon juice
1 tablespoon *reserved chickpea liquid (for consistency)
Notes
*use 1 - 3 tbsp of the chickpea liquid, depending on your desired consistency
Instructions
Add chickpeas, roasted beets and tahini to a food processor and puree for about 10 seconds. Add lemon juice, salt, and garlic and blend about 30 seconds. You may need to scrape down the sides of processor with a spatula. Slowly stream in olive oil, and finish with chickpea liquid (1 to 3 tbsp) until you reach desired consistency. Taste and adjust seasoning as needed. Store in airtight container in fridge for a week.
Garnish with a bit of additional olive oil and some pine nuts. 
Yields 6 Servings
Raspberry Vegan Cheesecake Dip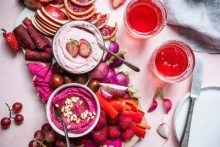 Description
Raspberry Vegan Cheesecake Dip
Ingredients
1 cup unsalted, raw cashews (soaked in water for 1 - 2 hours)
1 cup fresh or frozen (thawed) raspberries
2 tablespoons Lemon juice
1 1⁄2 teaspoon Vanilla Extract
3 tablespoons agave syrup (or honey, if you're not vegan.)
1⁄3 cup non dairy milk of choice (we love Silk's cashewmilk!)
1 1⁄2 tablespoon Melted Coconut Oil
Instructions
Add everything except coconut oil to a high speed blender or food processor. Once well incorporated, slowly stream in coconut oil and continue blending until completely smooth.
Yields 6 Servings